What is Lili Reinhart's net worth? The actress is currently dating 'Ozark' actor, Spencer Neville. Read on for details about her fortune.
Actress Lili Reinhart entered the spotlight in 2017 when she was cast as Archie comic book character Betty Cooper in the CW original series Riverdale.
The teen drama, which is currently working on its seventh season, became a smashing success. Lili has continued to add to her acting portfolio since, snagging roles in big-name titles like Hustlers, Charlie's Angels, and Chemical Hearts.
She also became a spokesperson for Cover Girl and published her first book, Swimming Lessons: Poems, where she got candid on mental health, fame, and more.
Typically a rather private woman on social media, Lili came out as bisexual on Instagram in 2020. "I am a proud bisexual woman," she wrote in her Instagram story at the time.
While we're glad to hear Lili is comfortable with her sexuality, we're also curious: Is she currently seeing anyone? Also, who has she previously dated? Keep scrolling for how much Lili Reinhart is worth and a look at Lili Reinhart's dating history.
What is Lili Reinhart's Net Worth and Salary?
Lili Reinhart is an American actress and author who has a net worth of $6 million, according to Celebrity Net Worth.
In August 2020, Reinhart paid $2.715 million for a 4,170 square-foot home in the San Fernando Valley area of Los Angeles. The home was remodeled in 2017 and includes five bedrooms, five bathrooms, a wine room, and a swimming pool.
Lili Reinhart Profile Summary
| | |
| --- | --- |
| Net Worth: | $6 Million |
| Gender: | Female |
| Profession: | Actor, Singer, Dancer |
| Nationality: | United States of America |
Reinhart is best known for starring as Betty Cooper on The CW series "Riverdale," which began airing in 2017. She is also a social media star with more than 32 million followers across her various channels.
Lili has more than 20 acting credits to her name, including the TV series "Surviving Jack" (2014) and the films "Hustlers" (2019) and "Chemical Hearts" (2020). She also served as a producer on "Chemical Hearts," and in March 2021, it was announced that she would be producing and starring in the Netflix film "Plus/Minus."
Reinhart published the book "Swimming Lessons: Poems" in 2020, and it was a "New York Times" Paperback Trade Fiction Best Seller. In October 2019, she was named an ambassador and spokesperson for CoverGirl because "she embodies a woman who is unapologetically herself — she is authentic, talented, and truly lives by what she believes in."
Lili Reinhart is currently rumored to be dating actor Spencer Neville.
As of August 2022, Lili Reinhart is allegedly dating actor Spencer Neville, per E! News.
A source confirmed to the outlet that they were "casually seeing each other," after they were seen getting cozy at Coachella.
The source continued: "It's very new but she's really into him. They met through the industry and were introduced together by a few friends. Lili and Spencer spent the entire weekend together at Coachella and had a lot of fun."
Both Lili and Spencer, who have appeared in shows like Ozark and American Horror Story, shared solo photos on Instagram of their Coachella adventures.
"Spencer you know these are not the pics we want," one user commented on the actor's post, hinting that she wanted to see some close-ups of Spencer and his new lady. Another user claimed that Lili's leg could be seen in some of the photos; however, it's unclear if that is actually her leg.
Regardless, the source also added that this is the first person Lili has been into since her breakup. What breakup are we talking about? Riverdale fans already know.
Lili Reinhart also dated her 'Riverdale' co-star, Cole Sprouse.
On Riverdale, Lili's character, Betty, and Cole Sprouse's character, Jughead, were love interests. Their fictional love was very well-received by audiences, so as you can imagine, fans were over the moon when they heard that Lili and Cole were an item in real life.
Lili and Cole dated from 2017 to 2020; however, they kept their relationship fairly private. Occasionally, they'd post about one another on Instagram, but very rarely did they ever share a photo together.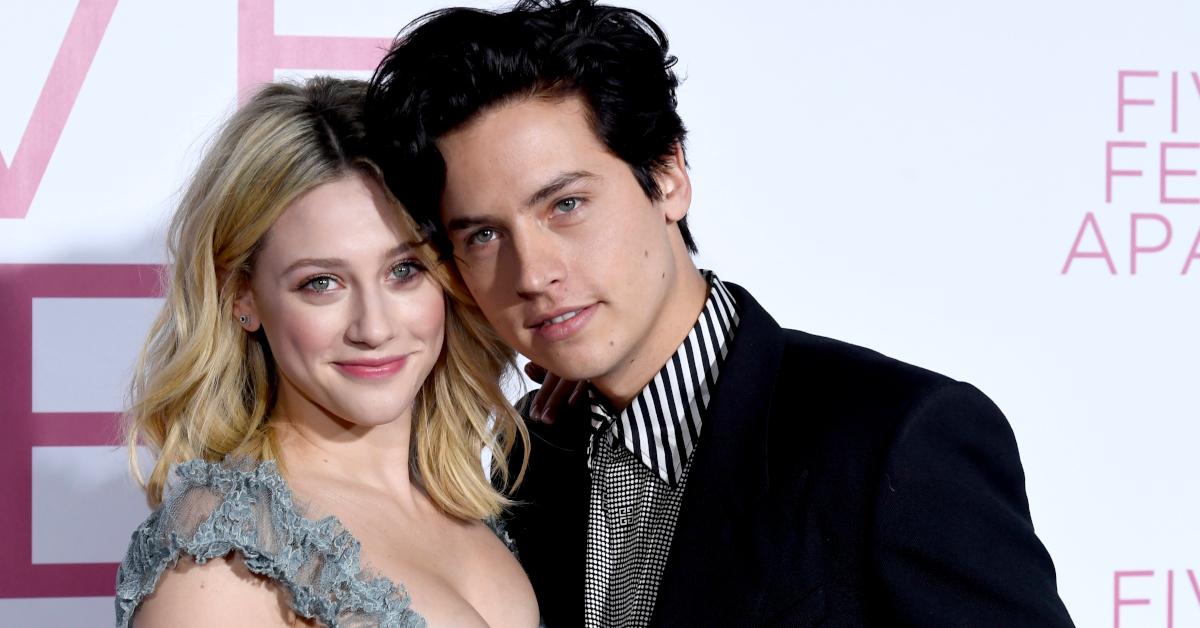 Even in 2019, as Cole recanted one of his most romantic moments with Lili to Glamour, he kept her identity a secret.
"I took my girlfriend on a date where we drove to this location deep into Canada, and I surprised her with a big hot-air balloon adventure, which was quite a bit of fun," he said. "Those grand experiences always end up yielding the greatest memories — and the greatest romances."
But in late 2019 and into early 2020, their relationship appeared to struggle. Reports surfaced that the Riverdale stars had split. However, Lili took to Twitter to remind her fans "not to believe everything you read on the internet." Fans became confused.
Even more, chaos broke out when Cole was seen quarantining with Kaia Gerber in L.A., rather than with Lili, who also resides there.
Cole denied rumors he was involved with Kaia on his Instagram story, calling them "baseless," per Seventeen. Furthermore, a source told E! News at the time that Cole and Lili were very much still "together."
Still, things didn't really add up.
The following month, Lili and Cole's Riverdale co-star Skeet Ulrich went live on Instagram and further fueled rumors that "Sprouseheart" (as they were called) had split, by referring to the couple in the past tense. It was unclear what was going on, but things weren't looking good.
In August 2020, Cole finally spilled the truth. "Lili and I initially separated in January of this year, deciding to more permanently split in March," he wrote in an Instagram caption. He continued: "What an incredible experience I had, I'll always feel lucky and cherish that I had the chance to fall in love. I wish her nothing but the utmost love and happiness moving forward."
Not much is known about Lili's love life prior to Cole.