TikTok claims Mikayla Matthews's husband groomed her as a child.
Popular TikTok and YouTube creator Mikayla Matthews (@mikaylamatthews) is known for her funny parenting and lifestyle videos. The doting mom has been sharing cute, relatable clips with her three kids and husband for some time now.
But it wasn't until recently that fans started to worry about Mikayla and her husband's relationship. Keep reading to see why the couple's age gap is concerning some users.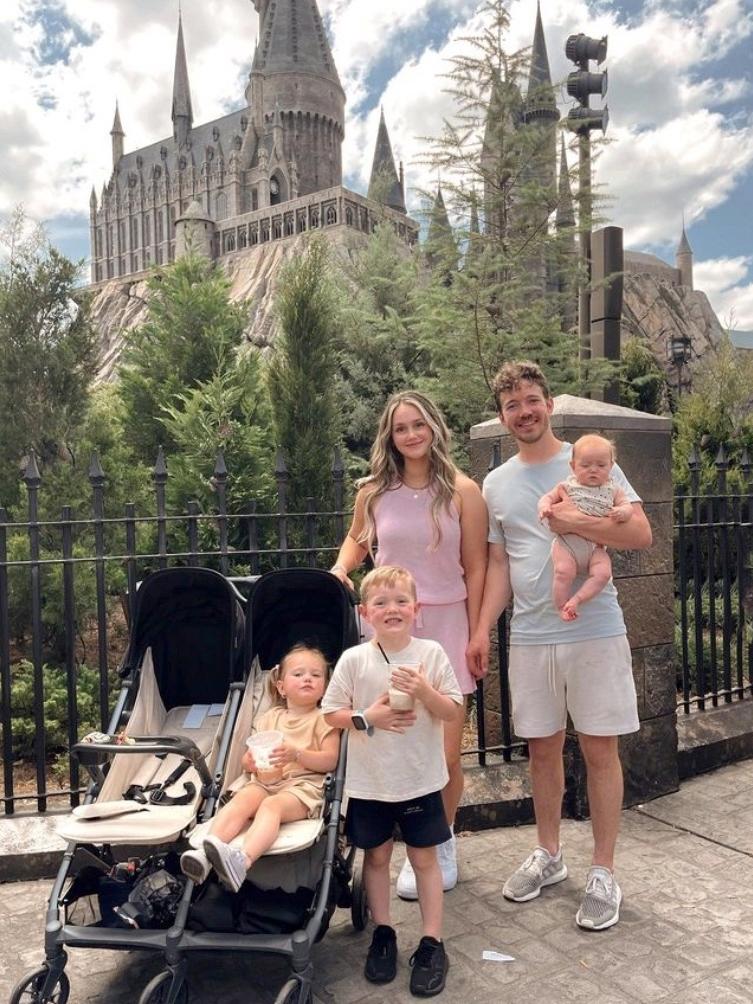 Mikayla Matthews's husband Jace Terry is said to currently be 27 years old.
Mikayla Matthews is married to a man named Jace Terry. They have three children together: Beckham, Haven, and Tommy.
Jace is five years older than Mikayla, who is currently 22 years old. Unlike Mikayla, Jace doesn't seem to have a huge presence on social media. However, he can often be spotted in her photos and videos.
Click here if the TikTok video is not playing.
TikTok creator @mingalabae explained why Mikayla and Jace's ages are actually problematic.
At first glance, Mikayla, Jace, and their three kids seem like the perfect family. But as TikTok user @mingalabae pointed out, there's actually something troubling about their relationship.
She opens her video giving some background information on the couple. "So I did some digging and some math and there's a five-year age gap between you guys," she says, continuing to note that Mikayla is 22 years old and has three kids with Jace.
Click here if the TikTok video is not playing.
Then she brought her attention to an Instagram photo from Mikayla's account.
"Here on your Instagram, you celebrated your birthday on March 17, 2017, but your first baby was born on July 3, 2017."
As @mingalabae explained, if Mikayla gave birth to her first child four months after her 17th birthday, the baby was conceived when she was 16 years old. "This means a man over the legal drinking age had special relations with a 16-year-old child and by the time you were his age you had two more children with a felon."
"Baby, I think you were groomed," she said as she ended her video. In the comments, users were equally stunned.
Many admitted that when they first heard there was a five-year age difference, they didn't think too much of it, as it isn't usually a big deal when two adults have a few years in between them. However, many didn't realize that when Mikayla was 16, she was seemingly having sex with Jace, who was years older.

Outside of TikTok, this conversation has continued on other platforms like Reddit. One Redditor asked: "How is Mikayla Matthews's husband not in jail?"
In Utah, where Mikayla and Jace reside, the age of consent is age 18, which means Mikayla was underaged.
However, Utah has a law called the Romeo and Juliet law, which shields young, consenting adults, like Mikayla and Jace, from harsh consequences. Per the law, a 16- or 17-year-old can legally consent to have sex with someone who is no more than 10 years older than them.
That said, while Mikayla's relationship may make folks uncomfortable, it is legally protected.