Do you think MrBeast fake his videos using clickbait titles, controversial thumbnails, faking his videos, giving away fake money?. Here's the top 5 'insane' allegations against MrBeast including bullying his employees and more that caused a stir on the internet.
Jimmy Donaldson (born: May 7, 1998 [age 23]), better known online as MrBeast (formerly known as MrBeast6000 and Beast), is an American YouTuber and philanthropist known for his videos that often consist of him doing arduous tasks for an extended amount of time, doing or saying something thousands of times, challenges and donations that involve millions of dollars, and more.
With unrelenting passion and devotion to finishing arduous, yet creative, challenges, Jimmy has become an extremely popular YouTuber in recent years. He is known for giving away a lot of money, making people do stuff for money, and buying large objects.
The channel is mostly run by Jimmy, his friend Chris Tyson and several other affiliates, who make outrageous experiments, challenges, or donations that usually involve incredible amounts of money. Currently, his main channel is the 11th most subscribed channel with 68.5 M subscribers, as of September 7, 2021. He started this YouTube channel on February 19, 2012, at the age of 13.
He also has a second channel called Beast Reacts (formerly BeastHacks, Mr.Beast, and Mr.Beast CSGO) where Jimmy and his friends react and review things like compilations, and roast them if they are disgusting or bad.
In May 2020, he started a gaming channel named MrBeast Gaming, releasing 3 videos every week which has over 21 million subscribers.
He also has MrBeast Shorts where he uploads around 10-60 second clips of him and his friends doing random things. Some of those videos are posted on his TikTok.
He has another channel called MrBeast Gaming where he posts gaming and Minecraft challenges videos.
Along with a Playbutton-focused English YouTuber JackSucksAtLife, he created the channel Don't Subscribe. He gives ten cents to Jack for every subscriber. As of August 20th, 2021, the channel has 1 million subscribers, meaning Jack has made $100,000. This is the limit to the amount of money he can make. But surprisingly, Jack does not have access to the channel. Also, Jack says in some of his videos "Subscribe to Don't Subscribe".
His brother, CJ Donaldson, also has a channel inspired by his brother, called MrBro. He started his channel in 2017 but only started posting in August of 2019. He also makes challenge videos, like his brother.
Jimmy is also known for making fun of Minecraft, a game developed by Mojang. He made a two-episode series playing it and was finished playing the game for good after his house got blown up by a creeper.
Due to that incident, he has since deleted the game. Since then, Jimmy has made a sudden return to Minecraft, collaborating with fellow YouTuber Dream in the video titled "3 Minecraft Speedrunners VS Hunter ft. MrBeast" featured on Dream's YouTube channel. It seems like Jimmy is starting to like Minecraft more than he did a few years back. He has since made a channel called MrBeast Gaming, where he does challenges with his viewers and friends for money. The challenges are usually in Minecraft and involve parkour, building, or fighting, usually for money, gift cards, food, and for no reason. One of the stranger prizes was a free supply of yogurt for 10 years.
One of the craziest challenges done on the gaming channel was the $100,000 gift card hunt on the Dream SMP. The prize was $100,000 worth of gift cards from different stores. The challenge was ultimately won by Tubbo, who decided to selflessly give away all of his earnings on one of his live streams.
The above giveaways and much more kindness about MrBeast have raised topics on the internet as many think he fakes his videos.
In this article, The Vibely would look at the top five controversies about MrBeast concerning his YouTube channel and videos.
Most well known MrBeast Controversies on the internet.
1. MrBeast using "clickbait" headlines
Some people proved MrBeast for his usage of clickbait to make money and obtain subscribers. Of course, in the YouTube community using clickbait is like bread and butter. It is only a few who do not use clickbait titles.
Using clickbait headlines drives more traffic to your channel and in return, you get more views and money.
MrBeast is known to be using this trick to gain much more attention on his channel. This has really helped his journey as a YouTube star as it has landed him sponsorship and partnership deals with giant companies like Quidd, TikTok, Dragon City, Honey, and many more.
2. MrBeast fake his videos?
On April 4, 2018, a YouTuber is known as FlyyDoesYT posted a video claiming that Jimmy's videos are fake, and only stars in the beginning (such as in I Tipped Waitresses $20,000) and that he has multiple employees who are miserable working for him.
The next day, DramaAlert had an interview with Jimmy about the situation. In response, Jimmy stated that his videos are not fake, his employees love working for him, and he has spent at least $500,000 donating and giving out to people in his videos.
He has also confirmed that he has Crohn's disease, stating that it's the reason why he was not in the entire "I Tipped Waitresses $20,000" video. He even mentions that none of his videos are fake. Fans have since defended Jimmy, and FlyyDoesYT has gotten negative responses over his video because of it.
2. MrBeast using controversial thumbnails
Ever since Jimmy released his viral video, "Can 20,000 Magnets Stop a Bullet Mid Air?", which quickly became Jimmy's most viewed video of his in 3 days, the video became pretty controversial due to the thumbnail. The thumbnail does show Jimmy firing an AK weapon towards another person (Chris, Jimmy's roommate), while it did not happen in the video. YouTube has made its Guidelines more strict about guns in videos and thumbnails, especially with it affecting Gun Channels.
People say Jimmy's thumbnail is breaking YouTube's Community Guidelines because of what the thumbnail contains. People say it's misleading and harmful. Due to the criticism that followed, the thumbnail had been changed to not include the person on the opposite side.
At the time before the video was removed, it had received the most amount of dislikes ever recorded on Jimmy's YouTube channel at the time, at least a 25% dislike ratio, and a 75% like ratio. The controversial video (although it was removed or set to private by Jimmy at an unspecified time) was reuploaded on June 31, 2019, by a fan posing as MrBeast's YouTube Channel, only with Chris being excluded from its thumbnail. Still, the video continued to remain available online.
4. Giving away fake money?
In Jimmy's video titled "I Opened A FREE BANK", people started to claim that Jimmy never actually gave away the money as he shows in his videos. Their evidence was that in one frame of the video, you could see that the money he had given to someone was "prop money" that would have been used in films. This criticism also appeared on DramaAlert, where Keemstar defended him using the disclaimer Jimmy had put in the video description. The statement said:
"We used motion picture money when making this video. Everyone who received the money in the video was paid by check after they left for security purposes (I can't just carry 6 figures in cash lol). Everyone received 100% of the money they were given."
After this was shown on Drama Alert, people started to believe Jimmy.
5. MrBeast allegedly bullies his employees and crew members
One of the topmost controversies that pop up whenever the name MrBeast is heard is him allegedly maltreating his workers.
In order to give away that much cash on a regular basis, you need a big operation. MrBeast employs multiple video editors and writers to work with big-name brands on six-figure deals. According to Distractify, the MrBeast team is now made up of 30 people.
Many of MrBeast's team have left the brand due to their own personal reasons. On April 7, 2020, Jake The Viking announced that he left MrBeast and his group of YouTubers. He stated that he left only due to the restrictions of "free time" and that there is "no bad" blood between them.
The philanthropic YouTuber has been singled out for fostering a toxic work environment by 11 former employees, according to Times reports.
These reports came through the New York Times, through a recently published article that talks about the success of MrBeast in the business world, and where its editorial team spoke with some of his former employees in charge of editing his videos, which receive millions of views a day.
Nate Anderson, who resigned from the notable YouTube philanthropist's team after just a week, commented that Jimmy was a perfectionist, as well as making unreasonable demands almost all the time: "Nothing ever worked for him. He always wanted it in a certain way."
Anderson uploaded a video after this on his personal YouTube channel titled "My Experience Editing for MrBeast (Worst Week of My Life)," which he had to delete shortly after due to receiving death threats and hateful comments from MrBeast 's followers.
Likewise, Matt Turner, who worked for Jimmy from February 2018 to September 2019, said that the YouTuber used to berate him almost daily, going so far as to insult him with terms used to describe people with mental disabilities.
Turner also claims that Donaldson himself was not crediting him for his work and that when he insisted on doing so, Jimmy just said he would credit someone else. Turner also commented on being attacked by MrBeast fans by posting a thread on Twitter talking about his experience working for him.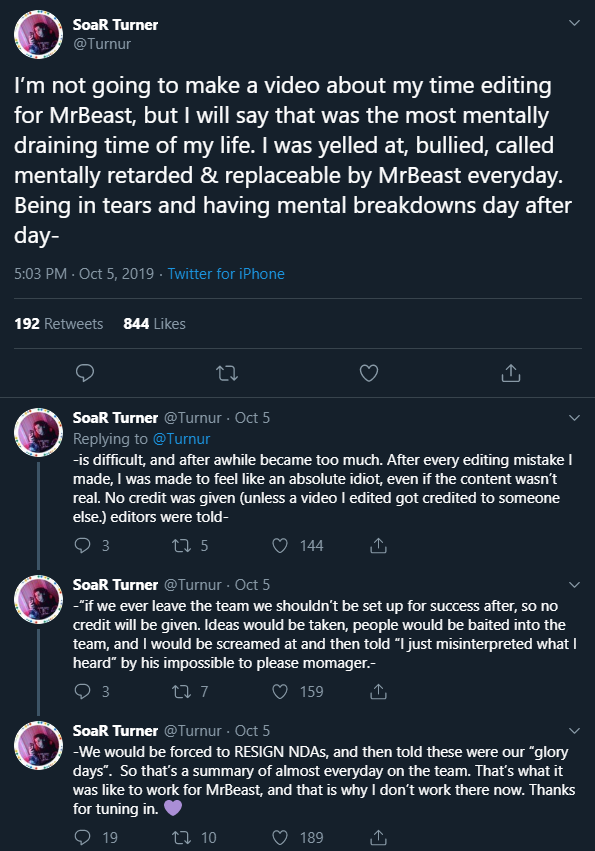 The author of the article, Taylor Lorenz, commented on this for the outlet Insider, saying that "Working for a 22-year-old YouTube star isn't going to be the most professional work environment, but if you are posturing yourself as a business leader or the next Elon Musk, you should think about the type of work culture you're creating and what you are rewarding."
According to the New York Times report, there have been a total of 11 people who had accused MrBeast of creating a difficult and toxic work environment, saying that "his demeanor changed when the cameras weren't around".
As of this writing, both MrBeast, his representatives, and his team have not responded to these allegations, however, it is expected there will be some reply to this in the next few hours or days.
Do you know MrBeast spends more money than he earns on his YouTube channel?. The majority of his fans are curious about how he makes his money.
In an article, The Vibely has broken down the 17 unbelievable secrets on how MrBeast makes his money – to check out his stream of income and net worth in 2021, click here.
Also, check out 10 loved-up pictures of MrBast and his girlfriend, Maddy Spidell as they display couple goals – click here.