What is the net worth of RHOA cast? Which Real Housewife of Atlanta has the most money? Which 'RHOA' star has the highest net worth? Details on the Peach Holders
The fabulous ladies of The Real Housewives of Atlanta have always been vocal about getting to the bag. With the women serving at the helm of beauty brands, fashion endeavors, adult entertainment businesses, and more, the peach holders know a thing or two about keeping the coins rolling in. And since Season 14 has welcomed new blood into the mix, fans are ready to learn more about the ladies.
Season 14 features Olympic gold-medalist Sanya Richards-Ross and welcomes the return of Shereé Whitfield. Not to mention, Kenya Moore, Kandi Burruss, Drew Sidora, and the always fashionable Marlo Hampton are also the focus this season. And since the ladies continue to make incredible strides in their careers — aside from RHOA — it's only right we highlight the ladies' finances.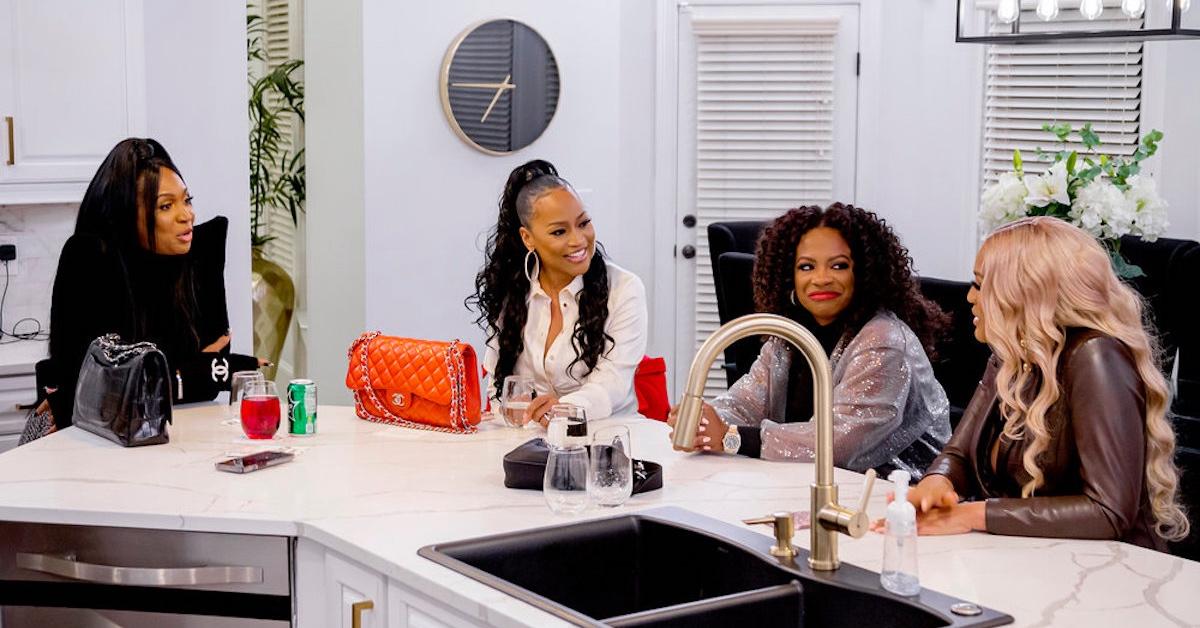 The Real Housewives of Atlanta live a luxurious lifestyle, which isn't surprising when you see their sizeable net worth. They may not be making Trump cheques, but they're making enough to keep up appearances. So, what are the RHOA cast net worths? Find out how these ladies make their money and who tops the list.
Note: All net worth figures are estimated and in USD.
Marlo Hampton's net worth: $600,000
Marlo Hampton sure is a mystery when it comes to her money — even her nosy castmates still can't figure out how she makes it. Hampton often brags about being rich and shames her castmates for being broke. And then there's the mystery billionaire she once dated who, according to her, was once a major source of income for her.
According to several sources, she dated Jane Fonda's ex-husband, CNN founder, and billionaire Ted Turner, for five years. In an episode of What Happens Live in March 2019, she details that he helped her to invest in real estate. In season 14, Hampton explained another source of income that may add to her estimated net worth — Le'Archive — a high-end clothing boutique that rents clothing to clients and stylists.
Kenya Moore's net worth: $800,000
Kenya Moore makes her cash on The Real Housewives of Atlanta, as well as being a business owner and author. Kenya has her own hair-care line and she'll make sure you don't forget the name — we can almost hear the marching band now, shouting, "Kenya Moore Hair Care!" The line can be found at Sally Beauty Supply and online, carrying several products like shampoos, conditioners, and hair vitamins. It's also reported that she makes $500 000 per season on RHOA — a significant decrease from when she started at $1.5 million.
Shereé Whitfield's net worth: $800,000
Shereé Whitfield has several income sources, especially now that her Spring/Summer joggers line has finally been released. Most notably, her divorce settlement from Bob Whitfield proved to be a solid leg-up — she apparently received a $775,000 lump sum payment on top of a $113,422 annual payment from his retirement assets, as well as about $2,142 for monthly child support. Let's not forget Château Shereé, one of her most costly real estate investments, worth approximately $1.2 million today.
Drew Sidora's net worth: $1.5 million
Drew Sidora is an actress who's proud of her accomplishments, including appearing in films like Sister Code, The Choir Director, Step Up, and White Chicks. However, as Marlo once pointed out — it's been a while since her last big movie. Her husband's career is less public — he makes a living making "therapeutic music," which may be substantial enough to support their Atlanta lifestyle. If Sidora plays her cards right, she could be raking in the kind of RHOA money that her longer-running castmates enjoy.
Sanya Richards-Ross' net worth: $2.5 million
Sanya Richards-Ross ran from the Olympic podium straight to the bank, having won a handful of gold and bronze medals across the 2008 and 2012 Games. That opened the door to her time as a sports analyst during the 2016 London Olympics and becoming a Nike brand ambassador. Aside from being athletic, Richards-Ross is quite entrepreneurial, with a chauffeur service business and luxury extensions line on top of being an author of three books.
Kandi Burruss' net worth: $30 million
Kandi Burruss is the ultimate hustler with a diversified portfolio of businesses to keep her pockets padded. Due to her work as a singer, songwriter, record producer, actor, and television personality, Burruss is an entertainment powerhouse. Getting her start as a member of the R&B group Xscape, she has continued to expand her presence in the entertainment industry. Did we mention that she also co-wrote the '90s TLC classic "No Scrubs"? As the longest-running RHOA cast member, Burruss also brings in a reported $2.3 million per season on The Real Housewives of Atlanta making her the highest-paid Real Housewife across all series.
Watch the premiere of The Real Housewives of Atlanta Sundays at 8 e/p and stream all your favourite Slice shows through STACKTV with Amazon Prime Video Channels, or with the new Global TV app, live and on-demand.