How many siblings does Nicki Minaj have? Nicki Minaj's father's killer has been sentenced.
Robert Maraj, Nicki Minaj's father, was killed on Feb. 13, 2021, in a hit-and-run on Long Island, according to police. Robert was transported to a hospital following the crash, where he died as a result of his injuries. Naturally, Nicki's fanbase, "The Barbs," long called for justice to be served for Nicki and her loved ones. And now the man responsible for the crime has been sentenced.
Here's what to know — including details on Nicki's parents and her relationship with them.
Charles Polevich has been sentenced to a year in prison for murdering Nicki Minaj's father.
According to TMZ, Charles Polevich — the man responsible for the February 2021 hit-and-run incident in Mineola, N.Y., that claimed the life of Nicki's father — has been sentenced.
Polevich reportedly pleaded guilty to two charges — tampering with physical evidence and leaving the scene of an incident without reporting — and was sentenced to one year behind bars by Nassau County Judge Howard Sturim.
Understandably, Carol Maraj, Nick's mother, is upset with the verdict. And the judge suspending Polevich's license for six months on top of a $5,000 fine means absolutely nothing to the Maraj family.
"One year? That's a slap in the face for the family," Carol reportedly told the judge, per The New York Post. "[He] just left him on a street like a dog."
Aside from the blatant slap on the wrist, Polevich's lawyer, Marc Gann, shares that the 72-year-old will probably only serve eight months. Keep in mind, prosecutors initially recommended a one- to three-year sentence.
So, why did the judge hand down such a light sentence? The publication shares that Polevich was not inebriated or under the influence of drugs when the crime occurred and he has no criminal record.
"I feel deep sadness and remorse for the loss of Robert Maraj's life," Polevich reportedly said in court. "I feel compassion for his wife, Mrs. Maraj, and [his] family."
Polevich went on to share that he "had no malicious intent" and wants to accept responsibility for his actions.
Fans are disgusted with the verdict and are hoping that the "Do We Have a Problem" hitmaker challenges the sentence.
Who are Nicki Minaj's siblings?
Nicki's mother is Carol Maraj, and both she and Robert are of Afro-Trinidadian ancestry. Nicki was born in St. James in 1982, and her mother worked in payroll and accounting departments for much of Nicki's youth. Robert was a financial executive, and both of them were also gospel singers.
Nicki isn't the only child of her parents, she has four siblings and was the middle child of the group. Her older siblings are Jelani Maraj, and Maya, and her younger siblings are Micaiah and Ming.
Ming is her half-sister and Brandon Lamar is also her half-brother. Nicki's younger brother Micaiah (whom she refers to as "Caiah"), keeps a relatively low profile, but he seems to have a pretty close relationship with his sister. In fact, she once joked on Twitter that she wanted to find him a girlfriend (we imagine tons of girls were after him by then).
On the other hand, Nicki's half-brother Brandon is actually a rapper and singer like her. He rose to fame in 2007 and has released a few popular hits, including "Control" and "Raw." You can check out his channel here.
But as for Nicki's older brother, Jelani, he's actually been making headlines for the most disturbing reason.
Jelani was found guilty of repeatedly raping his 11-year-old stepdaughter in his Long Island home, and the victim's brother actually testified to seeing one of these assaults. The Trinidad And Tobago native was sentenced to 25 years to life in prison for predatory sexual assault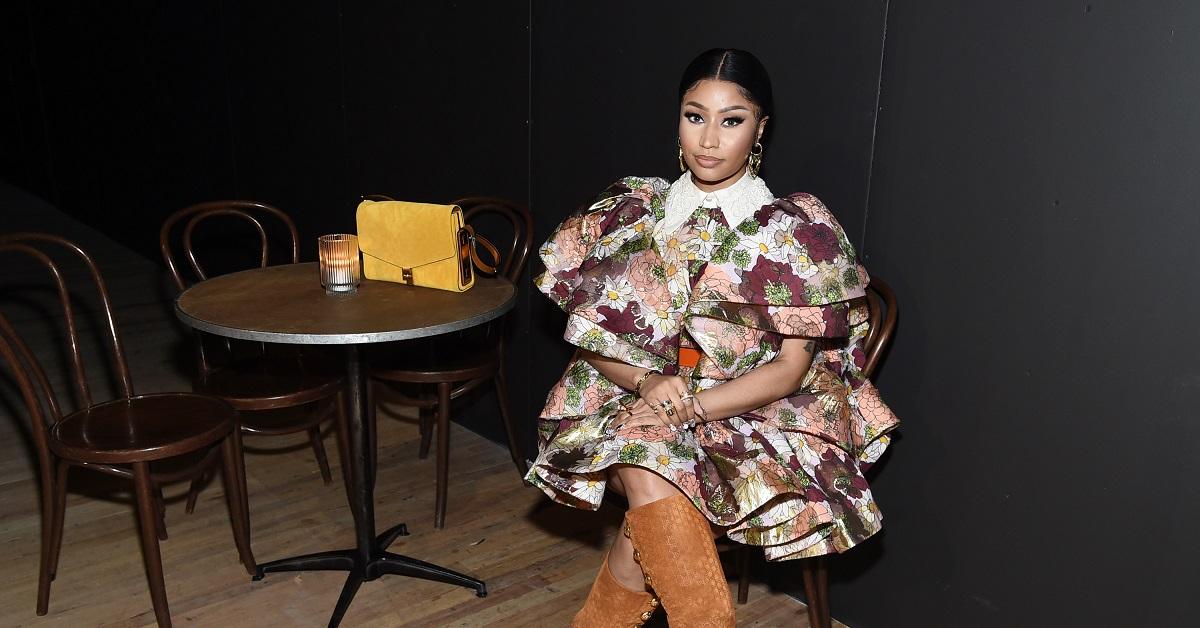 Nicki and one of her siblings lived with a grandparent on St. James before the family eventually moved to the Bronx so their mother could attend Monroe College. Throughout much of her childhood, her father was addicted to alcohol and drugs and was also known to have a violent temper. In one particularly horrific story, Robert burned their house down in St. James in December of 1987.
Nicki has acknowledged her father's abusive behavior in interviews.
In a 2015 interview with The New York Times, Nicki said that while her father had never abused her, specifically, he was an abusive man. "I would always hear him yelling and cursing, always. And it made me feel it was the way to interact because that's how I saw him interacting.'' In a 2010 interview with Rolling Stone, Nicki said that she had always seen money as a fix for her problems, especially when it came to her father.
She explained that she wanted money so that she could take care of her mother, which would allow her mother to leave her father.
"That was always what drove me," she explained. "I was disappointed in my father. I was afraid, very afraid, that something would happen to my moth­er. I had nightmares about it."
Aside from Nicki's shaky past with her father, the tragedy of his passing has taken a huge toll on the star. Per People, Nicki first broke her silence about Robert's death on her website in May 2021.
"Although I can't really bring myself to discuss the passing of my father as yet; I can say it has been the most devastating loss of my life," she wrote. "I find myself wanting to call him all the time. More so now that he's gone. Life is funny that way."
The star also posted a birthday tribute to her father on Instagram on May 16, 2021.
Our thoughts and prayers are with Nicki and her family at this time.