Nicolas Cage has been married five times – He proposed to his newest wife, Riko Shibata, via FaceTime.
Eccentric actor Nicolas Cage has been in every movie genre imaginable, including National Treasure, Moonstruck, and Ghost Rider. Now, he's set to play Joe Exotic in the Amazon-scripted Tiger King series, but he's also celebrating a new marriage! Nicolas has been married previously, but fans are curious about his mysterious wife Riko Shibata, who has captured his heart. 
Nicolas Cage has been married four times previously.
In addition to his multifaceted acting talents, Nicolas has been married to women in all career fields. Nicolas met his first wife, Patricia Arquette, when she was only 19, by happenstance in a deli. After insisting he would marry her someday, Nicolas asked for a list of objects he could obtain and bring to her, quest-style, to prove he was worthy of her affection. 
The two briefly fell out after a disagreement at an airport but reconciled in 1995, where it was Patricia who proposed with a black wedding gown and a purple wedding cake. They were married from 1995-2002.
Then came Nicolas' marriage to musician Lisa Marie Presley, whom he met in 2000 when he was still married to Patricia. Nic met her at a party, and contrary to rumors he was "Elvis-obsessed," during an InStyle interview, Nicolas insisted, "We got to talking, we got to know each other, and she's hilarious and she's a real firecracker and she tells it like it is." He notes he "saw Lisa" and not Elvis' daughter.
The pair were married from 2002-2004.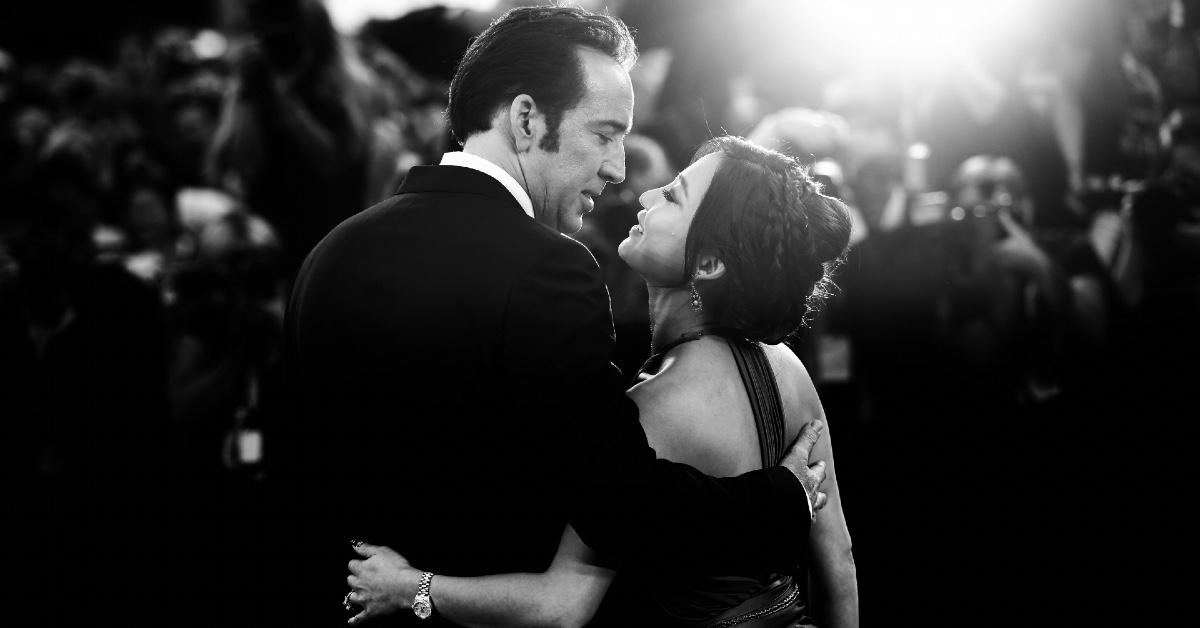 Finally, Nicolas married actress Alice Kim, with whom he has a son, Kal-El (named after Superman's birth name). Sadly, Nicolas and Alice separated after 12 years of marriage, and he was briefly with makeup artist Erika Koike, whom he only married for four days before filing for an annulment. Nicolas also has another son, Weston, with actress Christina Fulton. 
Who is Riko Shibata, Nicolas Cage's current wife?
Riko, 27, and] Nicolas, 58, have been a couple since Nicolas's separation from Erika, according to PageSix. They met in Shiga, Japan. The two went on dates in New Orleans and New York City before the pandemic, and when everyone went into lockdown, that didn't stop this creative pair from following their hearts.
PageSix also mentioned Nic went on brother Marc's podcast, where he discussed how he and Riko decided to marry.
"She left New York and went back to Kyoto, Japan, and I went back to Nevada and I haven't seen her for six months. We're really happy together and we're really excited to spend that time together so I finally just said, "Look, I wanna marry you" and we got engaged on FaceTime."
The couple married on Feb. 16, 2021, at the Wynn Hotel in Las Vegas. The couple chose this date to commemorate Nicolas' father's birthday. People notes the bride wore a handmade Japanese Bridal Kimono and the groom wore a Tom Ford tuxedo. The few who were in attendance included ex-wife Alice Kim and son Kal-El.