The Mexican state of Sinaloa authorities recently arrested Ovidio Guzmán-López, one of the sons of notorious drug lord El Chapo.
Violence erupted in the Mexican state of Sinaloa this week after Mexican authorities arrested the son of notorious drug lord Joaquin "El Chapo" Guzman.
So, who is El Chapo's son and why was he arrested? Let's see if the apple didn't fall far from the drug lord family tree. Keep reading for all the details.
Table of Contents
Who is El Chapo's son?
El Chapo's son, Ovidio Guzmán-López, is a key figure in the Sinaloa drug cartel that his father once ran. El Chapo is currently serving life in prison in the U.S. after he was convicted in 2019 of 10 counts of drug trafficking, firearms charges, and engaging in a continuing criminal enterprise, CNN reports.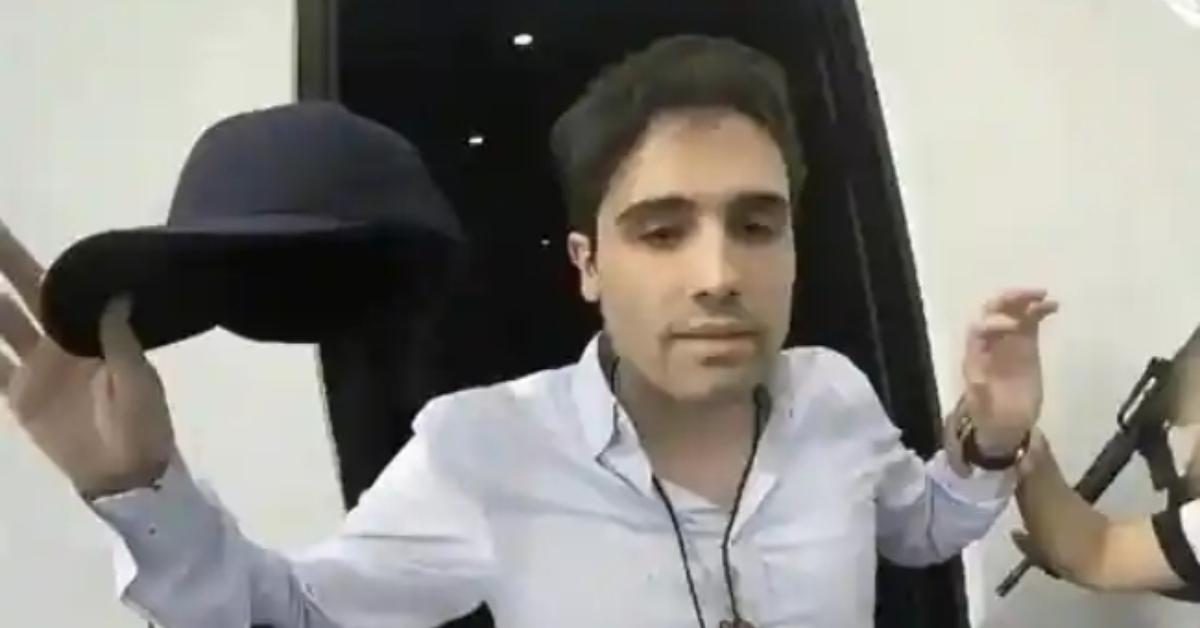 Guzmán-López, 32, is one of El Chapo's 13 children. His mother is El Chapo's third wife, Griselda López Pérez. Referred to as "El Ratón" ("The Mouse"), Lopez reportedly took over as the head of the Sinaloa Cartel after his father was arrested.
According to the U.S. State Department, Guzmán-López and his brother, Joaquin, operate the Guzmán-López Transnational Criminal Organization, which falls under the umbrella of the Sinaloa Cartel, one of the most powerful drug cartels in the world.
Mexican authorities previously arrested Guzmán-López in 2019, and gun battles broke out in the city of Culiacan then as well. To stem the violence, Guzmán-López was released from custody.
"This decision was taken to protect citizens. You cannot fight fire with fire. We do not want deaths. We do not want war," Mexico's President Andrés Manuel López Obrador said in a 2019 press conference, as reported by The Guardian.
The State Department was offering a $5 million reward for information leading to the arrest and/or conviction of Guzmán-López.
What is Ovidio Guzmán-López's net worth?
Ovidio Guzmán-López has a net worth estimated between $50 million and $80 million, reports GHbase.com. He has been in the drug trafficking trade since 2008 when he was just a teenager. In 2020, the Mexican government froze the accounts of 330 people linked to the Sinaloa Cartel, including Guzmán-López
Profile Summary
Ovidio Guzmán-López is the son of notorious Mexican drug lord Joaquin "El Chapo" Guzman, who has been in U.S. prison since 2019. After El Chapo's arrest, Guzmán-López took a lead role in the family drug business with his brother Joaquin Jr. Ovidio was arrested by Mexican authorities on Jan. 5, 2023.
| | |
| --- | --- |
| Full Name: | Ovidio Guzmán-López |
| Net Worth: | over $50 million |
| Profession: | Mexican Cartel Leader |
| Age: | 32 years old |
| Parents: | Joaquin "El Chapo" Guzmán and Griselda López Pérez |
Are El Chapo's sons in the cartel?
Guzmán-López isn't the only one to follow in the footsteps of his dear old dad. Four of El Chapo's sons, known as Los Chapitos, are reportedly handling the family drug business. The Los Chapitos are Ovidio, his brother Joaquin Jr., and half-brothers Jesús Alfredo Guzmán Salazar and Ivan Archivaldo Guzmán Salazar.
Guzmán-López and Joaquín Jr. inherited their drug trafficking careers from their older brother Édgar who was killed in a 2008 ambush, reports the State Department.
Jesús Alfredo is under indictment in Chicago for drug trafficking and conspiracy. A U.S. grand jury in California indicted Ivan Archivaldo on charges of conspiracy to distribute and import narcotics.
Some of El Chapo's wives have also been involved in the family business. His fourth wife, Emma Coronel Aispuro, was sentenced in 2021 to three years in prison for helping her husband.
El Chapo's sons run a large meth operation.
The State Department has accused Guzmán-López and Joaquin Jr. of investing large amounts of cash into purchasing marijuana in Mexico, cocaine in Columbia, and ephedrine in Argentina to use in the production of methamphetamine. The brothers oversee 11 methamphetamine labs in Sinaloa, which produce about 3,000–5,000 pounds of meth per month. The drugs are sold to distributors in the U.S. and Canada.
Guzmán-López is also accused of ordering the murders of informants, a drug trafficker, and even a popular Mexican singer who refused to sing at his wedding, the State Department says.