Who is Pamela Anderson dating right now? A complete breakdown of Pamela Anderson's six(ish) marriages.
It looked like Pamela Anderson was once again a happily married woman — for the sixth time! On Jan. 27, 2021, the model, 55, revealed her marriage to her bodyguard, Dan Hayhurst, with whom she exchanged vows on Christmas Eve.
"I'm exactly where I need to be — in the arms of a man who truly loves me," Pamela told the Daily Mail of her husband, whom she met at the beginning of the coronavirus pandemic in 2020.
"I was married on the property I bought from my grandparents 25 years ago," she said of the backyard wedding held at her home in Vancouver Island, Canada. "This is where my parents were married and they are still together. I feel like I've come full circle," she added. "I think this romantic property has a lot of healing energy. I'm at peace here. It's a big property, but a few people passing by could see the fairy-tale gown with the long Princess Diana veil dragging in the mud. Heaven."
Fast forward to 2022, PageSix reported that she was filing a divorce from Dan Hayhurst, calling her marriage to him a "disaster".
Well, we have all the tea on Pamela Anderson's current and past relationships. Here's everything you need to know.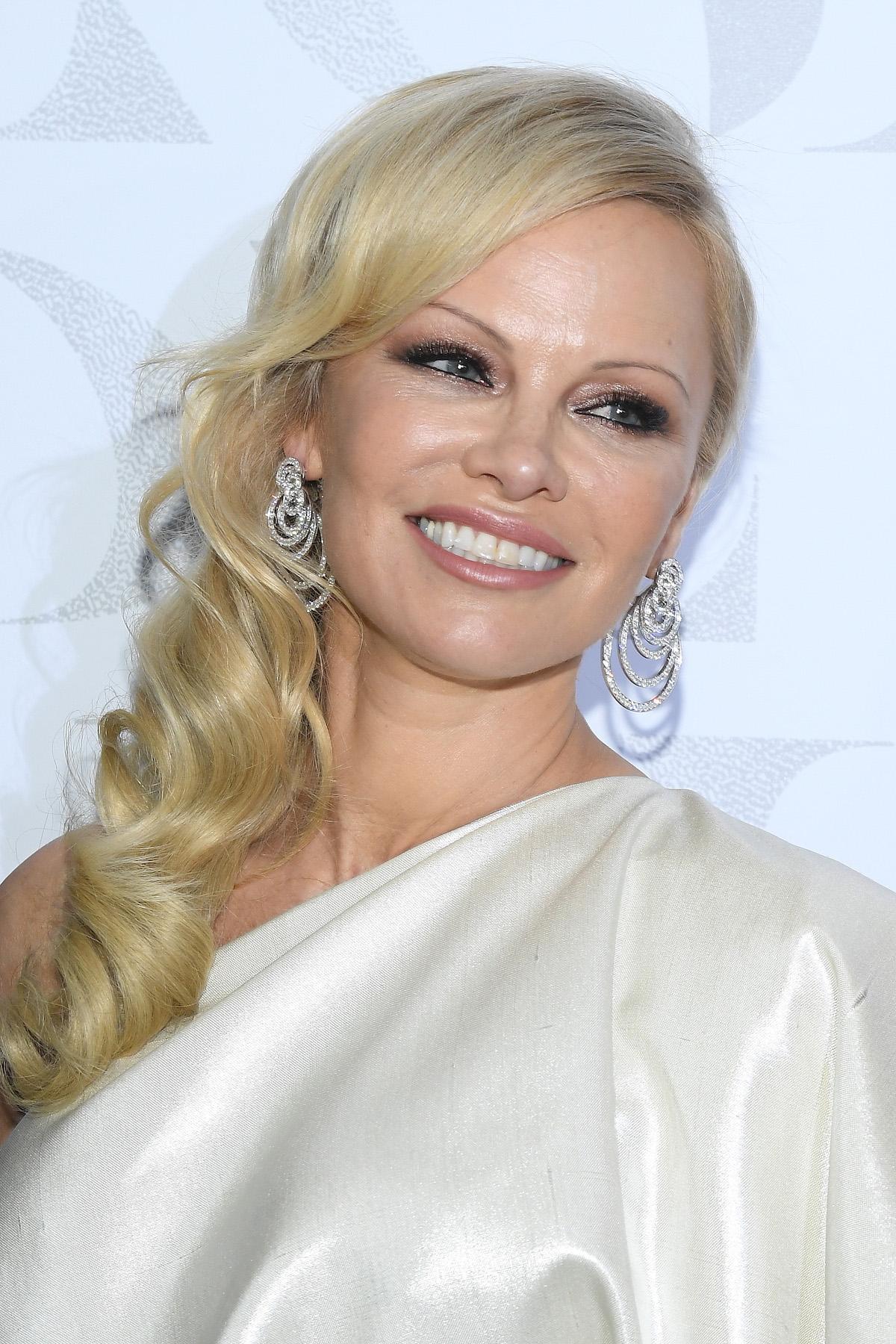 Pamela was previously married to producer Jon Peters … but not legally.
On Jan. 21, 2020, Pamela Anderson announced that, for a fifth time, she had decided to give this whole marriage business a try. That time around, the lucky man was movie producer Jon Peters, 74.
"They are very much in love and were married yesterday," Pamela's publicist Matthew Berritt told People at the time. Although Pamela and Jon only reconnected romantically a few months ago, they actually dated 30 years previously.
"Pamela has never seen her full potential as an artist. She has yet to shine in a real way. There is much more to her than meets the eye, or I wouldn't love her so much," Jon told The Hollywood Reporter of his marriage to the then 52-year-old actress. "There are beautiful girls everywhere. I could have my pick, but — for 35 years — I've only wanted Pamela."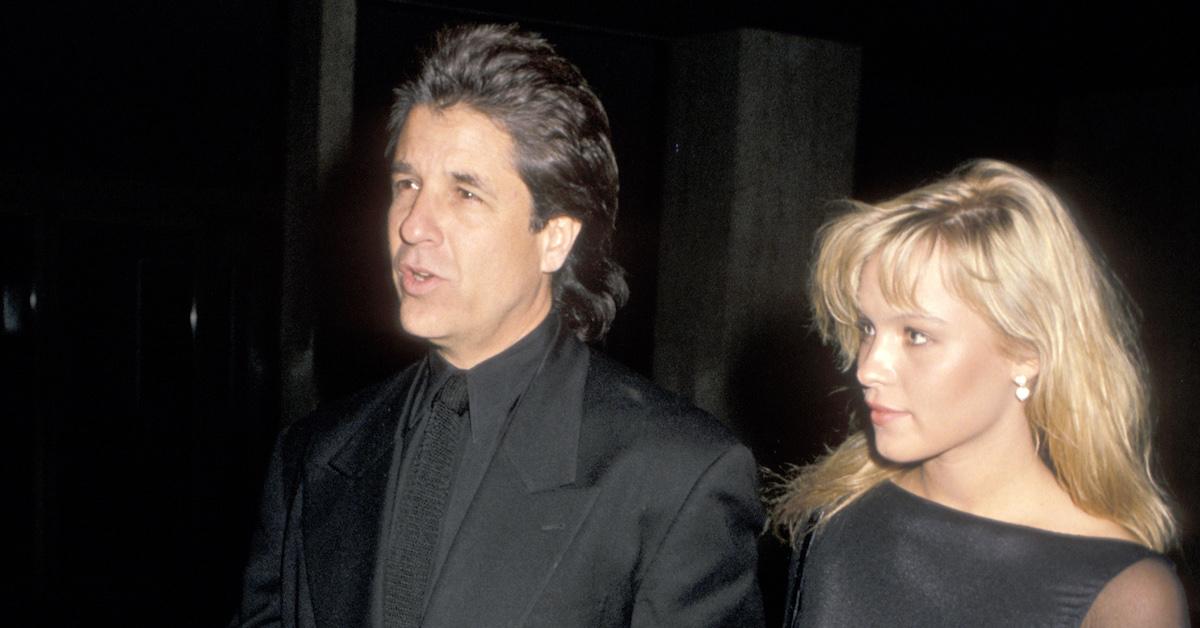 However, on Feb. 2, 2020, Pamela announced she and Jon had split.
"I have been moved by the warm reception to Jon and my union," she told The Hollywood Reporter. "We would be very grateful for your support as we take some time apart to re-evaluate what we want from life and from one another. Life is a journey and love is a process. With that universal truth in mind, we have mutually decided to put off the formalization of our marriage certificate and put our faith in the process."
A source told The Hollywood Reporter that Pamela and Jon hadn't filed legal paperwork to obtain a marriage certificate — which made things infinitely less complicated when they split. To top it all off Jon reportedly broke things off via text. A text to Pamela read, "This whole marriage thing … has scared me," according to Us Weekly.
Aside from her "almost" marriage to Jon, let's take a look back at Pamela's four other previous marriages, shall we?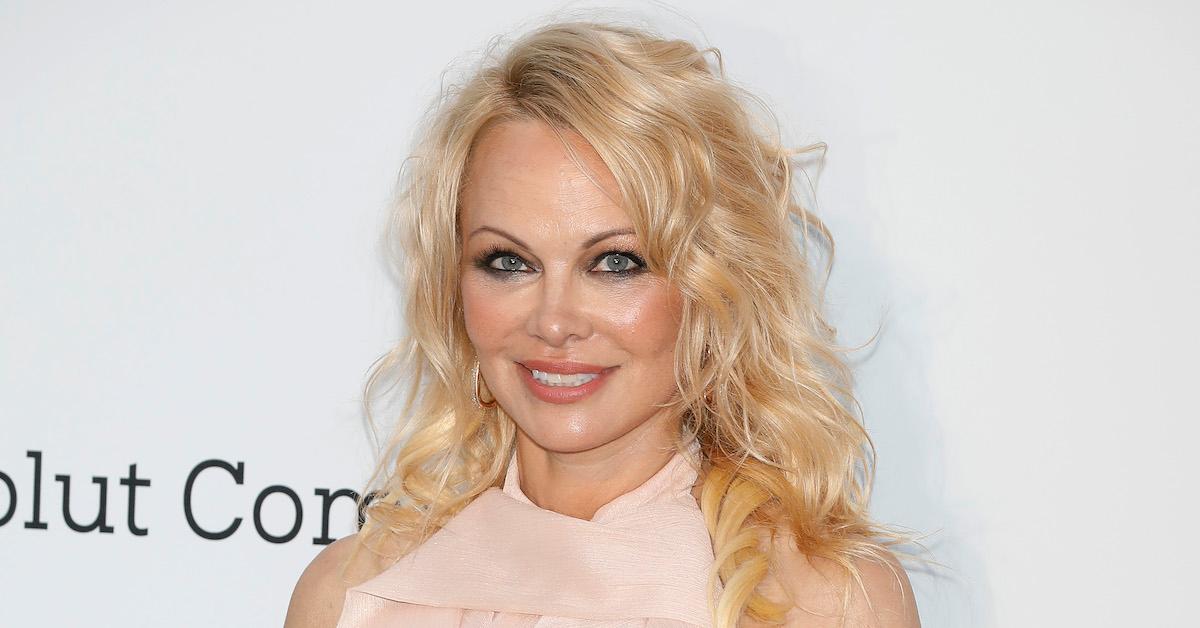 Pamela's first marriage to Tommy Lee was intense.
Tommy Lee and Pamela met on New Year's Eve, 1994, went on their first date six weeks later and were married on Feb. 19, 1995, according to E! News. Their marriage only lasted three years — during which they welcomed two sons, Brandon, in June 1986, and Dylan in December 1997 — but their relationship itself has had so many highs and lows beyond that time frame.
Although Pamela filed for divorce in November 1996, they reconciled for a while. Until things started escalating physically, that is. One altercation, in particular, resulted in the police being called and Tommy pleading no contest to felony spousal battery — for which he was sentenced to six months in jail. (Pamela again filed for divorce not long after that incident.)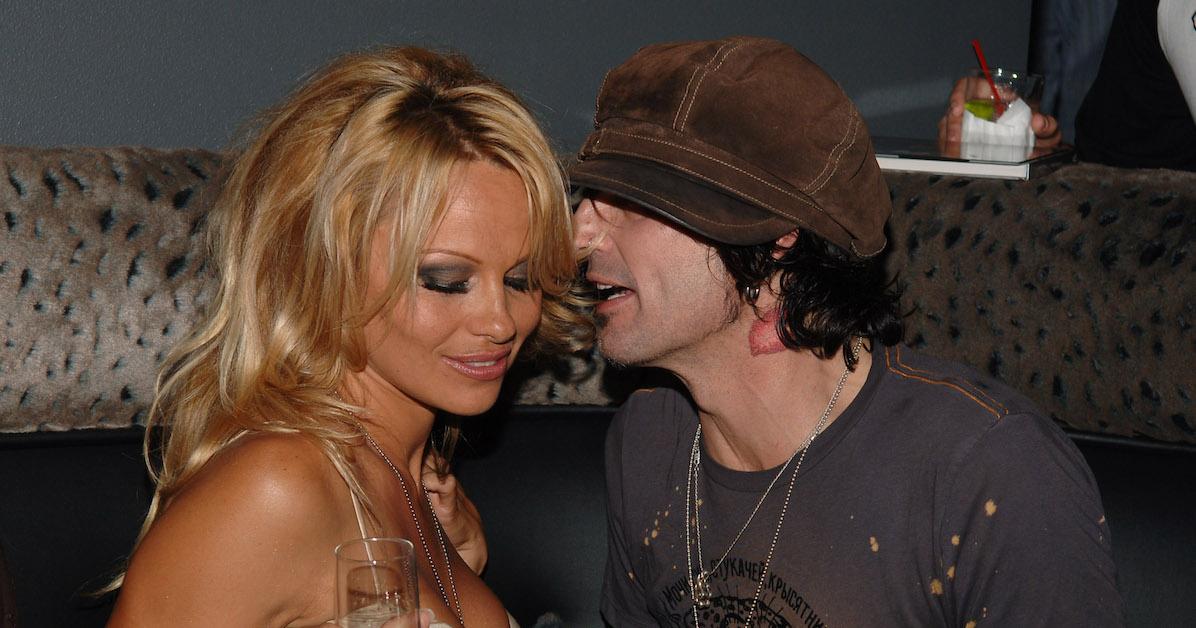 During the years their sons were young, Pamela and Tommy had times of peaceful co-parenting, near-reconciliation, custody battles, and public bad-mouthing. Pamela's relationship with the father of her children has been a rollercoaster ride, for sure.
Pamela married Kid Rock in 2006.
Pamela and Kid Rock initially started dating in 2001, but then broke up after two years. However, they ended up getting back together in July 2006 after a chance meeting on a yacht owned by a mutual friend of theirs, according to People.
"It was like we'd never been apart," Kid Rock told People at the time. He and Pamela ended up tying the knot later in July aboard that same yacht. However, Pamela filed for divorce in November 2006 — not long after the release of the movie Borat.
In May 2019, actor Sacha Baron Cohen — who starred in Borat — explained that Pamela told him the cause of her divorce was the movie. "And I thought it was a joke but then a few weeks later they got divorced and they put as a reason for divorce, Borat," Cohen said during The Daily Beast podcast The Last Laugh. "I think they were a fantastic couple, so it's a shame."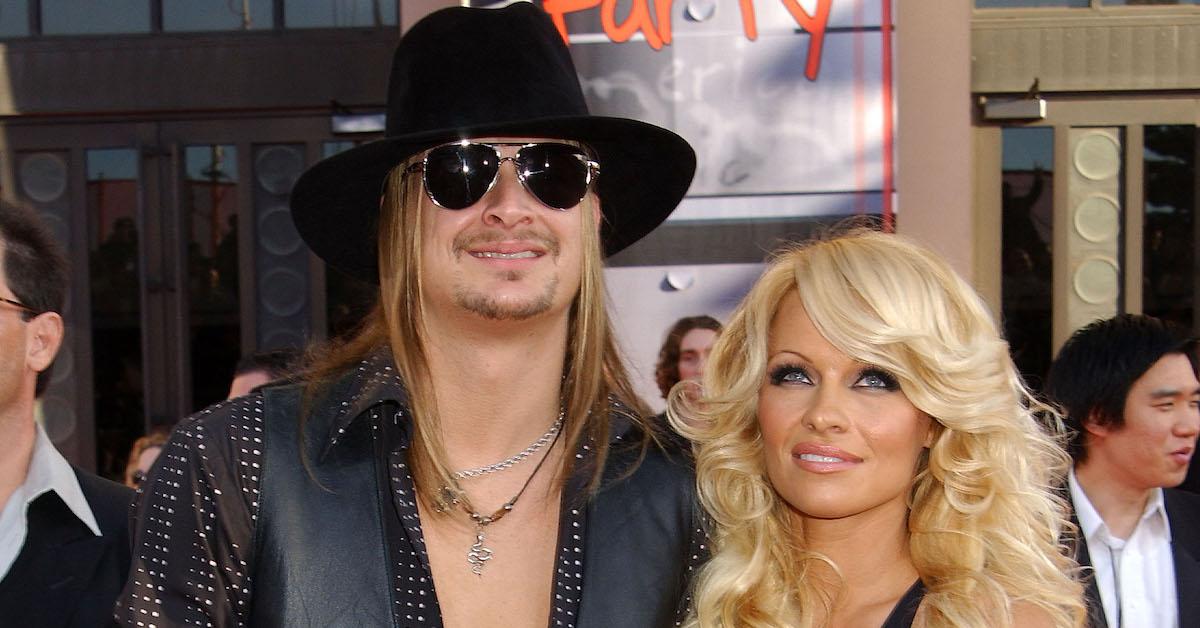 Pamela was married to Rick Salomon — twice.
Yes, marriages three and four for Pamela were to the same person: Rick Salomon. Pamela and the professional poker player first wed in 2007, divorcing after less than a year of marriage. In 2013, they decided to give it another shot — only to split less than a year later again. Reportedly, there were problems with physical abuse and harassment in their relationship.
There were even rumors of Pamela and Rick potentially marrying for a third time in 2019. (Or at least that Pamela's sons were pushing a reunion to happen.) But ultimately, it seems being married to Rick twice before was enough for Pamela to stay away for good.
Pamela Anderson was recently married to her bodyguard Dan Hayhurst but filed for divorce after a year of marriage.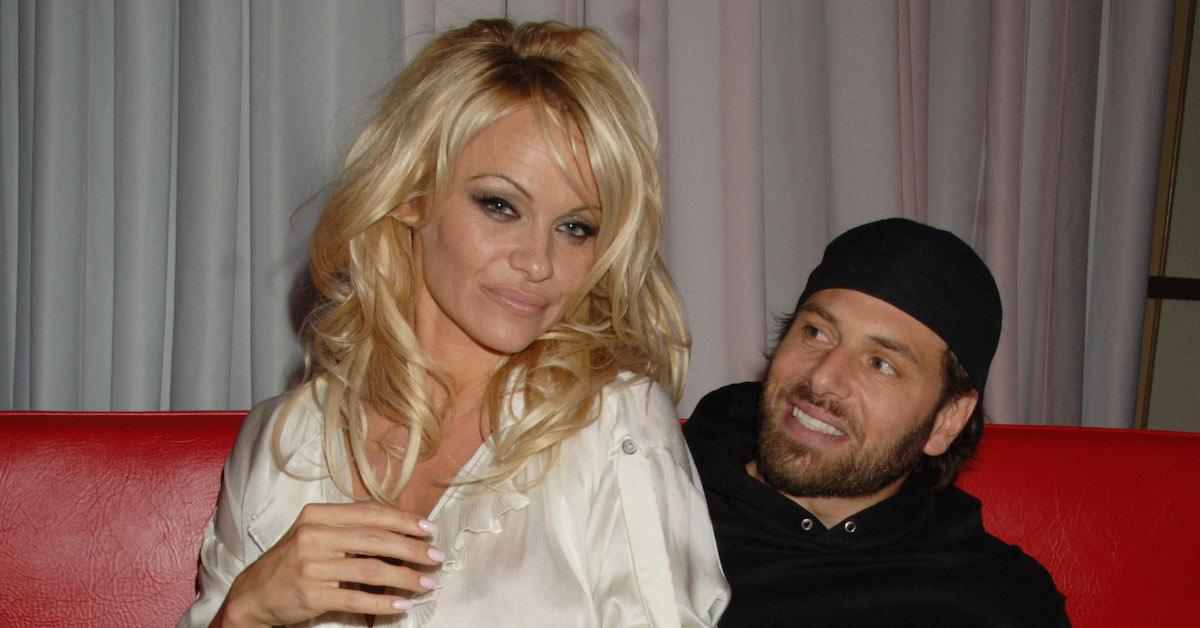 We all thought Pamela Anderson's newest marriage to Dan Hayhurst is far less dramatic than her previous five-ish marriages were. But she has filed for a divorce from him, making it a short-lived journey.
Anderson married Dan Hayhurst, a builder and her bodyguard, on Christmas Eve 2020 at her home. They broke up less than a year later.
"It ended up being a disaster," she recalled to Vanity Fair of the short marriage.
Additionally, she told The Sunday Times in a recent interview that getting romantic with her contractor "was stupid, and I do regret that." She said of the marriage, "It was worse than any of them. And I realized, 'Oh my God, I'm caught up in this whole thing, what am I doing?' It just truck me, this is another disaster. … I was paying for everything, cooking, cleaning for everybody. And so I just got out of it as soon as I could."
Soon after she split from her fourth husband in January 2022, Anderson began to look back on her life and compile her memoir Love, Pamela and work on the documentary Pamela, a Love Story.
Anderson appeared on the British talk show Loose Women back in February 2021 alongside Hayhurst for an interview over video call, with the then-newlyweds answering questions about their nuptials while in bed. Anderson said she and Hayhurst met on her family property. "He was working here and I got stuck here during COVID and we stuck together," she said.
"He's the kinda guy I would have met if I didn't go round the world and get crazy," she added at the time. "It's nice to be with a real man who can actually change a lightbulb. He's useful. It's a new thing."
Who are Pamela Anderson's ex-boyfriends?
Aside from her famous ex-husbands, Pamela Anderson dated a tall list of men. Some of these relationships and hookups or links were in between her marriages
Pamela Anderson has been in relationships with Adil Rami (2017 – 2019), Julian Assange (2015 – 2017), Matt Evers (2012 – 2013), Jon Rose (2011), Jamie Padgett (2009 – 2010), Criss Angel (2007 – 2008), Hans Klok (2007), David Binn (2007), Laurence Hallier (2006 – 2011), Stephen Dorff (2004 – 2005), Christian Monzon (2003 – 2004), Marcus Schenkenberg (2000 – 2001), Kelly Slater (1998 – 2000), David Charvet (1992 – 1994), Scott Baio (1990 – 1993) and Tyrone Anderson (1982 – 1986), per WhosDatedWho.
Is Pamela Anderson dating anyone right now?
Pamela Anderson is currently completely single; meaning she is not married, and not in any relationship too after divorcing Dan Hayhurst, a builder and her bodyguard, on Christmas Eve 2020 at her home. They broke up less than a year later.
The actress is living in her grandparents' former farmhouse on Vancouver Island, Canada, with her five dogs) recalled to Vanity Fair that while renovating her home during the pandemic, she began to "romanticize everything."
"Everyone was looking good — all the contractors that were here," said Anderson.
Now, the actress feels content without needing to always have a partner in her life. She told Vanity Fair, "I've learned to try and do this without a life preserver, without having anyone around me to console me. I have to console myself. That's been the hardest part of the journey — to go, I'm okay on my own … with my dogs. I need my dogs. I can't be that alone."
Added Anderson, "I had this wild, bumpy life and met a lot of interesting people along the way and had a lot of interesting love affairs. But I feel like my life is more romantic now than ever. I have dinner for one or with my dogs. I'm the same person with or without somebody. Rose petals in the bathtub, making my own rose oils, making my own candles. I'm kind of crafty all of a sudden."
Her new memoir, Love, Pamela and Netflix documentary, Pamela, a Love Story, are both out Tuesday, Jan. 31.