Fun biography facts about Rihanna, an influential female singer who doubles as an entrepreneur (CEO of Fenty Beauty) that you need to know.
Rihanna is an idol and inspiration for any woman across the globe.
Her successful career in singing and songwriting has expanded into acting and fashion.
Rihanna has changed lives around the world in a positive way and given hope to many people, especially to those who are part of her charity.
Her songs are catchy, and her styles change with the seasons, and that's what makes her one of the most successful female artists today.
Rihanna is one of the world's most influential female singer-songwriters of the 21st century.
Her elaborate live shows and catchy tunes have people of all ages dancing and singing along.
Did you know that singer-songwriter Rihanna won her High School beauty pageant when she was 16 years old?
But do you know how it started for Rihanna? Or where she comes from?
Here are 50 fabulous facts about Rihanna that every fan should know.
#1.
Robyn Rihanna Fenty is 33 years old. She was born on February 20, 1988. Her star sign Pieces, meaning she is dreamy and romantic.
#2.
Rihanna was born in Saint Michael, Barbados, and grew up in Bridgetown, Barbados.
#3.
Her father is Irish-Barbadian, and her mother is Afro-Guyanese. Her parents divorced when she was just 14 years old.
#4.
She has two biological brothers, two half-sisters, and a half-brother.
#5.
RiRi attended army cadets when she was at school, and her drill sergeant was singer Shontelle.
#6.
At age 15, she won a talent show by singing "Hero" by Mariah Carey.
#7.
Rihanna grew up listening to reggae music and started to study music at school.
#8.
When Rihanna was 16, she won her high school beauty pageant.
#9.
In 2003 alongside two classmates, she formed a girl band in Barbados.
#10.
American record producer Evan Rogers discovered the trio and invited them for an audition.
#11.
Rihanna stood out as being the powerful voice, so she was invited for a second audition.
#12.
Rogers invited Rihanna to record some sample tapes, including "Pon de Replay" in his studio in the US.
#13.
Rihanna's sample tapes were sent to Def Jam Records, and it was Jay-Z who listened and signed her.
#14.
Rihanna's debut album "Music of the Sun" was released in August 2005, which reached number 10 on the Billboard 200 list, and over two million copies were sold worldwide.
#15.
On Gwen Stefani's "Harajuku Lover" tour in 2005, Rihanna was her opening act.
#16.
In August 2006, she had her first acting role in Bring it On All or nothing.
#17.
Her second album, "A Girl like Me," was released just a year after her debut in April 2006.
#18.
At the Barbados Music Awards in 2006, Rihanna won two awards; Best New Artist and Best Female Artist of the Year.
#19.
In 2006 Rihanna created the Believe Foundation, which was designed to help terminally ill children.
#20.
Her release of S.O.S in 2006 was her first number-one single on the US Billboard Hot 100.
#21.
RiRi released her album "Good Girl Gone Bad" in 2007.
#22.
Good Girl Gone Bad was her redefining album, which exposed her fierce, strong personality through an R&B-inspired album.
#23.
She was ranked number eight on Maxim's Hot 100 Women list in 2007.
#24.
In 2007 Rihanna was given the honorary title of "Ambassador for Culture and Youth" for Barbados.
#25.
In 2008 the former president of Barbados created "Rihanna Day," which is held every February 22.
#26.
Following the 2008 release of her single "Umbrella," she had to ban umbrellas being brought to her concerts in fear of spectators injuring others.
#27.
Rihanna won her first Grammy Award for her hit with Jay-Z, "Umbrella."
#28.
In 2008 Rihanna set up a series of free concerts called "A Girl's Night Out," any money earned by sponsors was donated to her charity Believe Foundation.
#29.
In September 2009, Rihanna appeared on the cover of Italian Vogue Magazine as part of their "Extreme Couture" edition.
#30.
In 2011 her hit "S&M" became her tenth number-one single to get onto the Billboard list.
#31.
At age 23, she was the youngest artist to have had ten number ones featured on Billboard.
#32.
For two consecutive years, 2011-2012, Rihanna won International Female Solo Artist at the BRIT Awards.
#33.
Rihanna has a Maltese poodle cross called Oliver, who she adopted in 2015.
#34.
By 2016 Rihanna had headlined six tours and released eight studio albums.
#35.
Rihanna launched her lingerie line "Savage X Fenty" in 2018, which was designed to offer a wide range of lingerie to all skin colors and body sizes.
#36.
In 2018 Rihanna purchased a $7 million house in West London, England.
#37.
In March 2018, Snapchat issued an apology to Rihanna following an ad campaign in a "would you rather" game, asking users would they rather "slap Rihanna" or "punch Chris Brown."
#38.
Rihanna has had a minimum of six Guinness World Records. On February 25, 2020, Rihanna received a Guinness World Record for being the most tracked artist on Songkick, with 3,867,117 followers.
#39.
In May 2019, Fenty fashion was launched under Louis Vuitton, which made Rihanna the first woman of color to have a luxury fashion brand.
#40.
Rihanna is 5′ 7″ tall (1.73 meters).
#41.
Rihanna played Marion Crane in Bates Motel, the character was originally portrayed by Janet Leigh in the 1960 Hitchcock film Psycho.
#42.
Rihanna has had more than 75,000,000 downloads, making her the best-selling digital download artist of all time.
#43.
She has also earned over 30 top-ten songs in the UK and Australia, making her the only artist in the 21st century to achieve this feat so far.
#44.
Across the globe, there are a total of eight wax figures of Rihanna at the Madame Tussauds museums.
#45.
Rihanna has 25 known tattoos, she got her first one back in 2006, which was a musical note on her foot.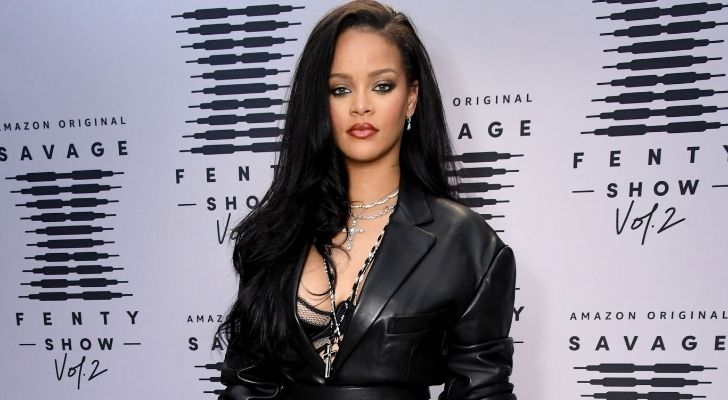 #46.
Rihanna is in a serious relationship with rapper, ASAP Rocky.
#47.
She is now the richest female musician in the world and the second richest female entertainer only behind Oprah Winfrey.
#48.
Forbes revealed Wednesday (Aug. 4) that Rihanna's estimated net worth is about $1.7 billion, mostly due to her Fenty Beauty brand.
#49.
Rihanna has reacted to reports that she is a billionaire. When a paparazzo approached the 33-year-old multihyphenate and asked what it meant to her to be a "self-made billionaire," RiRi only had three words to capture how blessed she is: "God is good."
#50.
Rihanna is on all social media platforms. Follow her below;