Former HGTV Royalty Chip and Joanna Gaines are the proud parents of five children.
Once news broke that Chip and Joanna Gaines were leaving HGTV, the sounds of various hearts breaking echoed around the globe. The handy couple helped build the network and quickly became unofficial HGTV royalty, but they ultimately decided to step away a few years later to explore other business opportunities and focus on their family.
However, the glamorous pair have since launched the Magnolia Network and expanded their home-renovating empire with shows like Fixer Upper: Welcome Home and Magnolia Table With Joanna Gaines. OK, it seems things are going well on the professional side of their life, but what about their personal life? Keep reading to learn about Chip and Joanna's kids.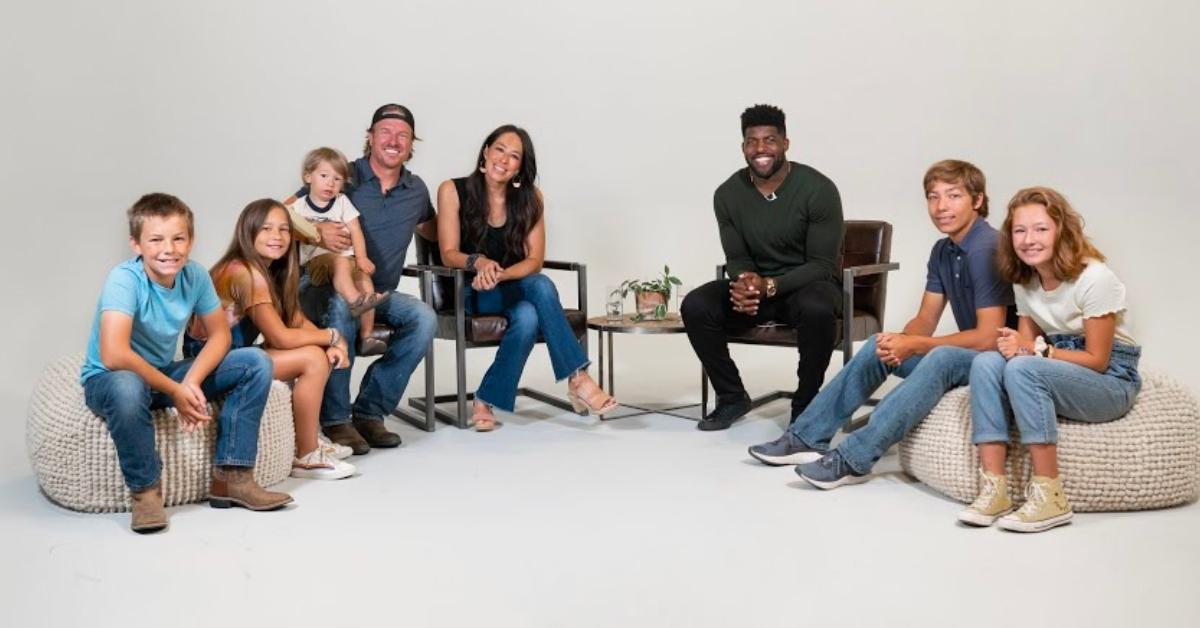 Chip and Joanna Gaines are the proud parents of five kids.
Chip and Joanna Gaines are parents to five kids: Drake, Ella, Duke, Emmie, and Crew.
Drake, their eldest child, is reportedly named after the Drake Hotel in New York City, where Chip and Joanna went for their honeymoon. In the fall issue of Magnolia Journal, Joanna noted her 17-year-old son will leave for college very soon.
"Soon, our oldest son, Drake, will be leaving home for college," Joanna wrote. "In the grand scheme of heartbreaking things, this one comes with a lot of gratitude and excitement." She continued, "But still, my first child is moving away, and our family dynamic will change because of it, and that can feel like a loss of its own."
Chip and Joanna's oldest daughter, Ella Rose, was born on Oct. 20, 2006. Joanna recently wished her happy 16th birthday, writing on Instagram that she was "trying [her] darnedest not to cry like a big fat mama baby." Although it seems Ella might follow in her mother's footsteps and become a designer, she launched her own small baking business in June 2018.
The middle child, Duke, was born on May 23, 2008. He is a certified foodie and often grows his own vegetables. Their youngest daughter, Emmie Kay, was born on Feb. 1, 2010. She and Duke are similar since they are both passionate about gardening; however, the "future plant lady" is clearly more in tune with floral arrangements.
Chip and Joanna insist their youngest child, Crew, was a "total surprise."
And last but not least, Joanna and Chip welcomed their fifth child on June 23, 2018. A month before she gave birth, Joanna spoke with People and revealed their son Crew was a "total surprise."
"When I saw the results of the test, my jaw dropped," Joanna told the outlet. "Chip was in the driveway about to leave when I called him back and said, 'We're pregnant!' He was so excited. We're both just so excited."
Although he's only 4 years old, Crew often helps out Joanna in the kitchen. In August 2022, Joanna shared a video on Instagram of her youngest acting as her sous chef and official taste tester while making a pot of marinara sauce.
The footage also shows little Crew assembling fresh basil and cooking ground beef. Crew has also appeared on Joanna's cooking show, Magnolia Table.
Well, he's already a better chef than we are!