'GMA' anchor T.J. Holmes said he gave his wife "Plenty of Reasons" to leave him.
On Wednesday, Nov. 30, 2022, several photos surfaced online of Good Morning America co-anchors T.J. Holmes and Amy Robach on what appeared to be a romantic getaway. The two journalists, who are both married to other people, were spotted holding hands and cozying up at a bar in upstate New York. They shut down their Instagram accounts just hours after their alleged affair was made public.
Amy has been married to actor Andrew Shue, best known for his role as Billy Campbell on Melrose Place, since 2010. The 49-year-old reporter has five children — two daughters from a previous marriage and three step-sons from her marriage to Andrew. As for T.J. Holmes, stick around for all the known details about his wife, Marilee Fiebig, and their family.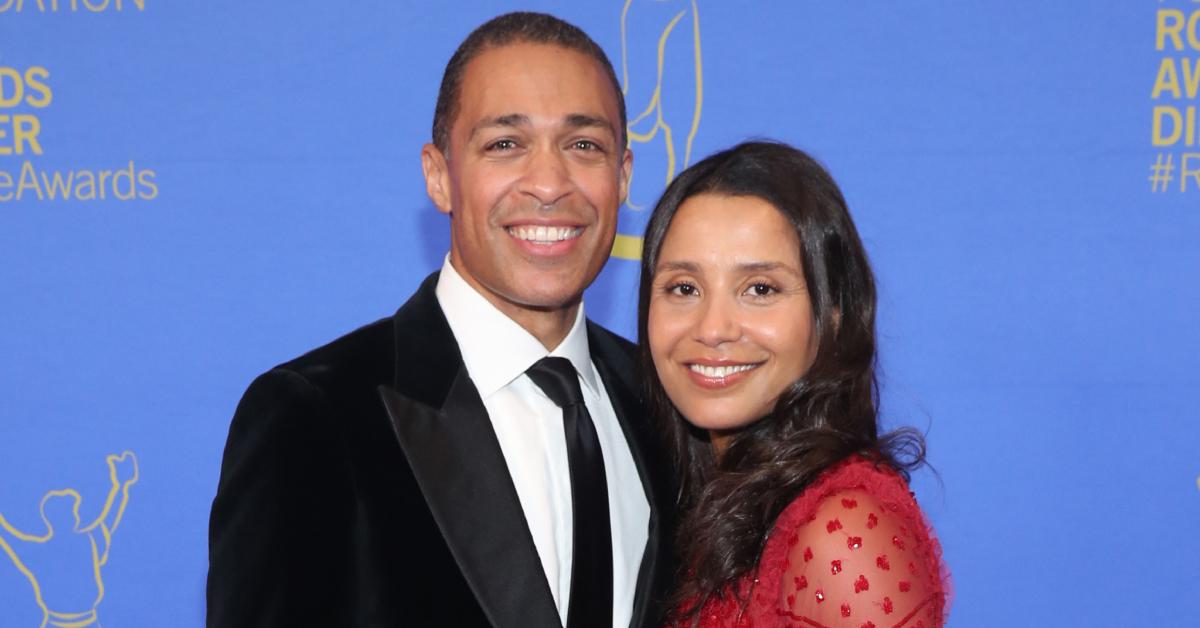 Who is T.J. Holmes's wife?
Like his co-anchor, T.J. has been married twice.
The 45-year-old former CNN correspondent's first marriage was to a woman named Amy Ferson; the pair, who divorced in 2007, share two children, Brianna and Jaiden. Nearly three years after splitting from his first wife, T.J. met and married Atlanta-based attorney Marilee Fiebig. In 2013, the couple welcomed their first child together, a girl named Sabine.
According to her official Instagram bio, Marilee is an immigration lawyer and serves as the chief diversity officer for Save the Children. As part of the organization, she will "continue to advance the DEI strategies already in place … to lead the coordination of our ongoing comprehensive culture review and advise new DEI efforts."
A few hours after T.J.'s alleged affair with Amy Robach came to light, an anniversary post dedicated to his wife went viral. In March 2020, the GMA3 co-host took part in Facebook's "10-year challenge," but instead of opening up about himself, T.J. took the opportunity to gush over Marilee and how "despite my best efforts, she remained married to me the past 10 years."
"That's not hyperbole. I'm not being dramatic. I gave her plenty of reasons, excuses, and opportunities to walk her fine ass out the doooooooor," the journalist continued. "But instead, with her built-in black woman superpower, she showed a grace and patience that's incomprehensible." He added, "This is MARILEE FIEBIG HOLMES, y'all. And I, T.J. Holmes, do solemnly swear … that I … was HER #decadechallenge."
As expected, this two-year-old post has raised plenty of eyebrows.
"T.J. Holmes cheated over and over on his wife. That's for sure. That post said everything," one person claimed on Twitter. Another alleged that T.J. "literally praised his wife, Marilee Fiebig, for putting up w his infidelity in a heartwarming IG anniversary post."
"The post T.J. Holmes made about his wife in 2020 just to publicly do that … wheww. Man," a third person wrote on Twitter.
What is Marilee Fiebig's nationality?
According to her official bio on the Save the Children website, Marilee was born in the Democratic Republic of Congo; however, she grew up in the United States, meaning she is of American nationality and African ethnicity.