Who is Vicki Gunvalson in a relationship with? Vicki Gunvalson says she "Manifested" her new boyfriend after Steve Lodge breakup.
Victoria Gunvalson is an American reality television personality and businesswoman best known for a starring role as a housewife in the Bravo reality television series The Real Housewives of Orange County for fourteen seasons. She is the founder of Coto Insurance. 
Season 2 of Peacock's Real Housewives Ultimate Girls Trip has been an emotional rollercoaster, to say the least. Early on, one ex-Housewife revealed that she had been dumped hours before filming in the Berkshires began.
Real Housewives of Orange County star Vicki Gunvalson was devastated after her longtime boyfriend, Steve Lodge, called it quits. However, in a major plot twist, it appears that Vicki has already moved on.
Nearly a year after her split with Steve, things are getting serious between Vicki and her boyfriend. But who is Vicki Gunvalson dating now?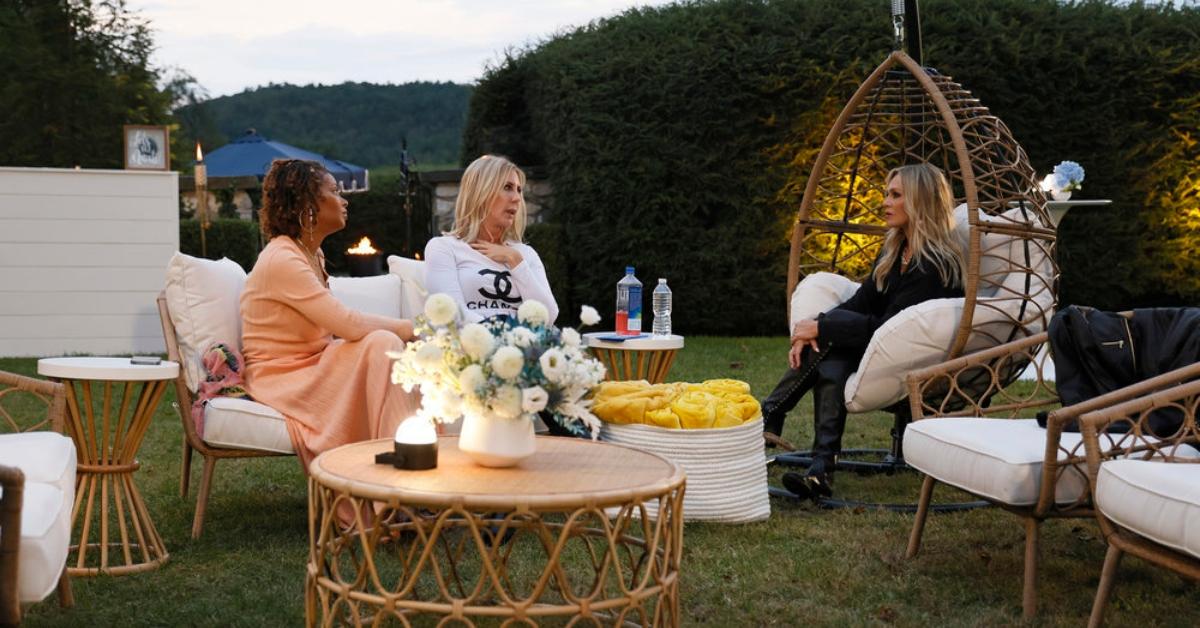 Who is Vicki Gunvalson dating now?
According to Vicki, she and her new boyfriend, who we only know as Michael, were introduced by way of a mutual friend — none other than her former RHOC co-star Kelly Dodd. In an interview with Page Six, Vicki described meeting her new boyfriend as a "blessing."
Vicki explained that the two met years earlier but had only reconnected recently when she was invited to dinner by Kelly and her husband.
"This incredible man was sitting next to me, and he's like, 'You never called me back seven years ago,'" she revealed.
Although Kelly couldn't remember their first encounter, her one-day boo certainly did. "I gave him my number, and I'm like, 'I don't remember you,' and he's like, 'Yeah, we talked, and we went to Fleming's.'"
And with that, an RHOC romance was born. Since then, the two have reportedly been "inseparable."
In June, Vicki introduced Michael to her family and shared a photo of their meetup on her Instagram. In the caption, she wrote, "My heart is happy."
She added that the day was filled with "lots of laughs and tons of fun." Per her interview with Page Six, "it couldn't have gone any better."
Vicki went on to assert that she had "manifested Mike." She shared, "He's, like, my man, so with every bad thing that happens out there… there's always something that will follow."
By all accounts, Vicki and Mike's romantic relationship appears to be flourishing only months after she broke it off with her fiancé. Her ex, Steve, is now happily married to a third-grade school teacher named Janis Carlson. But why did Vicki and Steve break up?
Why did Vicki Gunvalson and Steve Lodge break up?
Following her breakup with Steve, Vicki told her RHUGT co-stars that she was "heartbroken."
But in a July 19 episode of Watch What Happens Live, Vicki claimed that Janis and Steve's love story was a product of infidelity.
She told Andy Cohen that Steve moved in with Janis as soon as they broke up, despite his claims that he wasn't seeing anyone else. "He sent me a text that he had moved out to his mother's [house]. That was a lie. He moved to his person's house," Vicki revealed.
The RHOC star also made it clear that she has no plans of returning her ex's engagement ring because she's the one who paid for it. "The ring that he could afford was not what I wanted, so I'm good with buying my own ring."
And that's on period.