'Sonic Prime' features several voice actors who are new to the 'Sonic' franchise.
Between the tepidly reviewed Sonic Frontiers video game and an upcoming third movie in the Sonic the Hedgehog film series, this new Netflix-exclusive show may have gone too fast and slipped under your radar. Sonic Prime began streaming on Dec. 15.
In the midst of another battle against the evil Dr. Eggman, Sonic accidentally breaks the fabric of reality and sends him and his friends into different parallel universes. He is then tasked with restoring the universe before it falls apart.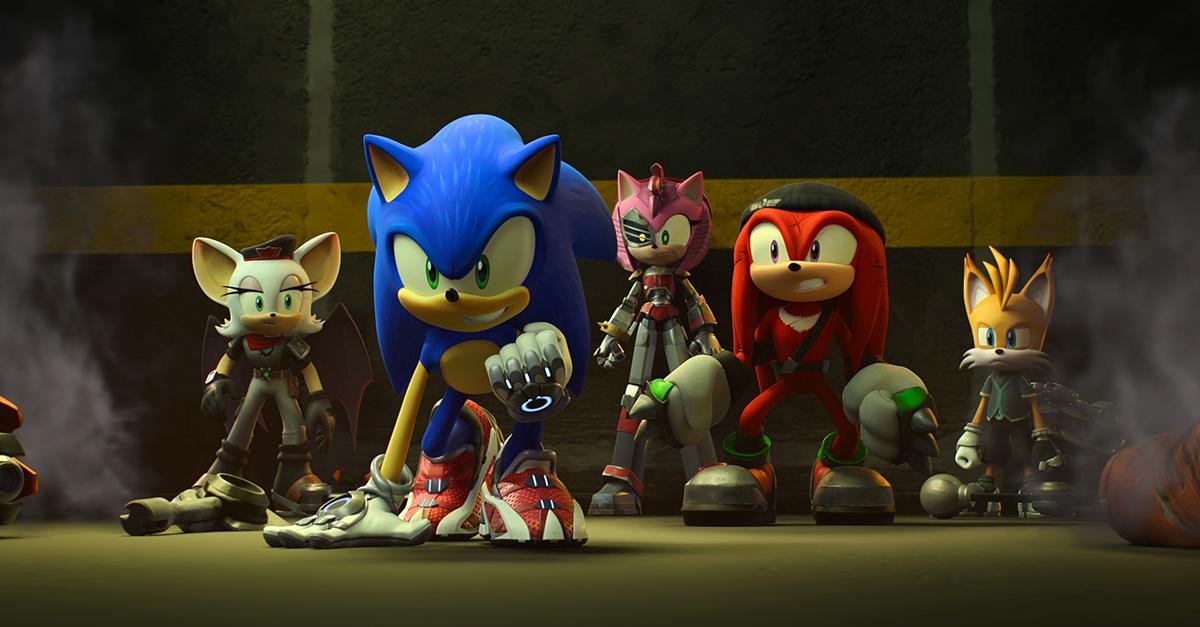 Though other reputable actors have portrayed these iconic characters for several years across different forms of media, Sonic Prime features an entirely new voice cast. Many of the cast members also portray alternate versions of themselves throughout the many realities that Sonic visits.
Get to know the Sonic Prime voice actors!
Deven Mack is the lead voice actor in 'Sonic Prime.'
The titular Blue Blur is being portrayed by voice actor Deven Mack. According to his IDMb page, his first notable voice role came in came in the 2006 animated series Grossology. In recent years, he also portrayed Thanos in several Lego Marvel animated films.
Ironically, Deven has even admitted on Twitter that he's more aligned with Sonic's sidekick, Tails. Nevertheless, he has also stated that he's excited to join the ranks of Roger Craig Smith and Ben Schwartz as iconic Sonic voices.
Brian Drummond voices Dr. Eggman.
The nefarious Dr. Eggman is voiced by Brian Drummond. Brian has previously had voice roles in the Dragon Ball Super anime and has voiced Wolverine in several Marvel animated productions. When announcing his role as Eggman on his social media platforms, he gave shout-outs to previous Eggman actors like Mike Pollack and Jim Carrey.
Ashleigh Ball voices Miles "Tails" Prower.
Ashleigh is the latest voice actress to portray Tails in the new Netflix series. As a reputable voice actress, she is perhaps best known for voicing two main characters in the popular cartoon My Little Pony: Friendship Is Magic.
Shannon Chan-Kent voices Amy Rose.
Shannon has had several memorable roles in English dubs of Japanese anime leading up to her role as Amy Rose. She's previously voiced Misa Amane in the original Death Note anime as well as several Pokémon throughout the long-running series. She also appeared in Supergirl on the CW among her many live-action roles.
Ian Hanlin voices Shadow the Hedgehog.
Sonic's popular edgy rival is voiced by Ian Hanlin. Ian has had major roles in several My Little Pony animated productions and even appeared in the adult-animated 2016 film Sausage Party. He's provided voice work for video games like Far Cry 5.
In Sonic Prime, Ian also voices Big the Cat.
Kazumi Evans voices Rouge the Bat.
In her first on-screen appearance in Sonic media since Sonic Forces in 2017, Rouge the Bat is played by Kazumi Evans. She is known for her work in My Little Pony animated productions as well as The Dragon Prince on Netflix. She has also appeared in several Hallmark Channel films.
Vincent Tong is also another member of the Sonic Prime cast, providing the voices of several alternate versions of Knuckles and Dr. Eggman.
The voices for Sonic, Tails, and Eggman have commented on 'Sonic Prime.'
As many Sonic fans may have noted, the cast for Prime differs wildly from the voice actors who have portrayed these characters in games and cartoons for several years. The old cast isn't necessarily passing the torch to the new, but previous Tails voice actress Colleen O'Shaughnessey has previously spoken about why they're not in the new show.
Sonic Prime is primarily produced in Canada. According to Canadian content and union laws, the voice cast is required to be primarily Canadian. Colleen has previously stated that because she isn't Canadian, she couldn't voice Tails for the new series.
Nevertheless, known Sonic voice actors have expressed nothing but congratulatory remarks for the new cast. Eggman voice actor Mike Pollack openly welcomed Brian Drummond to the role on Twitter.
Meanwhile, Sonic voice actor Roger Craig Smith previously tweeted out that while he isn't part of Sonic Prime, he loves Deven's performance.
Season 1 of Sonic Prime is currently streaming on Netflix.