All of Weird Al Yankovic's band members are very musical – who are they?
Lest you thought that Weird Al Yankovic was a solo act, well, you'd be incorrect. In fact, the comedian counts four very musical band members as part of his success. Steve Jay, Jon "Bermuda" Schwartz, Rubén Valtierra, and Jim West have been with Weird Al for decades.
The Weird Al band members are very musically inclined and began making music as children. Although Weird Al is best known for hilarious musical parodies and funny videos, there is "stellar musicianship" behind songs like "Amish Paradise" and "Eat It," as the Ottawa Citizen reported.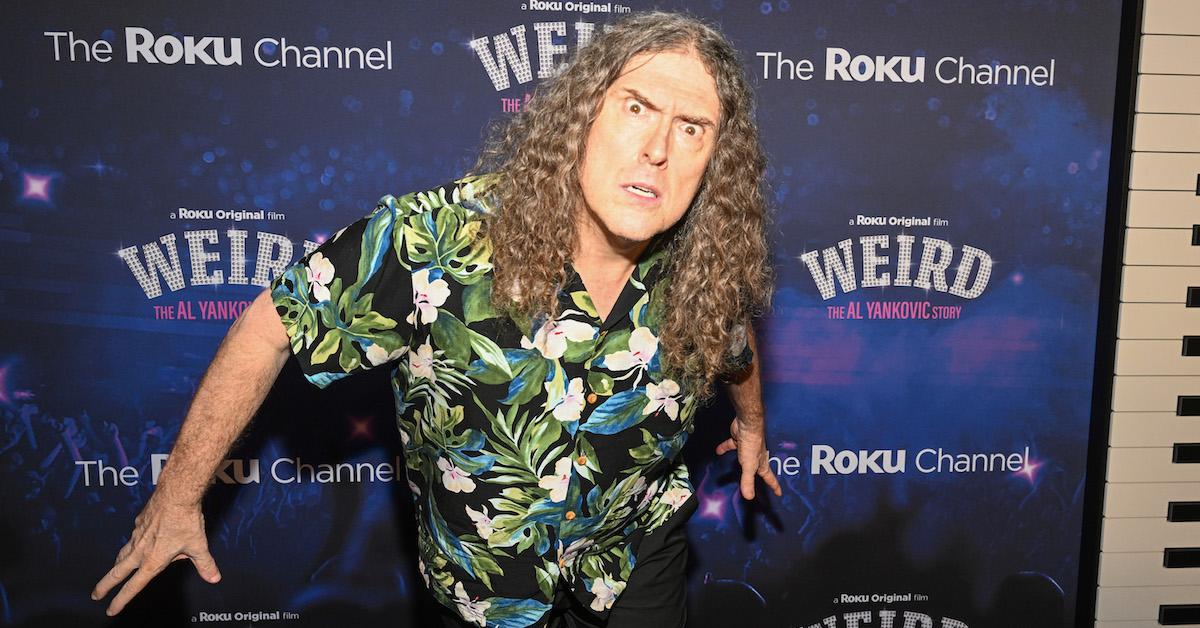 Weird Al Yankovic's band members are called players.
On his website, Weird Al refers to Steve, Jon, Rubén, and Jim as the "players" in the band. But these guys are not just playing around, despite common perceptions. In fact, they are all supremely musically accomplished, with Weird Al being no exception to that distinction.
According to NPR, Weird Al started playing the accordion as a teenager. Similarly, the guys in the band fell in love with music as kids. From there, the fivesome has achieved impressive levels of fame, with a star on the Hollywood Walk of Fame and a 2022 movie about how they became part of the pop culture fabric called Weird: The Al Yankovic Story.
Let's meet the band.
Steve Jay plays bass, banjo, ethnic percussion, and keyboards.
In addition to the wide range of instruments Steve has used to create the signature sound of Weird Al Yankovic's music, he also contributes vocals, according to the band's website. Steve has always had an interest in music, having come from a musical family, per his bio. He even majored in music in college, going on to become a musical theorist with a particular interest in world music.
Steve's accomplishments stretch beyond his work with Weird Al, having scored 70-plus episodes of PBS specials and series. According to the Milwaukee Record, he has also released about a dozen solo albums.
Jon "Bermuda" Schwartz is the band's drummer who dabbles in vocals.
Jon's wild ride with Weird Al began with the iconic 1980 hit "Another One Rides the Bus." Like his colleagues, Jon was a musician seemingly from the womb, and was wailing away on the drums by the fourth grade.
Although he too boasts other musical feats, "being Weird Al's drummer remains his primary focus." Among the claims to fame Jon most enjoys? Perhaps that his likeness has been portrayed multiple times on The Simpsons, per Drum magazine.
Rubén Valtierra tickles the ivories and sings.
Rubén was another early music lover, having been a part of his high school orchestra. Now, the sometimes vocalist is an award-winning keyboardist and music producer. Some of the other mega-talents he has worked with include Aretha Franklin, Elton John, Stevie Wonder, and Santana, to name just a few.
Jim West is a music man of many talents.
Nicknamed "Kimo," the so-called foreigner of the band, having hailed from Toronto, Canada, plays guitar, banjo, mandolin, and keyboards, as well as contributing vocals to the band.
He began mastering the guitar at age 12. Now, Jim is a producer and composer for TV and film. It was Steve who introduced Jim to Weird Al, according to the Ottawa Citizen.
"When I began to learn the songs I realized they were really well-crafted and the lyrics were very clever," the talented musician said about why he joined. "It's not something he just threw together in five minutes. We play every different style, so musically it's a fun challenge — everything from polka to metal."
Jim added, "It's been a great honor to play music with Al and support him all these years."