Amy Schumer's husband is the inspiration for her 'Love & Beth' love interest.
The recent Hulu show Life & Beth — which started streaming on March 18 — is inspired by Amy Schumer's own life story, including her relationship with her husband Chris Fischer.
As Amy recently told the Los Angeles Times, she came up with Love & Beth after finding her old journals in her childhood home. "Suddenly, I wanted to tell [Chris and my] origin story, about falling in love, and to talk about the life lessons I learned [as a teenager]," she said.
In the series, Michael Cera plays Amy's on-screen love interest, John, who's roughly based on Amy's real-life husband. "Chris and I are very down about sharing our lives," Amy added.
Here's more about the couple…
Chris Fischer is a chef and a cookbook author.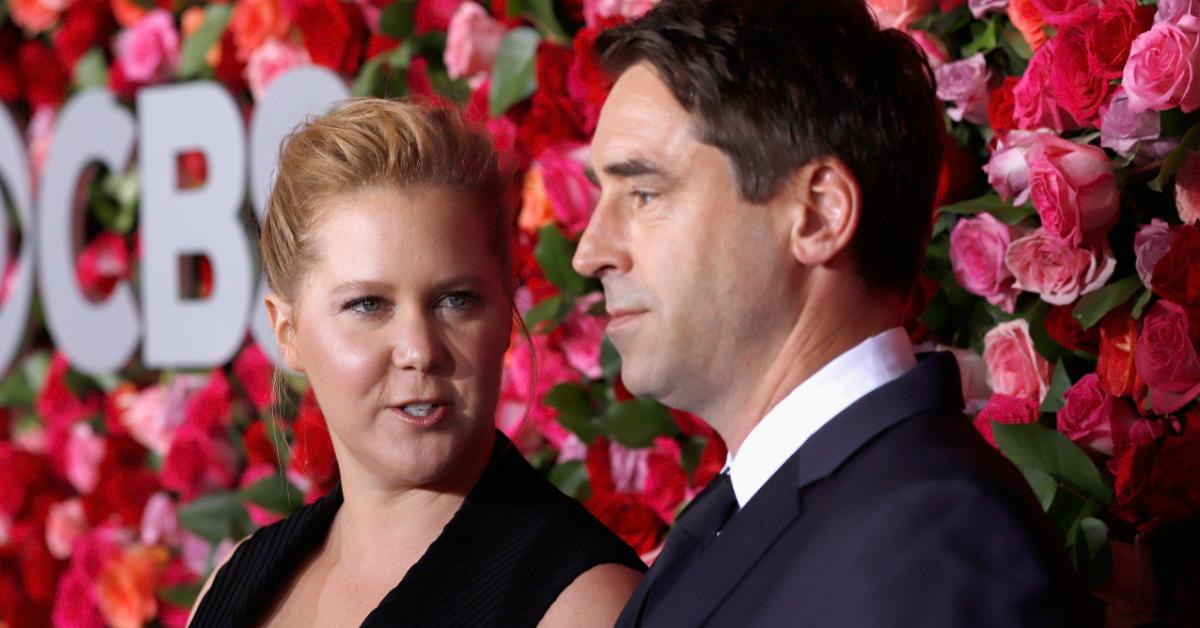 According to Cosmopolitan, Chris is a chef who honed his culinary chops at the New York City restaurant Babbo before running the kitchens at Beach Plum Inn and The Covington, both of which are located on the island of Martha's Vineyard, Mass., where he grew up.
Chris is also the author of The Beetlebung Farm Cookbook: A Year of Cooking on Martha's Vineyard, a cookbook that documents his time running his grandfather's five-acre farm on the island.
And on top of fall that, Chris and Amy were the stars and executive producers of the Food Network series Amy Schumer Learns to Cook.
He and Amy Schumer married in 2018 and welcomed a son the following year.
Amy and Chris tied the knot in a private ceremony in Malibu, Calif., in February 2018, with Jennifer Aniston, Jake Gyllenhaal, and Jennifer Lawrence among the wedding's 80 guests, according to People.
In a Today interview that April, the Trainwreck star said that she and Chris had been friends for about six months before they started dating — and she knew Chris was "the one" about a month into their relationship. "We got down to business really quick," she quipped.
The couple welcomed son Gene in May 2019, and on Gene's second birthday, Amy praised Chris' fatherly instincts. "While I was having a three-hour C-section, [Chris] held my hand and stared in my eyes so I never felt alone," she wrote on Instagram. "I feel loved and supported always. He takes care of our family and is a husband and father beyond my wildest dreams."
Chris was diagnosed with autism, which was like "getting a superpower," Amy said.
According to People, Chris was diagnosed with autism spectrum disorder as an adult.
"All of his behavior is kind of excused now," Amy joked on The Ellen DeGeneres Show this April, per the magazine. "If someone's telling a long, boring story, he will straight up just walk away. He'll just wander away, and I'm just still stuck there."
But on a serious note, Amy said that the diagnosis had given both of them "so many helpful tools."
"I think it's a good thing for people to check it out and get tested, so you don't spend your whole life feeling like you're bad or wrong," the comedian added.
The Los Angeles Times reportedLife & Beth costar Michael Cera hung out with Chris to research the role of John, and Amy told the newspaper that the Arrested Development actor bonded with Chris over their shared competitive spirit.
"Chris and Michael, they just love a competition," she said. "And it doesn't have to be an actual tennis match. It can be the dumbest thing. Like, 'OK, the game is whoever can throw this and hit that wall.' And I can see that my son is already like that. I gave birth to a new competitor for Chris."