Kansas City Chiefs Quarterback Patrick Mahomes' Father Was Also a Professional Athlete.
The Kansas City Chiefs quarterback Patrick Mahomes is quite the stud in the NFL.
As one of the biggest current stars in the NFL, Patrick Mahomes is a formidable force to be reckoned with on the field. The Kansas City Chiefs quarterback comes from a lineage of skilled athletes, and now he's making his mark on the professional football scene in more ways than one.
But now that the 27-year-old football star is in the spotlight more than ever before, fans are curious to know more about his personal life — and specifically, who his parents are. Scroll down to meet the young athlete's family!
Who are Patrick Mahomes' parents?
Patrick's parents are Pat Mahomes Sr. and Randi Martin. His mother is white and his father is Black. The two reportedly divorced when Patrick was just 11 years old — but for the sake of their son, they've remained civil and are able to watch his football games amicably. 
Patrick's father, Pat Mahomes Sr., 52, was actually a professional athlete as well, but instead of the NFL, he was in the MLB. He is a former professional baseball pitcher who played for teams including the Minnesota Twins, Boston Red Sox, New York Mets, Texas Rangers, Chicago Cubs, and Pittsburgh Pirates from 1992 until 2003.
So yes, Patrick was certainly born with athletic genes and grew up around professional sports, thanks to his dad. Although he didn't choose to take the pro baseball route, he did play college baseball at Texas Tech University. However, he opted to pursue a life in professional football instead and was drafted by the Chiefs in 2017.
Patrick's mother, Randi, just like his father, is also very proud of her successful son. She is also a mom to Patrick's two younger siblings, brother Jackson Mahomes and sister Mia Randall, both of whom Patrick adores.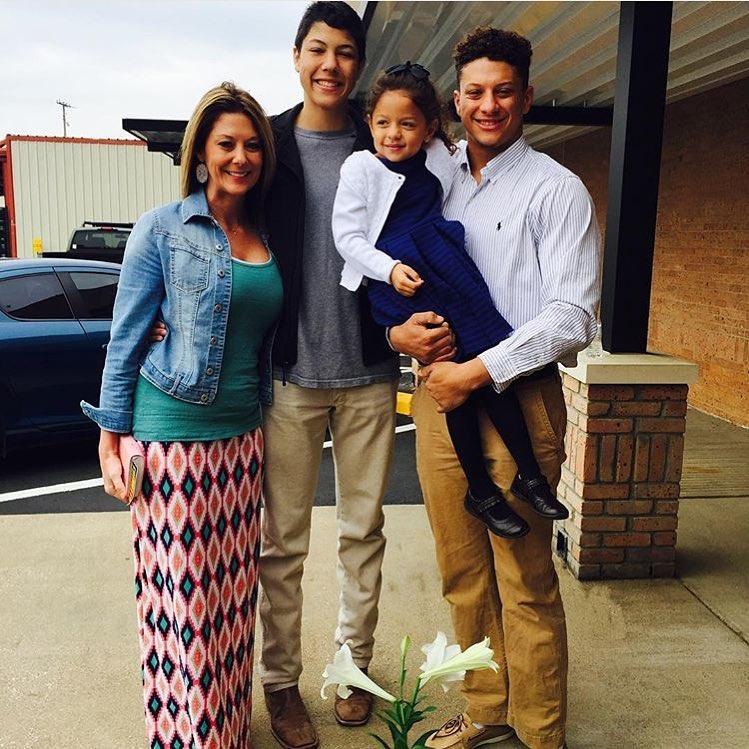 Patrick's parents and his siblings are often featured on the professional athlete's Instagram page with heartwarming photos and sweet shout-outs. By the looks of it, despite his parents' divorce, they are still a tight-knit, supportive family.
In a previous interview, Randi gushed about how her son is truly living the dream. "It's truly been a blessing," she once told KSHB. "I tell him that all the time. [It's] a blessing that, you know, little boys dream about. He's gotten to actually live a dream. So, you know, we take it – I take it one day at a time and try to enjoy it. It is a little overwhelming."
Another very important person in Patrick's life is his wife, fitness guru Brittany Matthews. The two have been together for a few years now, and the blonde beauty is often featured on Patrick's Instagram. Better yet, it seems like she's super close with his family and attends many of Patrick's games.
Patrick and Brittany have two kids; a daughter named Sterling Skype Mahomes and a son.