Britney Spears just mentioned her father-in-Law in an Instagram post — Who is the mystery man? Details on Sam Asghari's family.
We love Britney Spears. We would like to start with that. In fact, we should start every post with a statement about our adoration for the Grammy-winning "Oops!…I Did It Again" singer. So, no matter how wild or racy her Instagram posts get, we fully support the pop legend. (Cut her some slack; Brit has only been freed from her conservatorship since Nov. 12, 2022. #FreedBritney)
An Instagram post from Dec. 27, 2022, features a video of Britney and her hubby, Hesam "Sam" Asghari, dancing at what appears to be their wedding reception. Along with the video is a sizable caption.
"High school movie! Gotta see it … not that by any means is it a secret reference to me … although my song is in it! I'm definitely one to secretly make fun of! And if you don't believe me … check out how they portrayed my special wedding day!" Britney wrote.
"It was sure to make me feel like something with all that entertainment and the beautiful celebs holding that mic! I mean, I haven't held a mic in 7 years, so that sassy girl dancing lit up the room for them with the chemistry! That's honestly what it's about … and good God, it was everywhere! Oh well, sitting down for 3 minutes for a sweet song and then 21 clap backs from one person alone had me feeling special!"
"Anyways this is me before the dance floor was full! "Kiss" by Prince! I'm gonna show you what it's all about — THE KISS! P.S. … There sure were a hell of a lot of women around … when can I meet your dad Hesam?" the caption concluded.
We know, there's a lot going on here, but we're mainly concerned with the last portion, which mentions her husband's father. Who is the mystery man? Let's discuss Sam Asghari's family.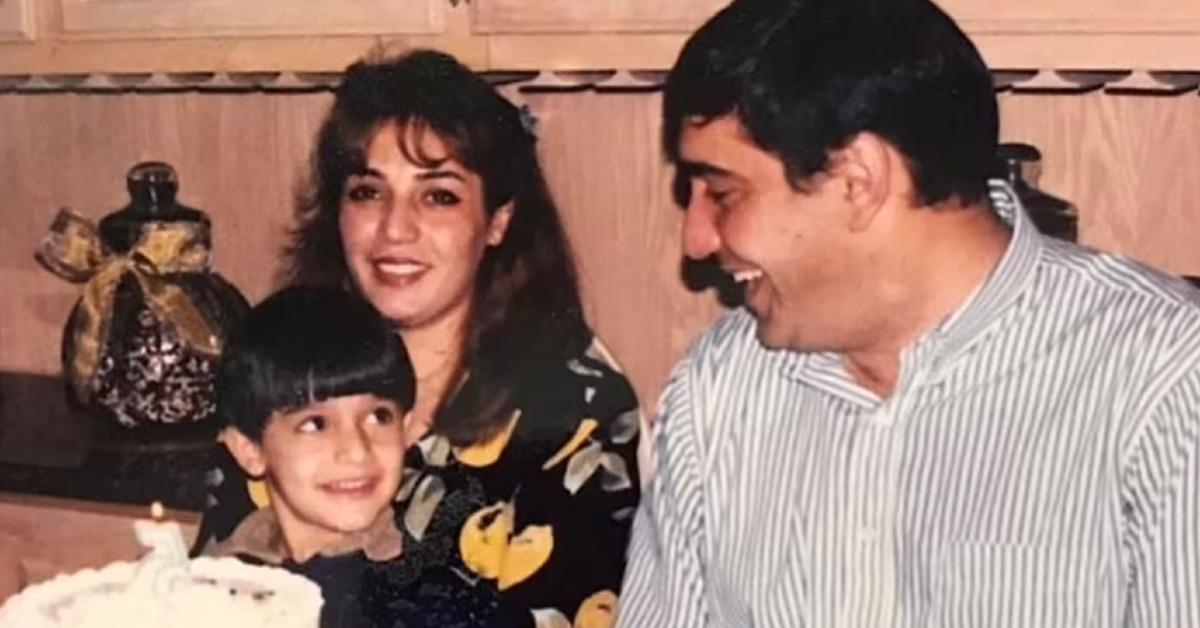 Sam Asghari grew up with his parents and his sisters Maddie, Fay, and Ellie.
The Iranian-American model and actor has a strained relationship with his father, Mahmond Asghari. According to Daily Mail, Sam's father "abandoned the family in Tehran, moved to California with the promise of establishing a new life for them, but instead ran off to marry another woman." Yikes.
In a now-deleted 2020 Instagram post, Sam got vulnerable about his estrangement from his father.
"Haven't seen my paps for about 12 years now, that's basically half my life, it's about time I reunite with the man that made me into who I am today. Happy Father's Day to my old (young) man! I witnessed this man work his a– off as an immigrant here in the U.S. just so his kids could have a better future. Thank you for teaching me that you don't have to be a perfect man to be a perfect father," Sam wrote in a post accompanied by an old family photo.
Public records obtained by Daily Mail show that Mahmond "Mike" Asghari married a woman named Janice Wilson in Nevada circa October 1999. The marriage ended in 2004, and in 2006, 12-year-old Sam lived with his father in the U.S.
Daily Mail further wrote that the former tow truck driver "vanished from the U.S. and his teenage son's life" in 2008.
And while Sam's mother, Fatima, hasn't been seen with Mike as of late (for obvious reasons), his daughters Fay and Maddie — both of whom are nurses, the former also being a model — have posted photos of themselves with their dad in recent years. Specifically, photos with Mike were taken in Istanbul, but it's not clear whether or not he's living in Turkey.
Regarding Sam's mother and sisters, he's previously gushed over them, relaying that they adore Britney (duh!). Fay even confessed her love for Brit on Instagram.
"One of the most beautiful and emotional moments of my life was to watch my brother get married," she wrote of Sam and Britney's June 2022 wedding. "I love you both so much."
We can only hope that Sam eventually reconnects with his father. We get the feeling Brit wants a relationship with her father-in-law.