Cowboys kicker Brett Maher made NFL history with four missed extra points – What actually happened to him?
Everyone has bad games — it's inevitable.
However, no one has had a worse performance than Dallas Cowboys kicker Brett Maher. During the team's wild-card game against the Tampa Bay Buccaneers, the 33-year-old athlete experienced the biggest choke in NFL history.
So, what happened to Brett Maher? Keep reading for all the known details regarding his poor performance. Plus, stick around to find out if the Cowboys plan to stick with him for their divisional-round playoff game against the San Francisco 49ers.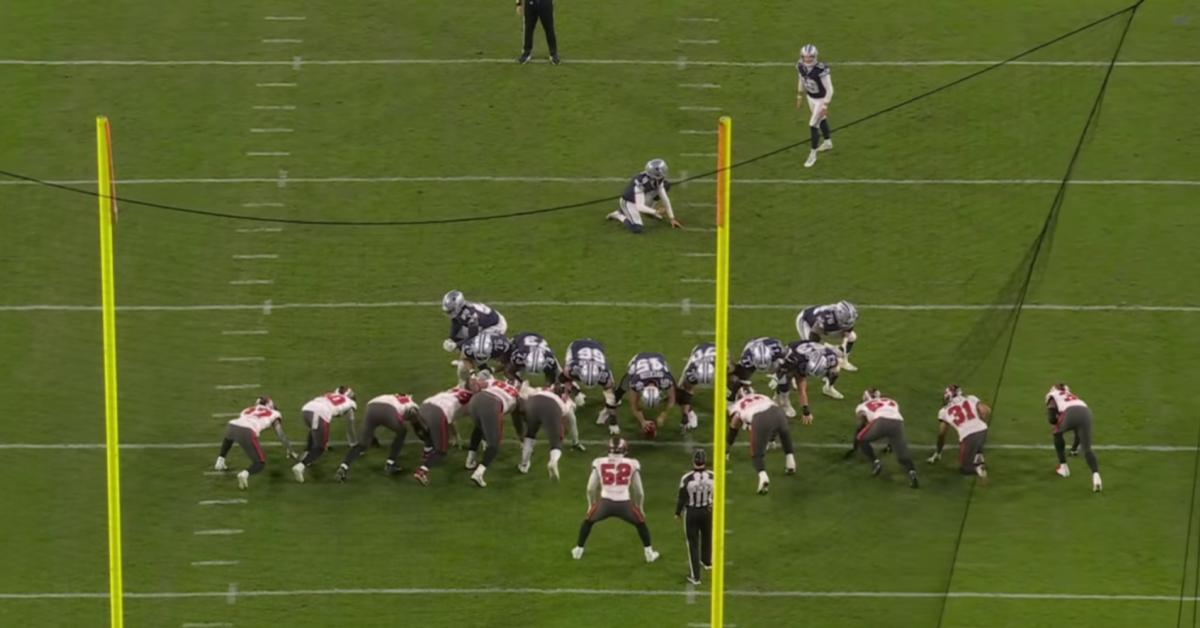 What happened to Brett Maher?
Although the Cowboys played a near-perfect game in their 31-14 victory over the Bucs, kicker Brett Maher walked away with a historically bad performance. He suffered a full-blown meltdown and became the first player in NFL history to miss four extra points in a game since 1932. OK, yikes — that's one record you don't want to hold.
It was evident that the Cowboys were getting more and more aggravated with each miss. By his third botched kick, Cowboys quarterback Dak Prescott slammed his helmet in frustration and screamed, "Go for f–king two," indicating that he would've preferred the team attempt a two-point conversion instead of putting their faith in the obviously struggling kicker.
The wildly popular Manningcast joined the players and fans in not being able to process Brett Maher's disastrous performance, with Hall of Fame quarterback Peyton Manning briefly walking away from the broadcast in disgust after his third shanked kick and shouting, "Why are we kicking it?!" He then asked if it was possible to "cut a guy at halftime of a playoff game."
After the fourth miss, Peyton simply shook his head and nearly chucked a football across the room.
Brett's less-than-stellar performance resulted in hundreds of memes — this one is, without a doubt, our favorite — but, despite his obvious struggle on the field, the Cowboys rallied behind the kicker and offered him plenty of support after the game.
Cowboys coach Mike McCarthy showed support for Brett Maher.
Following the win, Cowboys head coach Mike McCarthy spoke with the media and confirmed that the team plans on sticking with Brett for their divisional-round playoff game against the San Francisco 49ers.
"We need Brett. He understands that. We need to get back on it this week and get him ready to go," he said, per ESPN. "Obviously we're kicking at an outdoor stadium out there in Santa Clara. But you know, yeah, he's disappointed. We need him. We need him to focus in. He's been super clutch for us all year."
Brett also has the support of his teammates, including Dak Prescott (TBT to when he threw his helmet on the sidelines after the third missed kick). He told reporters, "I'm Money Maher's biggest fan. I talked to him individually after the game, just told him, 'Hey let that go, we're going to need it' I just played like s–t a week ago, so that happens."
Dak added, "knowing what that guy's done, with the resiliency he's shown throughout his career … [I have] no doubt that he'll come back next week and be perfect and help us win."