JoJo Siwa's new house is insane and filled with candy everywhere. Where does JoJo Siwa live now?
At some point or another, you've probably heard a thing or two about the 19-year-old dancer, YouTuber, and glitter-loving force that is JoJo Siwa. After getting a solid start on Dance Moms, the bubbly blonde went on to create her own YouTube channel, music, and colorful empire of colorful, sparkly accessories. So between endless amounts of concerts, products, and brand deals, it's safe to say the side ponytail connoisseur as — well — quite a bit of cash saved up.
And by "quite a bit of money," we're referring to JoJo's reported net worth of $20 million, according to Celebrity Net Worth, which recently went towards buying a second home (yes, at the ripe age of 16, JoJo has two homes). Although her immature demeanor can be somewhat worthy of eye-rolls, her new house is definitely more ~mature~ than her last. Trust me — your jaw will drop when you see these photos of JoJo Siwa's new house. I'm beyond envious.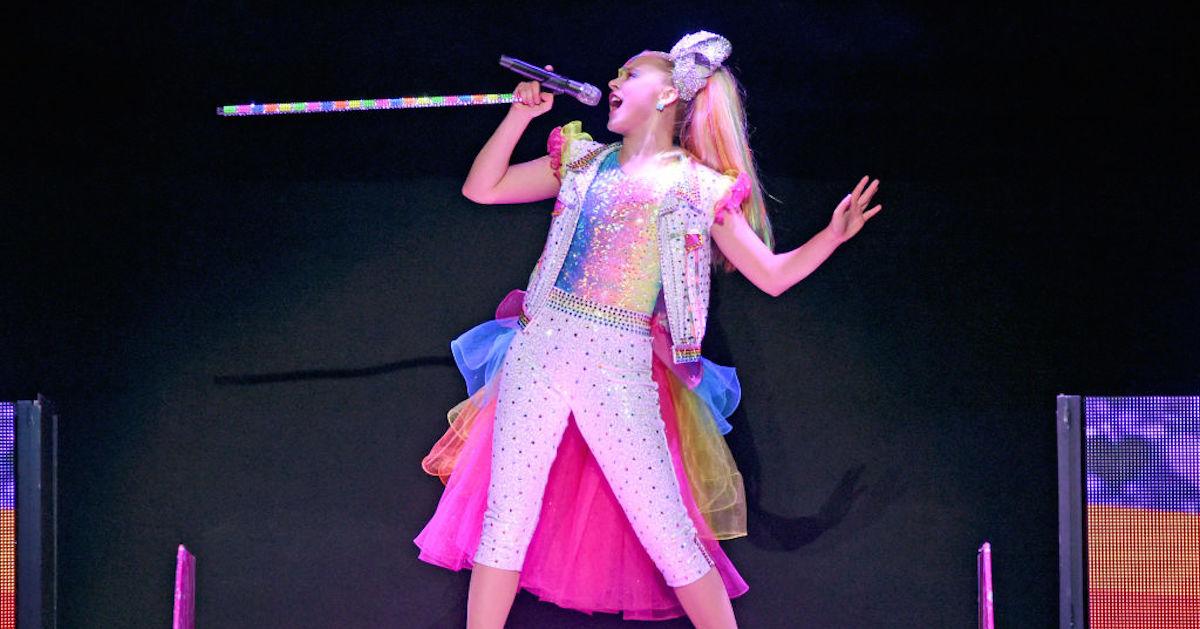 Where does JoJo Siwa live now?
JoJo was born in Omaha, Nebr. in 2003 to Tom and Jessalyn Siwa. Tom is a chiropractor, and Jessalyn is a dance instructor, which explains how JoJo got into dance in the first place.
The two are also parents to son Jayden, who was born in 2000. The family now resides in a $3 million home in Los Angeles that JoJo bought in December of 2019. 
Both Tom and Jessalyn have Instagram accounts now where they express their pride for JoJo and Jayden. Jessalyn is fully devoted to her daughter's career these days, and she works diligently on creating some of JoJo's most blinged-out looks. She also was the original creator of the iconic bows that JoJo wore on Dance Moms. 
JoJo Siwa's first house was decked out in pink, glitter, and well, more glitter.
JoJo first took fans on a virtual tour of her first house back in November 2018 and have seen a few clips of her videos, I wasn't surprised by anything I saw — the interior looked like a rainbow and several unicorns had exploded everywhere, leaving behind piles of color, glitter, and candy everywhere you looked. 
Don't get me wrong — it was adorable — but it looked like a pre-teen had decorated every square inch of it… which was entirely true. Take a look at the photo below. While I'm not so jealous of her old abode, I know for a fact you'll be shocked when you see footage of her new house. Trust me on this one.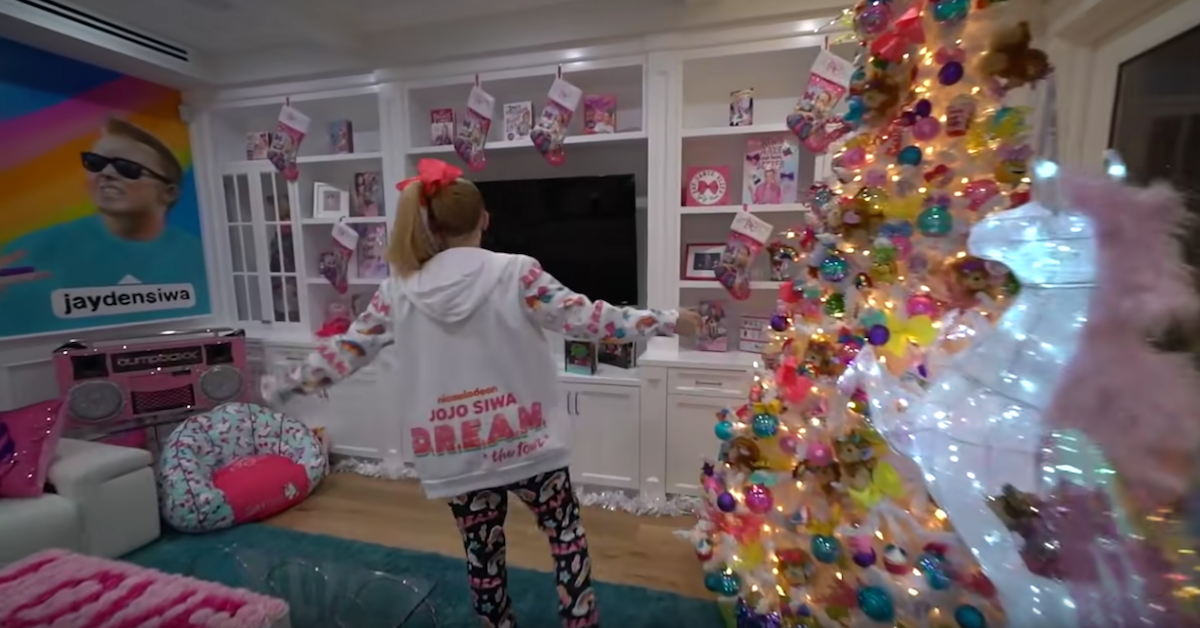 JoJo's new house is quite a glow-up from her last.
JoJo bought a mansion in Los Angeles. The neighborhood is unknown, but let's be real, it's probably in Calabasas, some online sources claim is in Tarzana, California. Hello Magazine reports that she spent a whopping $3.4 million to purchase this new home. Anyway, she has a kitchen Ina Garten would be jealous of, a huge dining/conference room, a seriously comfy living room, a tennis court, a pool, a spiral staircase, and a grand piano.
Take a look at the photos, and try not to let jealousy get to you. I'm definitely starting to regret the fact that my mom didn't force me to join Abby Lee Miller's team, but I guess it's for the best. Anyway, take a look at JoJo's giant mansion, below.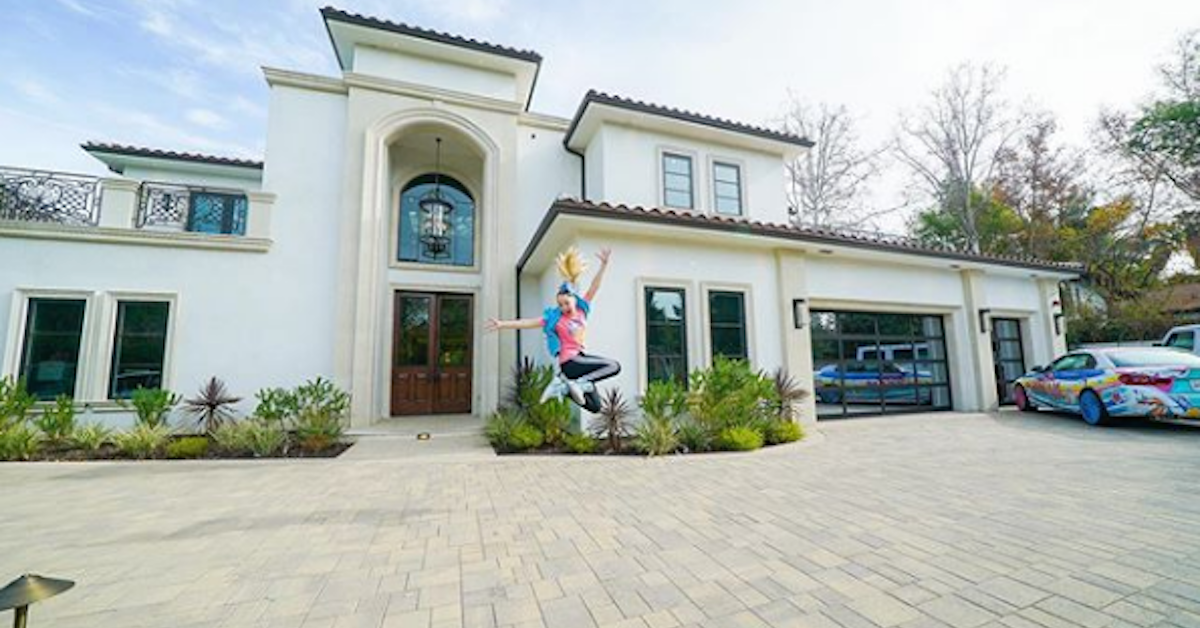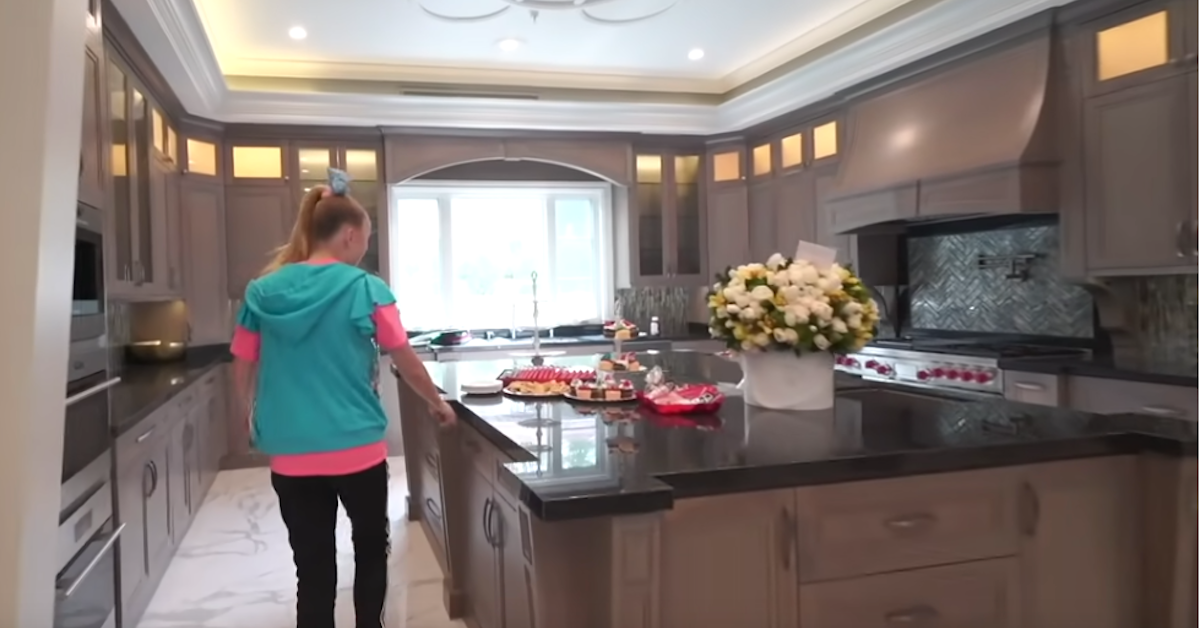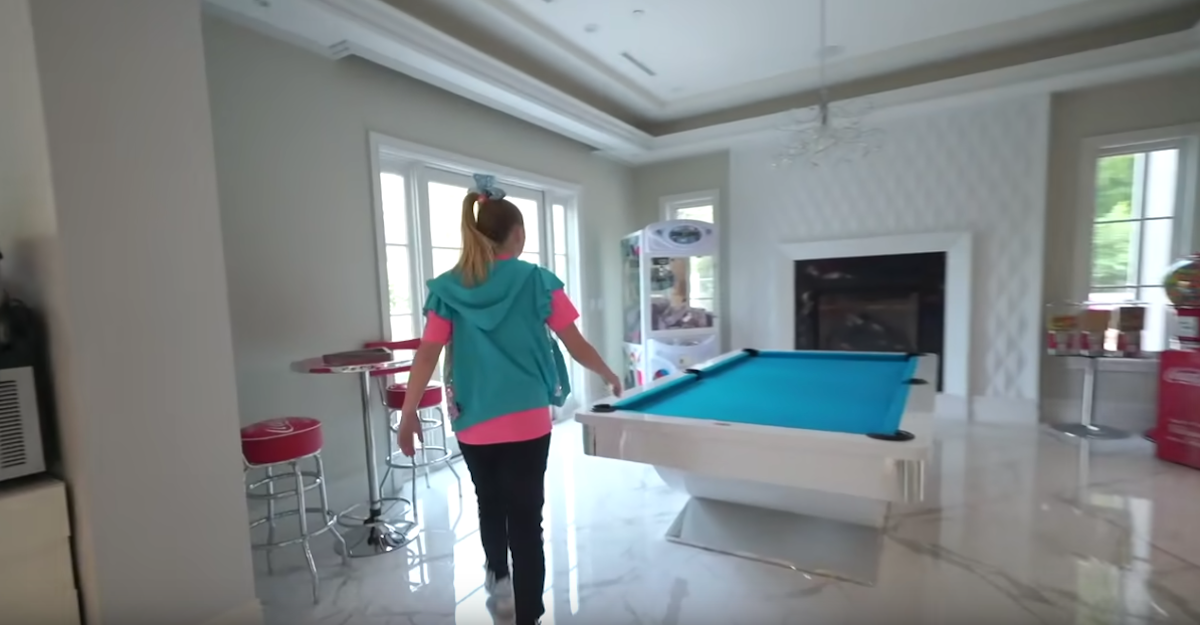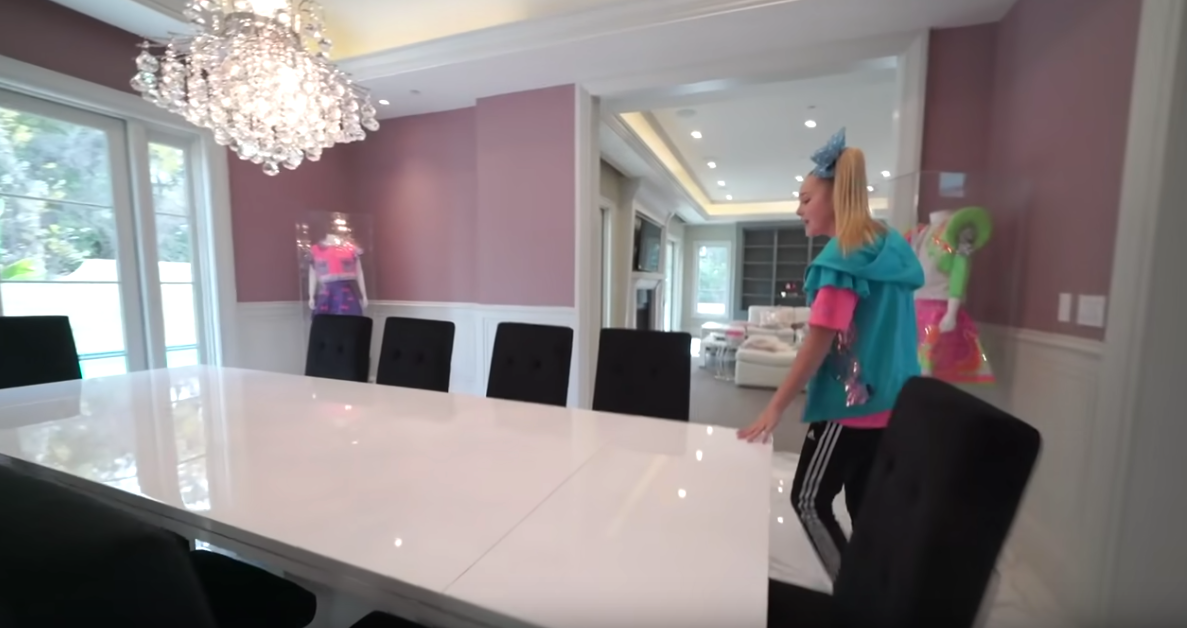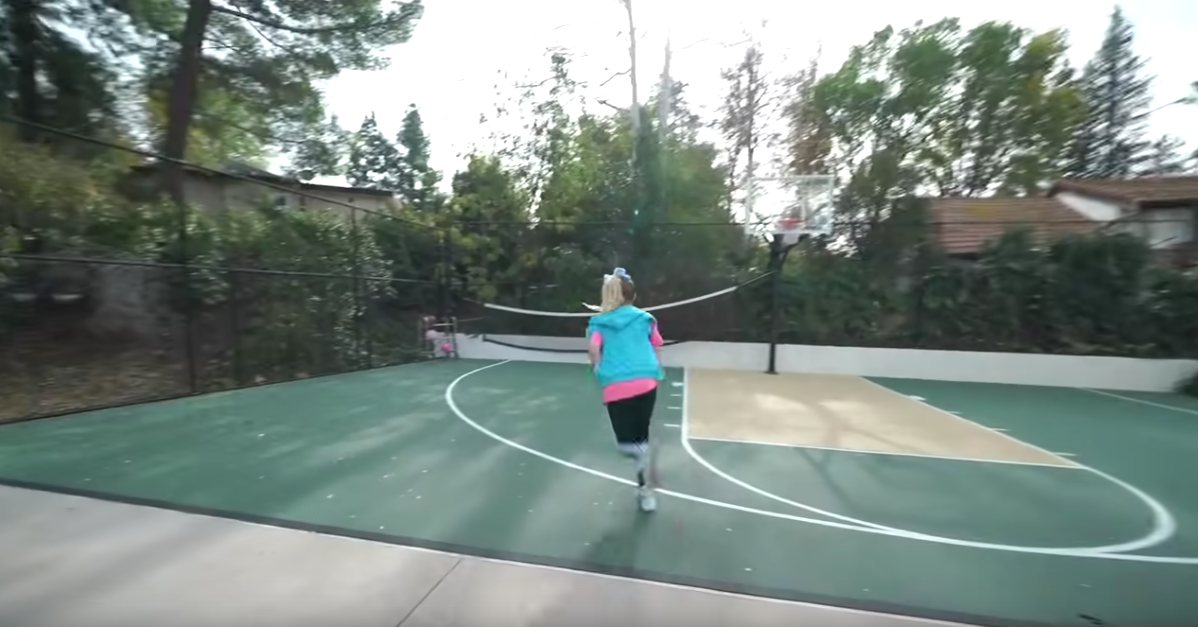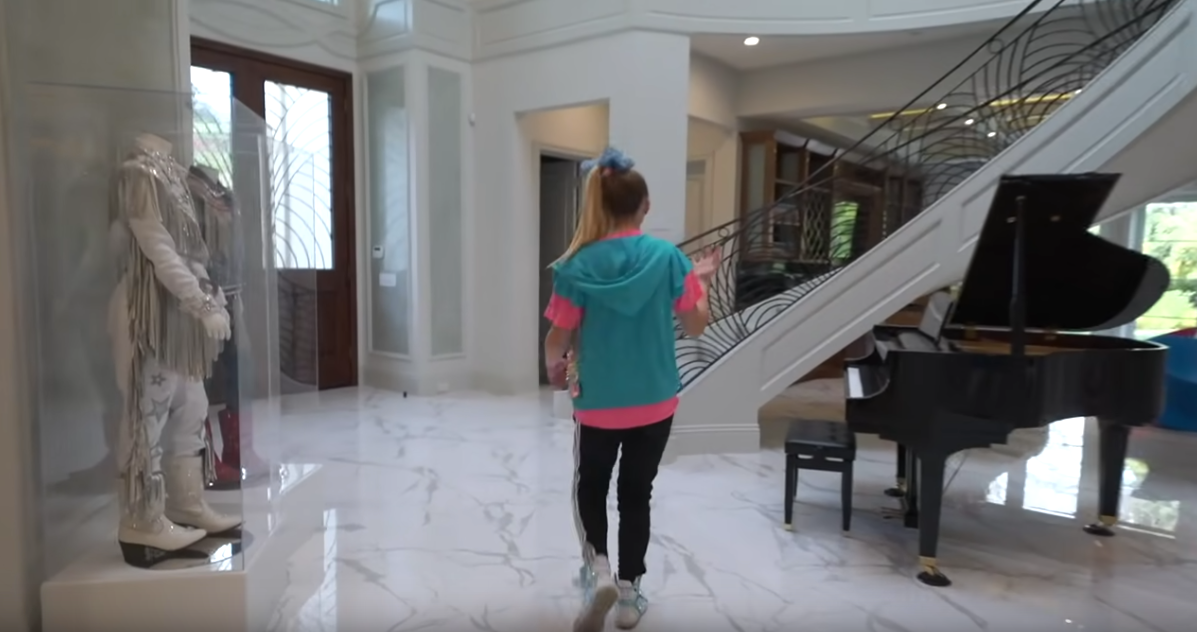 OK, really — what did I tell you? JoJo's new pad is truly a sight to see. According to BuzzFeed, there's still candy in every room, and as you can see, JoJo's favorite glittery outfits still adorn the front foyer. If you want to see the full tour of JoJo Siwa's second home, I strongly suggest watching her YouTube video that brings viewers on a virtual tour of her mansion. But if you're currently in an angry, jealous state of fury, that's fine… TBH, I'm pretty bummed too.