Who is 21 Savage's wife? The rapper says he is married and his spouse has been revealed as a beauty entrepreneur.
Shéyaa Bin Abraham-Joseph, known professionally as 21 Savage, is a rapper based in Atlanta, Georgia, United States.
In an interview with Big Facts on October 1, rapper 21 Savage talked about how he went to Beyoncé and Jay-Z's house after they helped provide him with legal counsel. Back in February 2019, 21 Savage was arrested and detained by ICE. The U.K.-born rapper's visa had reportedly expired. 10 days later, he was released. It looks like Bey and Jay-Z really came through.
21 Savage shared, "When I got out, I pulled up on Jay-Z at his house and sh*t. Him and Beyoncé was in there. And we was kicking it… I just was thanking him. When I first got out, I texted him like, 'I'mma pay you back.' He was like, 'I don't want your money.' He said, 'Pay me back by being great.' So I pulled up on him, chopped it up, just thanked him and sh*t like that, 'cause he ain't have to do that sh*t."
However, many fans were intrigued by something else 21 Savage said during the interview: He revealed that he's in a relationship.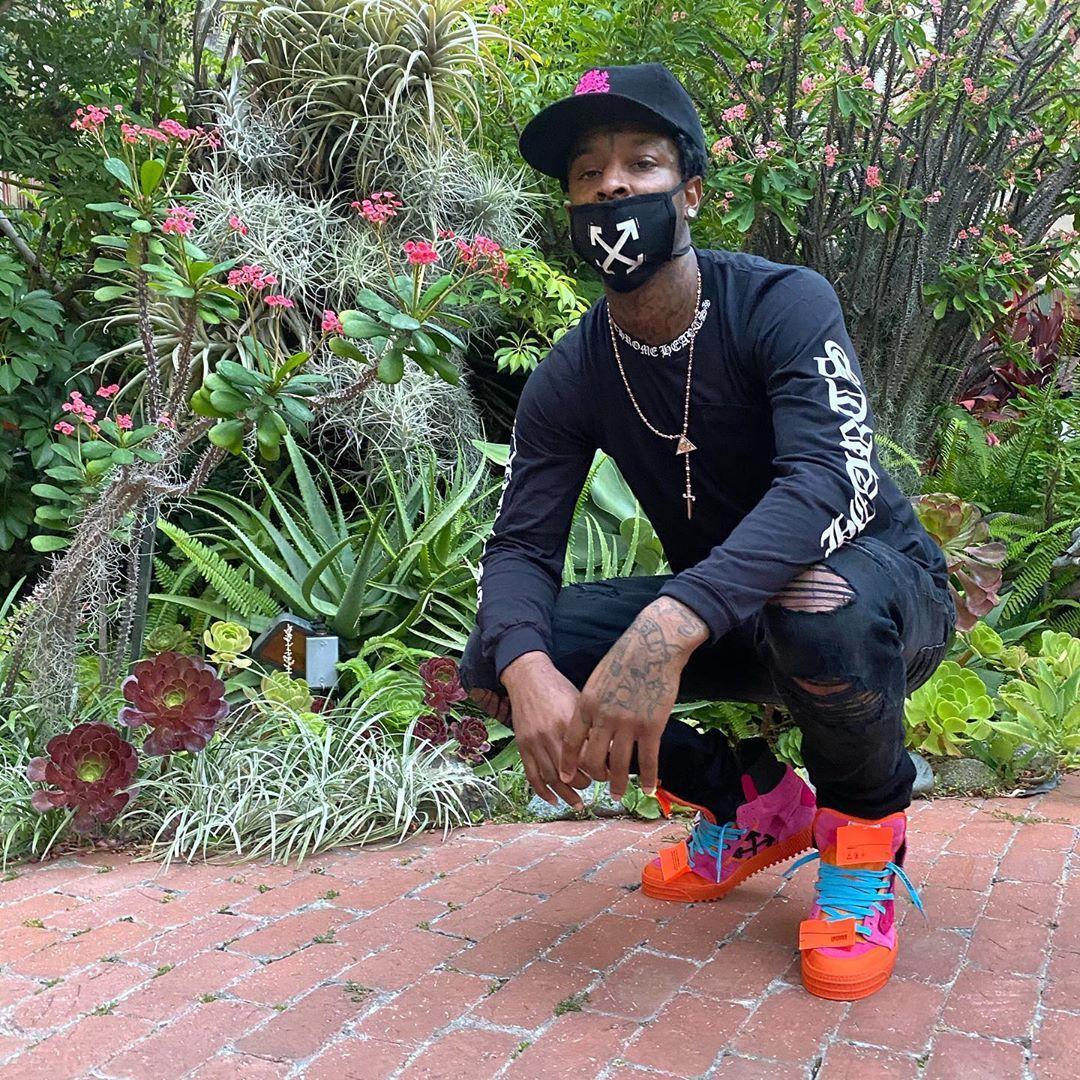 Who is 21 Savage dating right now?
It has become more common for celebrities to maintain a strict level of privacy. All it takes is for one photo, video, or post about your private life to become a headline.
That said, many celebrities have decided to keep their personal lives — especially in the romance department — on a need-to-know basis. And of course, rapper 21 Savage is a prime example.
It appears as though 21 Savage is married to someone. During the interview with Big Facts, he says, "I ain't made any songs about [Amber Rose]. She is in a relationship. I'm happily in love. I got a family. I'm good." This was in response to a question about him missing Amber. Unfortunately, 21 Savage wouldn't spill the details about his new significant other. He said, "I can't really tell you all that. You can't let 'em know everything…I'm married. I'm happy."
Until recently, his wife's identity has been revealed.
Who is 21 Savage's wife? Let's meet Keyanna Joseph.
Although 21 Savage has done a great job keeping his family out of the spotlight, it appears that the identity of his wife, Keyanna Joseph, has been revealed.
Basic information about Keyanna remains to be unknown, but her Instagram account has been found. And while her profile is private, it does share that Keyanna works in the beauty industry as the owner of a beauty company named, Beauty By Nukee.

Per the business page, Beauty By Nukee offers a range of cosmetics and skincare products.
Interestingly, folks were able to find the page thanks to Keyanna sharing a post via Instagram Stories.
In a photo shared by the blog site It'sOnSite, it appears that Keyanna and the "Spin Bout U" MC were out on a date during the week of May 15, 2023.
The photo shows her drink at a restaurant while the rapper's phone was apparently in plain sight with text that reads, "Date night," with heart emojis.
Eagle-eyed fans connected the dots of 21 Savage being pictured with the same phone case, which means that the pair were indeed enjoying a night out together.
Who has 21 Savage dated?
21 Savage has been in a handful of relationships in the past. We know he and Amber Rose definitely dated between 2017 and 2018, he allegedly dated Love & Hip Hop star Tommie Lee in 2016, and model Rubi Rose admitted that she and 21 Savage dated when they were both younger. Taking a look at the rapper's Instagram account, we see no evidence of a relationship there, either. Fans really did think 21 Savage and Amber Rose were going to make it, given the fact that she allegedly bought him a $50,000 promise ring.
21 Savage's latest relationship rumor was with Mulatto. The two rappers sparked speculation that they were dating after their social media posts hinted that they were possibly together in Puerto Rico in what appeared to be vacationing together.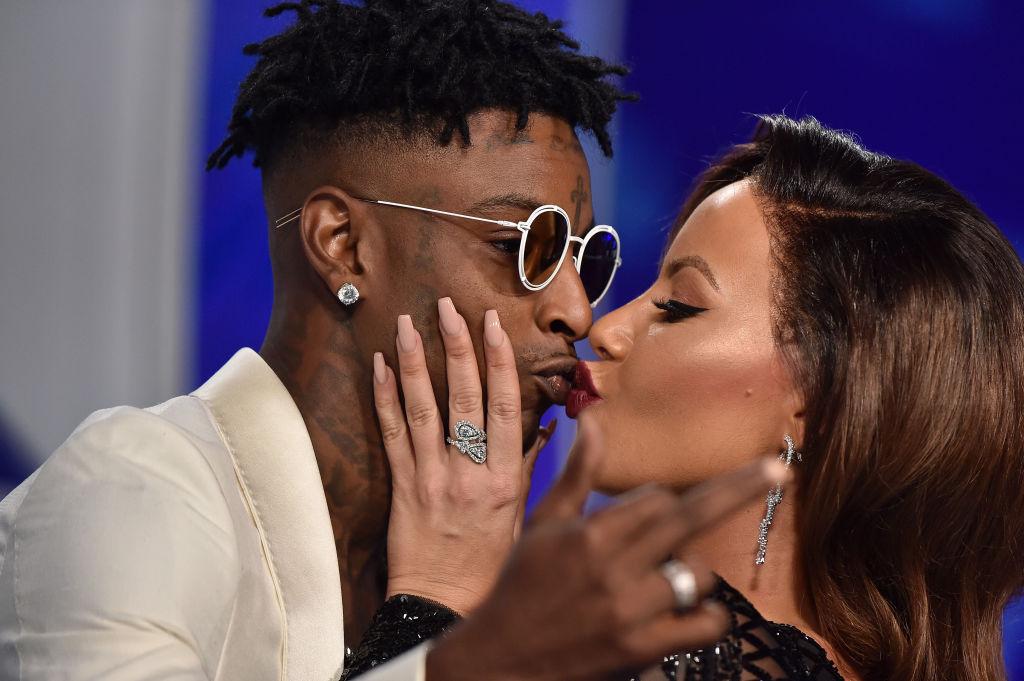 It spelled out "Loyalty 21" with white diamonds and rubies and it was supposedly designed by IF & Co. However, it doesn't look like we'll be seeing any PDA from 21 Savage and his wife any time soon.
Plus, it looks like the rapper really wants to focus on his career. On September 29, 21 Savage and Metro Boomin announced their album, Savage Mode, on October 3. "Savage is defined as fierce. Beastly and untamed. Mode is defined as a way of operating or using the system. So to be in Savage Mode is to go hard without anything to stop or deter you from your mission. Basically, this means when someone is in Savage Mode, they are not to be f***ed with," a trailer explained.
21 Savage dating history summary
21 Savage has for years been tagged as a single man, however, he revealed that he is married to a beauty entrepreneur named Keyanna Joseph, and enjoying his love life privately. 21 Savage has been in relationships with Shenseea (2019), Amber Rose (2017 – 2018), Heather Rose (Model), Tommie Lee (2016), and Mulatto (2020). 21 Savage has had an encounter with Rubi Rose [Model] (2015).
Looks like everything is coming up 21 Savage. We're happy he's found love and happiness with this person!