Meet the cast of 'Are You the One?' season 9 and follow their Instagram accounts.
Dating show lovers, it's time to rejoice! After three long years, MTV's Are You the One? will be hitting the small screen with a highly anticipated Season 9 debuting on Paramount Plus.
The show is hosted by relationship expert and TV host Kamie Crawford, whom you might recognize from Catfish.
Per the show's synopsis, "22 recently single men and women from around the globe were put through an extensive matchmaking process to find their 'perfect match."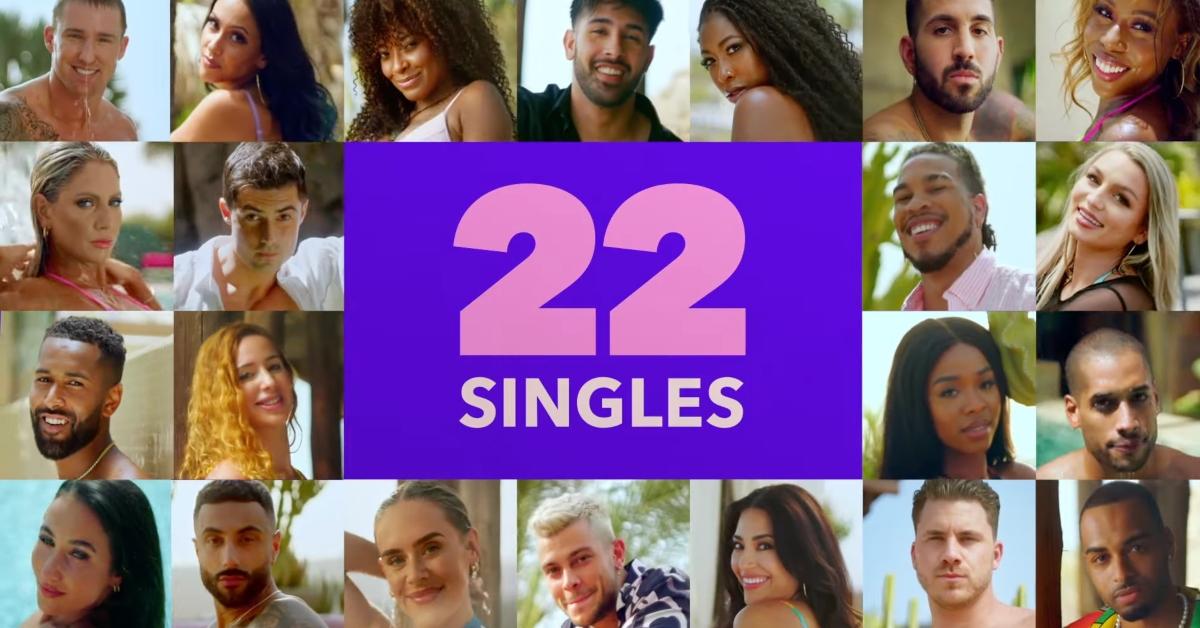 The synopsis continues, "Hailing from around the world and living together under one roof at an international location, these singles will have a shared goal: to find 'the one. Each week, the singles will have an opportunity to find their match, and if they can identify all 11 perfect matches at the same time, they'll split a massive cash prize."
Now that the show is almost upon us, viewers are excited to learn about the daters and this is where their Instagram pages come into play. Here's the 4-1-1 on the cast.
Anissa Aguilar (IG: @anissakristine)
The gorgeous Anissa hails from the U.S. Per her Instagram, the 31-year-old has a master's degree in educational leadership and has a deep affinity for travel.
Follow Anissa here.
Aqel Carson (IG: @itsreallyak)
Hello, Aquel! The handsome fitness trainer has been through his share of ups and down in life — including a car accident — and appears to have a close relationship with his mother.
Follow Aquel here.
Brooke Rachman (IG: @brooke.tini)
Like Anissa, Brooke the blond bombshell also hails from the U.S,. in particular Los Angeles. Brooke appears to love animals, spending time with her friends, and traveling.
Follow Brooke here.
Brendan Mosca (IG: @15grams)
Brendan knows how to have a good time! The Australian DJ is a big deal in the Aussie party scene and has even worked with Steve Aoki in the past.
Follow Brendan here.
Ciara "CC" Cortez (IG: @cc_thedon)
CC is a gorgeous brunette who knows how to work her angles for a beautiful selfie and hoping to snag her special someone.
Follow CC here.
Clayton Carey (IG: @_claytoncarey_)
Clayton is yet another Aussie who joins the gorgeous cast. Clayton is a fitness aficionado, coach, and athlete who prioritizes family and, now, love.
Follow Clayton here.
Courtney Rowe (IG: @courtneyrowexx)
Next up, we have Courtney who hails from the United Kingdom. The beauty is an advocate for endometriosis and seemingly works as a social media influencer.
Follow Courtney here.
Eduardo Dickson Jr. (IG: @eduardodicksonjr)
Hello, Eduardo! Per his Instagram, he made the decision to sacrifice love in hopes of following his dreams and chasing the bag. Now, the NYC native is ready to find his perfect match.
Follow Eduardo here.
Danielle Bonaparte (IG: @dani_bonaparte)
Meet Danielle: The beauty currently works as a dance instructor and previously was an NBA dancer for the San Antonio Spurs Hype Squad.
Follow Danielle here.
Hamudi Hasoon (IG: @hamudi.hasoon)
Hassan is quite the jack of all trades. The New Zealand native appears to be a fitness buff, athlete, and barbershop owner.
Follow Hassan here.
Dew Anderson (IG: @diouuu)
The beautiful Dew hails from Spain. She appears to have a love of fitness, friendships, and making memories with her loved ones.
Follow Dew here.
Leo Svete (IG: @lj_svete)
Next up, we have Leo. Per Leo's Instagram page, he's a professional basketball player and athlete who has competed on ABC's Holey Moley.
Follow Leo here.
Jordanne Deveaux (IG: @jordannedeveaux)
It's time to get acquainted with Jordanne. The beauty is a CEO in her own right, running the swimsuit brand Deveaux Swim. Aside from Jordanne's swim line, she also works as an OnlyFans model.
Follow Jordanne here.
Michael "Mikey" Owusu (IG: @mikeyofficial___)
We have a feeling that Mikey will be very popular on the series! Per Mikey's profile, he works as an international male stripper so he may find himself dancing his way into the heart of his perfect match.
Follow Mikey here.
Julia-Ruth Smith (IG: @julee_aaah)
Hello, Julie! Per Julie's Instagram bio, the New Zealand native works as a model, professional dancer, and makeup artist.
Follow Julie here.
Nathan Grant (IG: @nathanlavish)
Meet Nathan: The handsome Jamaican resides in the United Kingdom and works in the music industry.
Follow Nathan here.
Mijntje Lupgens (IG: @mijntjelipgens)
We have another dancer in the mix! Mijntje has appeared on the British TV series Dance Dance Dance, showcasing her skills for viewers across the U.K. She also works as a model for various brands.
Follow Mijntje here.
Oliver "Ollie" Andersen (IG: @ollieandersen)
Ollie is an entrepreneur in the tech space, along with being a model. The U.K. native appears to be ready for love and prepared to pull out all the stops to find his match.
Follow Ollie here.
Rosalyn "Roz" Odujebe (IG: @rozodujebe_)
Irish beauty Roz is a beauty influencer and podcaster who lends her voice to the Get the Gist podcast.
Follow Roz here.
Shamal "Samuel" Khan (IG: @sam_kxn)
Next, we have Samuel. On Instagram, Samuel shares that he works as an actor and entertainer, with aspirations of becoming a doctor in the future.
Follow Samuel here.
Taylor Kelly (IG: @tayykellz)
Taylor is a blond beauty who considers herself to be a beauty addict. She currently works as a realtor in Sarasota, Fla., and has an appreciation for the finer things in life.
Follow Taylor here.
William Gagnon (IG: @ehwilleh)
Last but certainly not least, we have William! The gorgeous Los Angeles native is a United States Marine Corp veteran who spends his time building on his gains in the gym and hanging out with loved ones.
Follow William here.