Cassidy Hutchinson's Trump-Supporting father refused to help her get a lawyer – How much is she worth now?
The Jan. 6 hearings offered plenty of startling revelations about the way that Donald Trump handled the insurrection at the U.S. Capitol, but perhaps none of those revelations were more startling than the ones offered by Cassidy Hutchinson.
Hutchinson, who was a staffer in the White House at the time, made a number of outrageous claims about Trump, leading some to want to learn more about her personal life. Who is her father? Keep reading for all the details.
Who is Cassidy Hutchinson's father?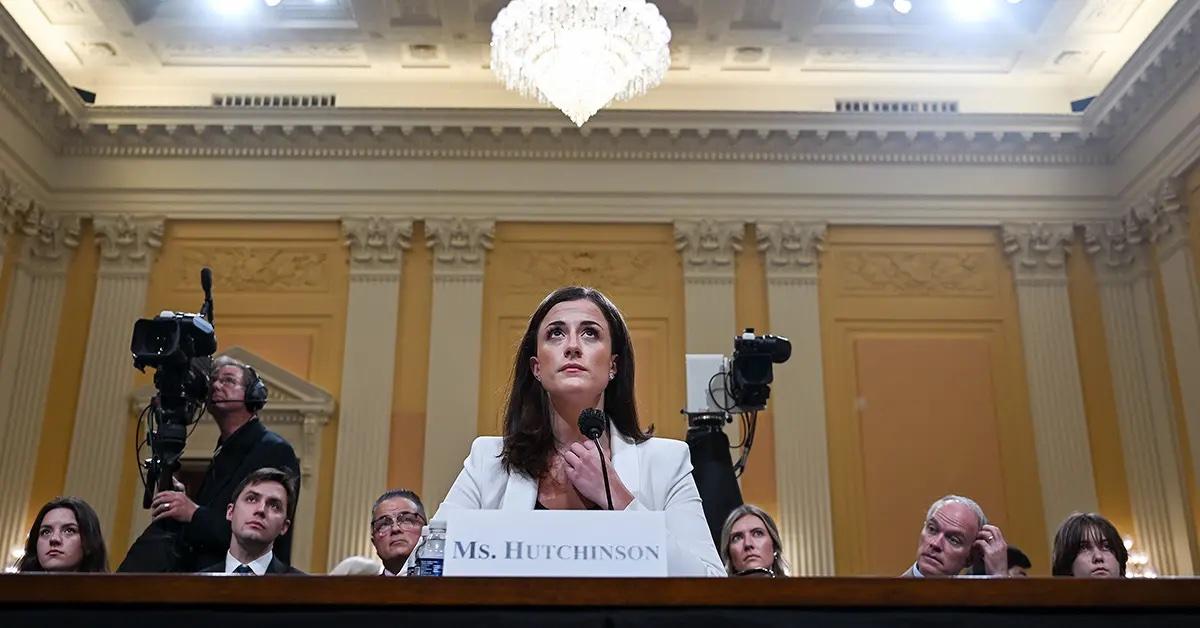 Recently, transcripts of Hutchinson's interviews with the committee were released to the public, and in those transcripts, many honed in on a fairly startling revelation about her family. As she was working to find legal representation after turning away from the lawyers offered by those in Trump's orbit, Hutchinson said that she turned at one point to her aunt and uncle, who are both reportedly QAnon supporters.
They offered to refinance their home to provide her with the money she needed.
At another point, Hutchinson said that she turned to her biological father, Richard Jeffery Hutchinson, who she has a very limited relationship with, and asked him if he would be willing to help her find a lawyer. According to LinkedIn, her father is the owner of Arbor Barber Tree Experts.
"I don't have a relationship with my biological father, but I went to his house one night. I drove up to New Jersey, and I went to his house one night and begged him. It's probably one thing I regret in all of this, I wish I didn't stoop to that level, because it was a no, but I begged him to help me," she said according to the transcript.
"And I remember saying to him, 'You have no idea what they're going to do to me if I have to get an attorney with Trump world,' because he's a very big Trump supporter, as is his own right … it's not me being critical. It's just a fact."
Before Hutchinson testified, her father bragged about her on his Facebook page, writing, "Our beautiful super intelligent daughter," alongside a photo of her in the White House press room.
For another photo of Hutchinson in front of the White House, he wrote, "Super hard worker wonderful young lady super intelligent just like her brother….. Got there brains from there mommy [sic]."
What is Cassidy Hutchinson's net worth?
Hutchinson's struggle to find the money to pay for a lawyer led some to wonder what her overall net worth was. Most websites estimate it to be roughly $1.5 million, but it seems that that may be an overestimate.
CASSIDY HUTCHINSON Profile Summary
Cassidy Hutchinson is a former White House aide and assistant to former Chief of Staff Mark Meadows under the Trump administration. She testified to the Jan. 6 Committee on June 28, 2022.
Profession: Former aide to Trump Chief of Staff Mark Meadows.
Net worth: $1.5 Million
Birthplace: Pennington, N.J.
Birthdate: 1997
Marriage: Single
Children: 0
Education: Christopher Newport Univerity
Hutchinson testified that Trump's lawyers had tried to convince her to lie.
Hutchinson testified to the committee that Stefan Passantino, an ethics lawyer in the Trump administration, talked with her before she appeared before the committee.
"[Passantino] said, 'Look, we want to get you in, get you out. We're going to downplay your role. You were a secretary … everyone's on the same page about this. The less you remember, the better,'" Hutchinson testified.
Hutchinson wasn't employed at the time but said that Passantino had encouraged her not to apply for other jobs.
"We're gonna get you a really good job in Trump world," Hutchinson said he told her. "You don't need to apply other places. We're gonna get you taken care of. We want to keep you in the family."
As one of the few Trump aides who offered what seemed to be unvarnished testimony, it seems unlikely that Hutchinson is still welcome in the "family."