Pete Davidson admits fatherhood is his "Dream" as romance with Kim K heats up. The 28-year-old will appear on Kevin Hart's new Peacock series "Hart to Heart" later this week.
Kim Kardashian revealed last month that she waited until six months into her relationship with Pete Davidson until introducing the comedian to her four children, and it seems they've made quite an impression on him as the 28-year-old revealed in a recent interview that he's feeling ready to take on the responsibility of fatherhood himself soon.
As Page Six reports, the Saturday Night Live alum will appear on an upcoming episode of Kevin Hart's Peacock series, Hart to Heart later this week. On Tuesday (July 12) a preview clip was released, giving fans an idea of what to expect on July 14th.
"[I'm] definitely a family guy," Davidson told his co-host. "My favourite thing ever – which I've yet to achieve – is I want to have a kid. That's like my dream."
The New York native seemed slightly embarrassed by his admission, calling it "super corny," but Hart was quick to let him know, "it's not super corny, it's the best God damn thing you can do in life."
After hearing his fellow funny fan sound so confident, Davidson said the idea of being a dad sounds "just so fun" to him, and like it would be a great way for him to better himself.
"I'm just so excited for that chapter, so like that's kinda just what I'm preparing for now. Just trying to be like, as good of a dude, and develop and get better so that when that happens it's just easier," The King of Staten Island star said.
Elsewhere in the news, Davidson has been making headlines for his latest role as the face of razor brand Manscaped; new ads for the company find him joking about men being able to show off "how hairless we can be."
"Presentation matters," he reminds audiences. "Don't make me get specific, because I will."
Does Pete Davidson have any children?
Pete Davidson has no child currently. Pete Davidson has a great relationship with Kim Kardashian's children. The Skims founder shares kids North, 9, Saint, 6, Chicago, 4, and Psalm, 3, with ex-husband Kanye West. Pete's mom, Amy Davidson, also seem on board with the idea of her son having kids. "Kim knows Amy wants Pete to have grandkids and she also knows that Pete wants to be a father one day," HollywoodLife's source said.
Why does Pete call himself a dad, without having a kid?
Even though he doesn't have any children of his own, Pete said that he does have a good friend that he takes care of financially. That buddy has a kid, and the comedian argues that, because his money supports them both, he is a kind of "father figure."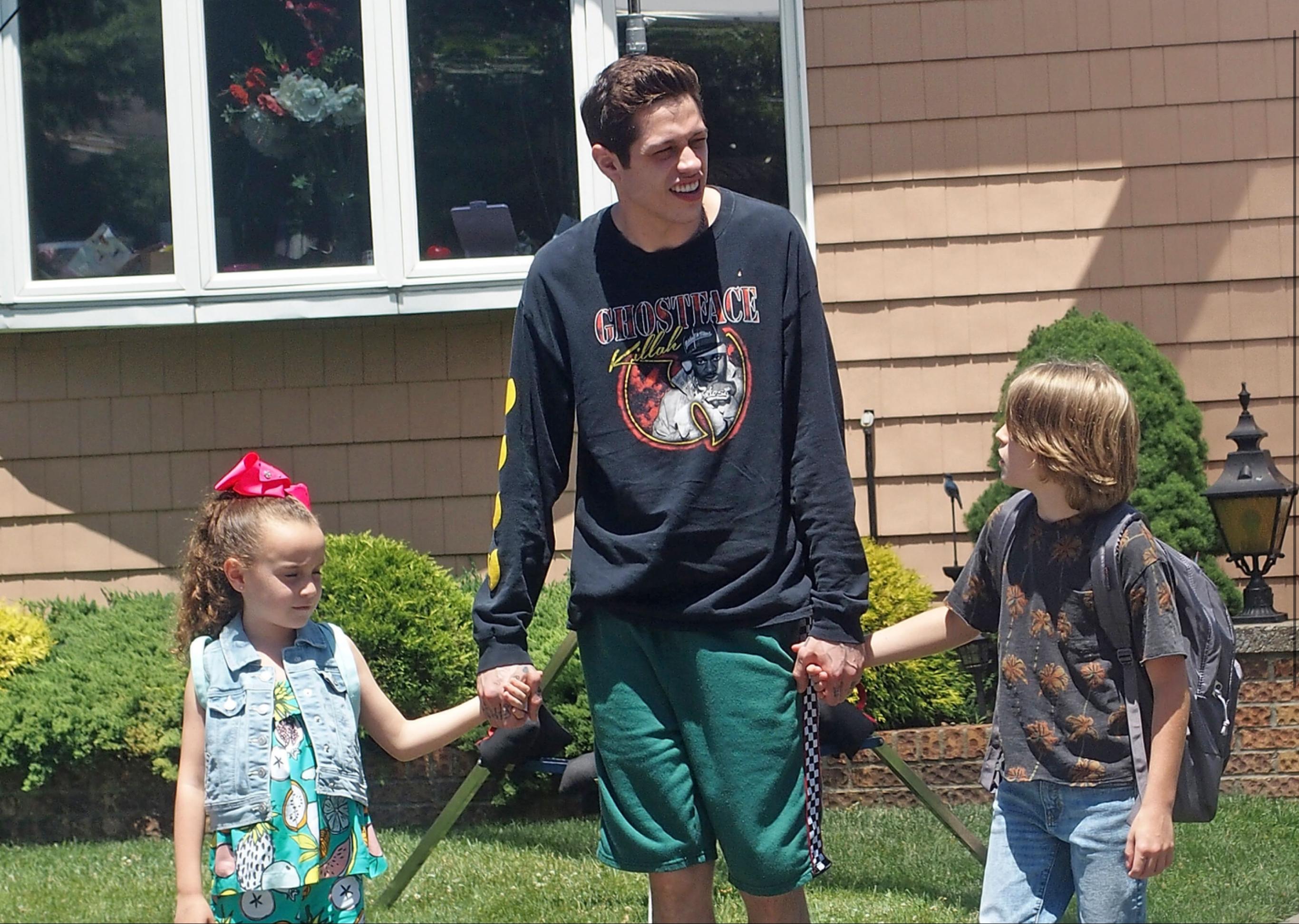 "All my friends are having them. Their complaints don't matter to me that much," Pete says in the special of having babies. "It cries? 'Oh, man, go in the other room?'" he continues. In addition to supporting his friends financially, he also occasionally helps out by babysitting his friends' kids. In the special, he says that he passed the time at one babysitting gig by watching Forensic Files, like a normal babysitter.
Pete has always wanted to have children.
Although he's currently without a child of his own, the 26-year-old has said that he'd like to have kids someday. In an interview with Charlamagne tha God, Pete said that he wants to have kids so that he can be the kind of father figure he never had when he was growing up.
Pete's father died in the World Trade Center on 9/11. It's an event that comes up occasionally in the comedian's standup, and has informed his public persona as well.
In the interview, Pete said that he grew up in a house filled with love. "I love love," he said. "That's how I grew up. Just my mom, my sister – I didn't have a man around the house, so I was just like, 'When am I going to find my Princess Charming?' That's all I've ever wanted. I just want to have a kid, that's it. I think that would be awesome."
He also suggested that he's considered adopting a child along with his mom. "I'm at the point where I'm like, 'Maybe I should adopt.' Me and my mom or something, just adopt. I think everybody is afraid of the Davidson seed," the actor said. Pete is currently single, following a recent split from Kaia Gerber.
Pete thinks a child could improve his mental health.
Although it's not the chief reason he wants to have a child, Pete has also said that he thinks having a kid could improve his own mental health. In 2017, he was diagnosed with borderline personality disorder. He's also struggled with anxiety and depression for years.
In the interview, Pete suggested that having a kid would help him "keep his head up." The comedian also said that it would give him a chance to be a consistent presence in his kid's life, in a way that his father wasn't in his.