What is Eddie Jackson's net worth? NFL player-turned-chef Eddie Jackson has accumulated a sizable fortune.
Eddie Jackson is a former NFL player who has switched gears and become a culinary expert with his own Food Network show Outchef'd.
EDDIE JACKSON Profile Summary
Profession: Chef, Author, Former NFL player
Net worth: $1 million
Birthdate: Dec. 19, 1980
Birthplace: Americus, Ga.
Birth name: Eddie Paul Jackson Jr.
Father: Eddie Jackson Jr.
Mother: Angelia Jackson
Children: One son
Education: University of Arkansas
Most NFL players can't picture life outside of football. However, with the average of six years of playing time in the league, this is a reality that players have come to terms with. Many of them hope for a career in broadcasting as a commentator, but there are other avenues one can explore. And former New England Patriots cornerback Eddie Jackson has opted for the culinary field.
Crafting meals in the kitchen is a far cry from competing on the football field, but Eddie has been able to transition with grace. He has competed on MasterChef and Food Network Star. Now, the culinary expert will be taking his talents to the hosting sector as the host of Food Network's Outchef'd. So, what is Eddie Jackson's net worth? Here's the 4-1-1.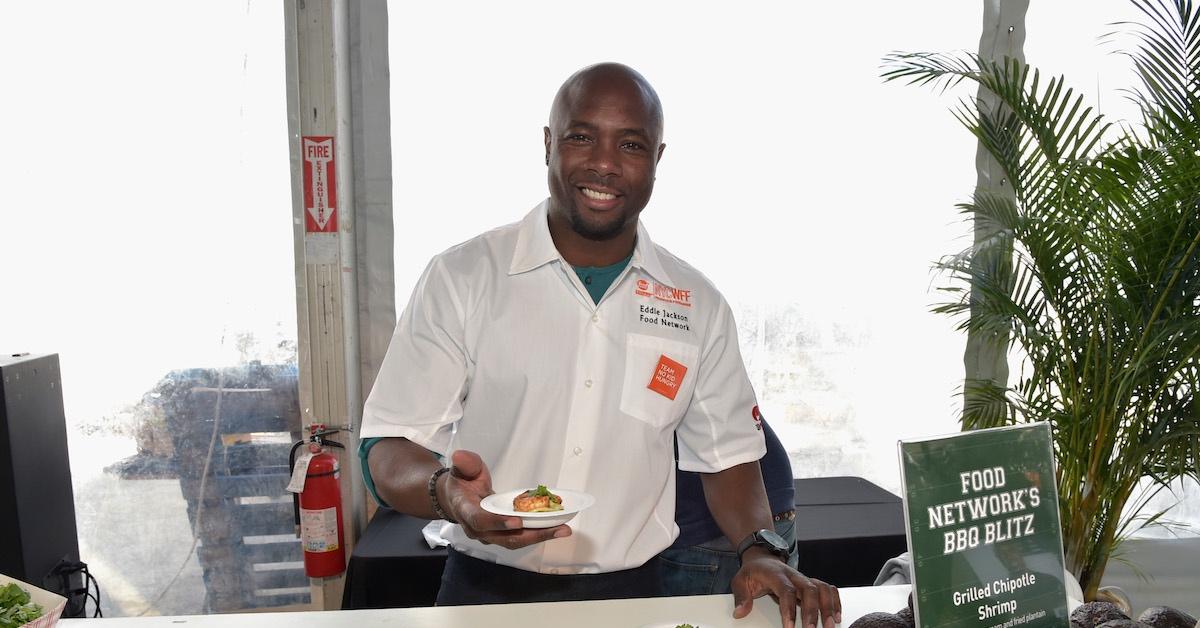 Eddie Jackson is a millionaire and the host of Food Network's 'Outchef'd.'
As of this writing, Celebrity Net Worth reports that Eddie Jackson has earned a net worth of $1 million.
This figure reflects Eddie's career as a former NFL player, author, and culinary expert. And with Eddie's new Food Network show, we expect his net worth to blossom over time.
Eddie is on a roll with appearances and hosting, including his current gig as the host of Food Network's Outchef'd. The show consists of talented home chefs competing against a world-class chef to make a dish with a star ingredient. Eddie then brings in six people from off the street to taste the food. If at least one person votes for the home chef's dish, they can walk away with $5,000.
'Outchef'd' host Eddie Jackson left the NFL with impressive stats.
For folks familiar with Eddie Jackson, you're likely aware that Eddie decided to bid the NFL adieu in 2008 after being released from the Washington Redskins that same year. His run in the NFL lasted from 2004 to 2008.
Over the years, Eddie played for the Carolina Panthers, the Miami Dolphins, and the New England Patriots. Eddie was signed by the Washington Redskins during the offseason, which caused him to not see any playing time on the field.
Still, Eddie made quite an impact on the sport. Throughout Eddie's career, the former baller earned 31 tackles and four pass deflections, which is not too shabby for a cornerback.
Eddie's days in the NFL are long behind him and he has been taking the food industry by storm. After retiring from the NFL, Eddie decided to make his passion for the culinary world a reality by investing in a food truck, per Sportskeeda. And from there, the rest was history.
Now, with Eddie's new cooking competition show, things are only going up from here.
Catch new episodes of Outchef'd Thursdays at 10 p.m. EST on the Food Network.