Does 'Matilda the Musical' Star Emma Thompson Have Kids? Meet Her Family.
Legendary actress Dame Emma Thompson is best known for her work in Shakespeare adaptations (such as Much Ado About Nothing), the Harry Potter franchise, and her performance in Howards End, which became her first Academy Award–winning role. She has also appeared in Sense and Sensibility, Love Actually, Saving Mr. Banks, Cruella, and Matilda the Musical, among many other notable films.
And as an accomplished screenwriter, she penned the Sense and Sensibility screenplay (for which she won the Oscar for the best-adapted screenplay) and co-wrote the scripts for Nanny McPhee, Bridget Jones's Baby, Last Christmas, and more.
For all of her impressive accolades and riveting projects, many people aren't familiar with Emma's family life. Does Emma Thompson have children, and if so, how many? Keep reading for everything you need to know about Emma Thompson's kids.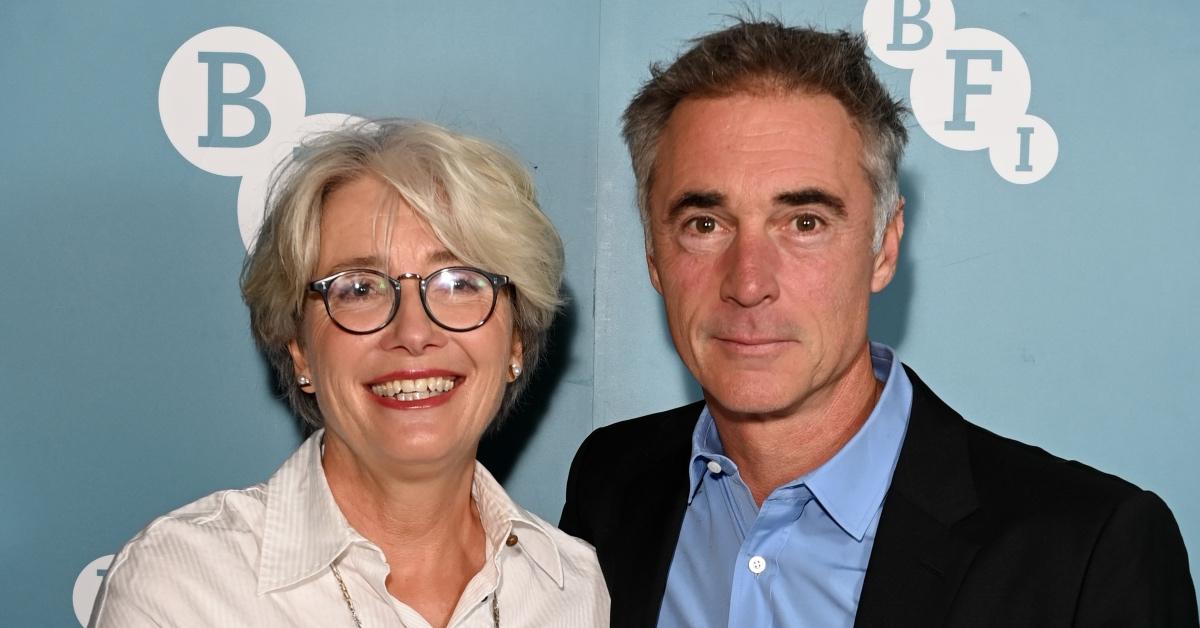 Emma Thompson shares two kids with her husband, Greg Wise.
After a tumultuous first marriage to fellow actor Kenneth Branagh, Emma met Greg Wise in 1995 on the set of Sense and Sensibility, where they were playing opposite each other.
The duo had their first child, a daughter named Gaia Wise, in 1999, through in vitro fertilization.
According to The Sun, Gaia had several struggles in her adolescence, including being mocked as a "hippie" to the point where she started homeschooling instead and battling anorexia.
On Instagram in 2021, Gaia described her struggles, writing, "Many people are posting fabulous bodily changes they have achieved either over the past few years or over lockdown. The majority I have seen are about weight loss. I decided to share something a little different; my journey from anorexia to a healthy body."
Emma and Greg also informally adopted a Rwandan orphan and former child soldier named Tindyebwa Agaba Wise. In 2003, the pair met then-16-year-old Tindyebwa at a Refugee Council event, where Emma invited him to come to spend Christmas with the family. In 2013, she told Telegraph, "He became a sort of permanent fixture, came on holiday to Scotland with us, became part of the family." In 2009, Tindyebwa became a U.K. citizen.
Emma frequently takes her daughter to her movie premieres, and Gaia has recently begun her own acting career with a role in the BBC television series Silent Witness, which premiered in May 2022. Previously, she appeared in bit parts in her mothers' films, such as A Walk in the Woods and Last Chance Harvey.
Although not much is known about Tindyebwa's current life, in a 2021 essay to The Times of London, Emma Thompson spoke about her son and his life's journey as a former refugee.
She said, "Witnessing Tindy growing up has been a continual lesson in the day-to-day challenges that refugees and asylum seekers face — from language and not being able to express yourself or to say what you need, which is a very vulnerable position to be in, to finding the right kind of schooling, to facing everyday racism."
However, Emma did add that Tindyebwa is now a graduate of the Sixth Form College in Islington and Exeter University, and he is married! He also has a "fascinating, very challenging job" within England's Criminal Investigation Department.
It seems like the Wise family as a whole is doing well.