What happened between Saweetie and Quavo that led to their break-up? Quavo has opened up about his separation from Saweetie and the video of their elevator fight.
Quavo says that he isn't happy with how his romantic relationship with Saweetie ended and how people interpreted the infamous video of their elevator fight.
In 2021, a surveillance video from inside an apartment complex elevator showed the former couple in a struggle over a box (suitcase) containing a video game console.
Saweetie appeared to take a swipe at Quavo first before he grabbed her by the arm, knocking her against the back elevator wall and both hitting the floor.
Saweetie who broke up with Quavo around the same time the video went public said in a statement to TMZ, "This unfortunate incident happened a year ago, while we have reconciled since then and moved past this particular disagreement, there were simply too many other hurdles to overcome in our relationship and we have both since moved on."
At the time, Quavo replied to the allegations with a tweet that read, "I had love for you and disappointed you did all that. You are not the woman I thought you were. I wish you nothing but the best."
Now, Quavo is speaking out about the elevator fight that almost hurt his reputation. In a new cover story for GQ, Migos rapper Quavo looks back on the elevator fight between him and his ex-girlfriend Saweetie that went viral and led social media users to label him an "abuser" as well as where he is in his love life now. 
"If I can ever speak on it, I never once in a million years want to do any harm to any woman, period," he told the outlet when asked about the video.
"I don't like what people think," he added later in the conversation, bringing the discussion back to Saweetie. "When they saw the elevator thing they thought it was abusive, something crazy."
As for his current love life, Quavo says he's focused on himself for the time being and doesn't plan to jump into any more relationships.
"I want to establish [myself] as a human being before I step into any more relationships or anything that can steer me off," he said.
Elsewhere in Quavo's interview with GQ, he discusses the future of the Migos, his solo career, and more.
How did Quavo and Saweetie meet?
Quavo and Saweetie began dating in September 2018. Quavo dated fellow rapper Saweetie for three years until their shock split in March 2021.
The pair first sparked romance rumours after the Bay Area beauty starred in the music video for Quavo's song 'Workin Me' as his love interest. They were first publicly spotted together in September 2018.
"Dating rumors have swirled around the two rappers for the past several months; however, fans became increasingly suspicious several weeks ago, when Saweetie appeared in the 'Workin Me' video as Quavo's love interest," Complex wrote.
As for how the two originally met, it's just like any modern love story these days — he slid into her DMs. Saweetie opened up about how the two met during a 2019 appearance on Big Boy's Neighborhood. "At first, he DMed me," she shared. "You know what, it was weird because his DM went straight to my [inbox]. It went straight in, it didn't go to the requests."
Quavo has previously revealed that he jumped in Saweetie's Instagram DMs in March 2018 to shoot his shot with a reference to her hit single 'ICY GRL'.
He messaged her with a snowflake emoji, to which she replied with a bowl of noodles, a reference to the Migos song 'Stir Fry'. Quavo hit back, "u so icy Ima glacier boy," before Saweetie replied, "was hannin then."
In March 2019, the couple became official via social media.
Quavo was the first to make their relationship "Instagram Official" by posting what would be the first of many Instagrams featuring Saweetie. The post was a shoutout to her new album, "Icy." Quavo wrote, I C Y M I D N I G H T YESSSIRRRR!!! @saweetie Icy Masterpiece CHO Is Proud Of U!!!!"
The next day, Saweetie released the music video for her song "Emotional," featuring her new boyfriend, Quavo. She also posted her first Instagram photo featuring Quavo. In the caption, she wrote, "I've seen many sides of Cho Cho but today was something new Seeing someone use their talents and influence to put on an event in their community for a good cause is so selfless, refreshing, and inspiring!!"
Why did Quavo and ex-girlfriend Saweetie break up?
The pair seemed to be going strong until their breakup, which Saweetie announced on social media. She insinuated that Quavo had been unfaithful.
Saweetie confirmed that they had broken up in March 2021. That same month, the video of their elevator fight, which went down in 2020, surfaced online.
Quavo appeared to address the claim, tweeting, "I had love for you and disappointed you did all that. You are not the woman I thought you were. I wish you nothing but the best."
Reports that Quavo and Saweetie ended their relationship came in March 2021 and by March 19, the Migos rapper confirmed the split via Twitter.
"I know you want to make this into a show so I'll play my part just this one time," he tweeted. "I don't normally put my business out there, especially my personal life. I feel the need to address this so there are no false narratives."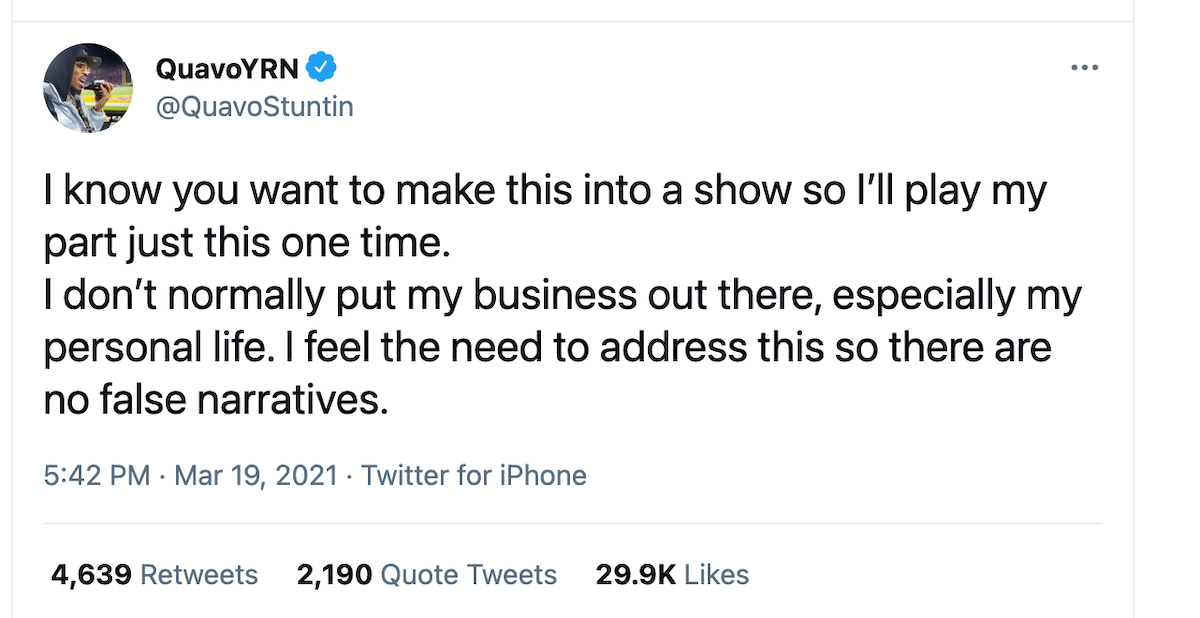 In another tweet, Quavo seemingly referenced his breakup with Saweetie.
"I had love for you and disappointed you did all that. You are not the woman I thought you were. I wish you nothing but the best."