What is Angela Simmons' net worth? The 34-year-old shoe designer modelled for Matte Collection during Miami Swim Week.
Miami Swim Week is in full swing down south, with hundreds of models flocking to Florida to strut their stuff down the runway in this season's hottest bikinis.
Among those walking in shows this week is 34-year-old Angela Simmons, who modelled for Matte Collection in a stunning green two-piece complete with pleated details and a cover-up shirt in the same colour and fabric.
Her face was immaculately glammed, and her long black hair flowed down her shoulders. For her accessories, the mother of one donned several large diamond chains and a pair of clear heels.
Aside from the gorgeous swimsuit, many couldn't help but notice that Simmons embraced her natural body rather than editing out any so-called "imperfections." She addressed this in the caption, writing, "Raw, no edit."
"REAL bodies matter," the shoe designer continued. "And thick thighs save lives lol."
Friends like Taraji P. Henson, Gabrielle Union, and La La Anthony all dropped by the comment section to hype Simmons up, and elsewhere online, fans of the socialite made it known that they love to see her confidence.
"So many altered bodies, [people] forget and don't appreciate natural bodies," one social media user pointed out. "Lord bless me with the confidence of Angela Simmons in my two-piece this summer," another chimed in.
What is Angela Simmons' net worth and how does she make her money?
Angela Simmons is an American businesswoman and reality TV star who has a net worth of $7 million, according to Celebrity Net Worth. Angela Simmons has earned her net worth as co-owner of her company Pastry Footwear with her sister Vanessa Simmons. She is also the daughter of hip-hop legend Rev Run.
Simmons is a vegetarian and supports many charitable causes concerned with animal welfare and child education. She is a spokesperson for PETA, and her clothing lines Foofi and Bella offer an alternative to fur products. Simmons is an ambassador for the Children's Miracle Network.
How old, and tall is Angela Simmons, and did she go to college?
Angela Simmons was born on September 18, 1987, in Queens, New York. She is one of six children born to Joseph Simmons and Valerie Vaughn. Her father is the hip-hop legend Reverend Run, one of the founding members of the famous rap group Run DMC of "Tricky" and "Walk This Way" notoriety. Joseph and Valerie divorced and her father remarried Justine Simmons.
Angela attended the Fashion Institute of Technology for a year but dropped out in order to pursue a career in business.
Angela Simmons is 5 feet 6 inches (1.7 m) tall.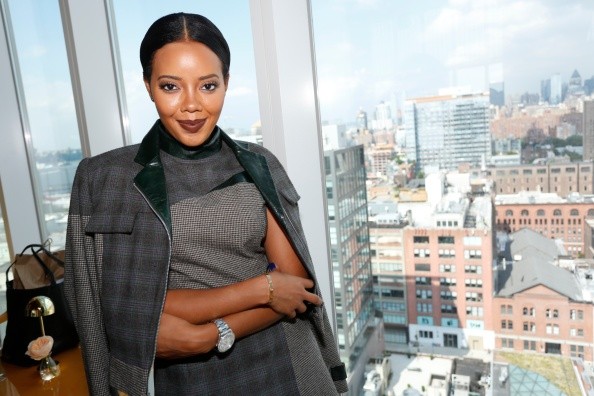 Joe Kohen/Getty Images
Who has Angela Simmons dated?
She dated rapper Skillz from 2009 to 2010.
She later began dating Romeo Miller, with whom she starred alongside in the reality show she executive produced, "Growing Up Hip Hop."
She secretly began dating Sutton Tennyson and announced their engagement in April 2016 to her social media fans when she posted a photo of her engagement ring. Fans suspected she had kept the relationship under wraps due to Tennyson's history of jail time. The couple had a son, Sutton Joseph, in September 2016. The pair broke up in 2017 but remained friends. Tragically, Tennyson was gunned down and killed outside of his home in Atlanta on November 3, 2018.