Jay-Z has made billions from building a music empire and investing in a number of different industries. What's his net worth? It just got a boost.
Music mogul and entrepreneur Jay-Z has created a larger-than-life name for himself over the years. From the streets of Brooklyn, he used rap as an escape from the crime of the Marcy Projects. Not only is his name synonymous with the music industry, but he has his hand in a number of other fields. From it all, Jay-Z has has managed to grow his net worth significantly.
In 2020, Jay-Z shifted his attention from music to the cannabis industry. According to Yahoo, he signed a deal to join Caliva, Left Coast Ventures, and Subversive Capital Acquisition Corp with Roc Nation in what's expected to become the largest weed company in California. The rapper currently serves as the company's Chief Visionary Officer.
From humble beginnings to a home in Bel-Air, here's a look at how Jay-Z got his start in music, and more importantly, how much he and his wife Beyoncé are worth today.
Profile Summary
| | |
| --- | --- |
| Celebrated Name: | Jay-Z |
| Net Worth: | $2.5 billion |
| Profession: | Rapper, Songwriter, Record Producer |
| Full Real Name: | Shwan Corey Carter |
| Birthdate: | Dec. 4, 1969 |
| Birthplace: | New York City, N.Y. |
| Education: | Attended George Westinghouse Career and Technical Education High School, Attended Trenton Central High School (dropped out) |
| Wife: | Beyoncé |
| Children: | 3 kids |
Despite being abandoned by his father at a young age and falling victim to criminal behavior, Jay-Z managed to turn his life around. Not only is Hova (one of his many nicknames) considered an icon in the music industry, but he's also married to one of the most successful and talented singers to date – Beyoncé.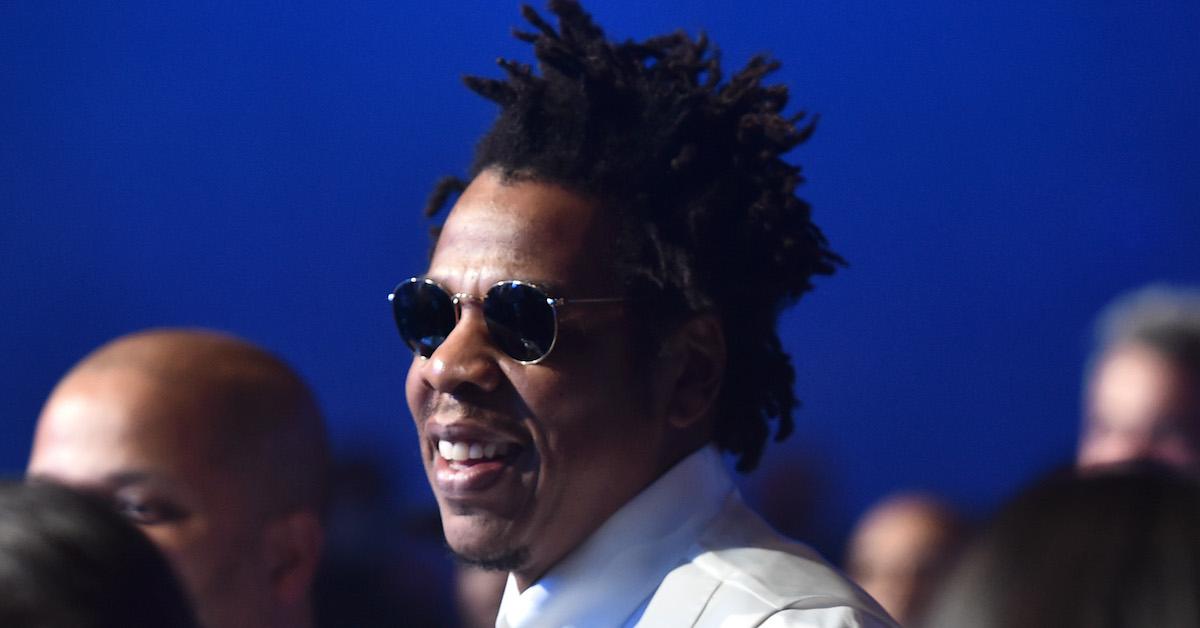 How did Jay-Z make his money?
So many know Jay-Z for the huge success he has had over his lifetime, but he hasn't tried to hide where he came from. Born Shawn Corey Carter on Dec. 4, 1969, he was born in a rough area of Brooklyn, N.Y. He has always been open about his life growing up and the struggles he has gone through in his music.
Biography.com mentions that Jay-Z dealt drugs and has experience with gun violence. He turned to music to escape the crime around him and started to release music under the stage name Jazzy, shortening it to Jay-Z soon after. Some believe the stage name is also a reference to NYC's J and Z subway lines, which run near the Marcy Projects, but this is likely a coincidence.
To release his first album, Jay and two friends got together to found Roc-A-Fella Records. The album "Reasonable Doubt" dropped in 1996 and sold more than 1 million copies in the U.S.
What is Jay-Z's cannabis brand?
This latest venture for Jay-Z is MONOGRAM, which provides a luxurious take on the cannabis industry. The company's website allows people to buy different kinds of cannabis including nuggets and hand-rolled joints.
The website says the brand's cannabis is rolled in small batches to ensure quality and has a "board of cannabis experts" who personally select all the product that's sold. The price reflects this with one hand-rolled joint costing $50. However, there's also a less expensive pack of four for $40.
How much is Jay-Z worth without Beyoncé?
Jay-Z's wife (a megastar in her own right) Beyoncé easily has her own music empire that has brought them tons of money. Her current net worth stands at $500 million. But even without her, Jay-Z has a net worth of $2.5 billion, according to Forbes.
In addition to wealth from his music, Jay-Z gets millions from his Armand de Brignac champagne and D'Ussé cognac. He owns artwork by Jean-Michel Basquiat and until 2013 held a stake in the Brooklyn Nets.
What companies does Jay-Z own?
Jay-Z has owned a few different companies over the years. He had a successful clothing line, Rocawear, until 2007 and he founded the entertainment company Roc Nation in 2008. He later founded Roc Nation Sports in 2013.
In terms of philanthropy, Jay-Z founded the Shawn Carter Foundation alongside his mother, Gloria, in 2013. This venture is meant to assist people be able to afford and obtain advanced degrees and secondary education. Jay-Z co-founded Marcy Venture Partners (MVP) alongside Jay Brown and Larry Marcus invests in consumer-focused startups.
What does Jay-Z invest in?
According to Investopedia, Jay-Z has invested in Black-owned companies like the haircare line Carol's Daughter. An article in Forbes talked about Jay-Z personally investing in other ventures such as Uber, Impossible Foods, JetSmarter, Julep, and Promise. Through MVP, Jay-Z has invested in ventures like Rihanna's lingerie line Savage x Fenty.