Is Jermaine Fowler, the star of Hulu's cringe comedy 'The Drop,' married? Let's meet his family.
They're sweet-smelling, squishy, fleshy little balls of joy. Well, "joy" is a divisive word, here; it depends on what angle you view them from. We're talking about babies.
Some people have the warm, innate skills necessary to cradle a fragile baby in their arms, while others would rather hold a ball of fire. In Sarah Adina Smith's new cringe Hulu comedy The Drop, Anna Konkle's (Pen15) Lex drops her friend's little one — a disaster that weaves its way into the film's themes surrounding marital struggles and the societal pressures to have children.
"Lex and Mani's happy marriage is thrown into a tailspin when one of them accidentally drops their friend's baby during an otherwise picturesque destination wedding weekend. While the baby is fine, the adults are not," the Hulu synopsis reads. The film comes from executive producers Mark and Jay Duplass.
Jermaine Fowler (Sorry to Bother You) plays Lex's husband, Mani, who seems to have natural paternal instincts. As he holds the aforementioned baby with grace, cooing and smiling, calming beams of light wash over him.
While his character was clearly born to be a dad, is Jermaine a father? Is he married? Let's discuss the star's personal life.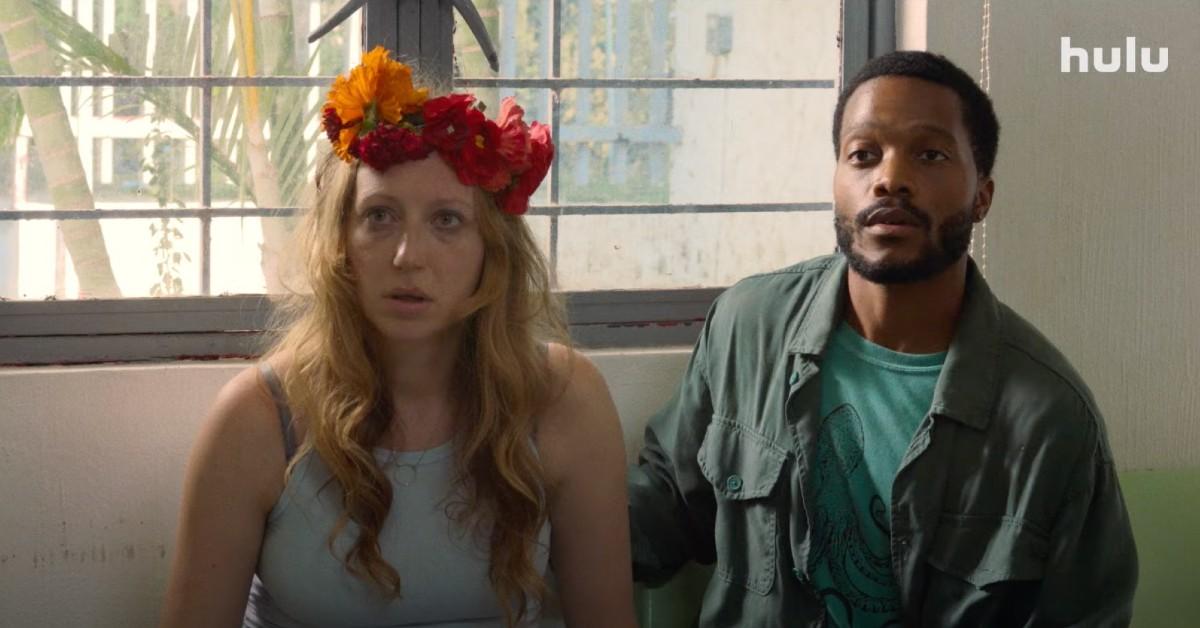 'The Drop' actor Jermaine Fowler shares two kids with his longterm partner.
The Coming 2 America star may not be married, but he does have a girlfriend who he lives with in L.A., according to the Jennifer Hudson Show. Together, they have two children.
Though the talkshow's website doesn't specify who his girlfriend is, she's believed to be makeup artist Meagan Hester. She was a contestant on Season 4 of Syfy's reality competition series Face Off.
"Love my babes … Both of them. Thebe and daddy @jermainefowler," she wrote on Instagram in 2017. Three years later, the couple had another child.
"We are so excited for our little guy to arrive on Tuesday, being induced on the 25th. I think he's ready to leave my tummy. Feeling blessed and thankful for our second bundle of joy," Meagan wrote in a Feb. 18, 2020, Instagram post, which features a photo from her fashion-forward pregnancy shoot.
Though Jermaine's Instagram mostly displays moments from his professional life, he recently posted a few photos showcasing him holding his two beautiful children.
"'Cuz nobody messes with your Dad.' — Mufasa," he captioned the adorable collection of photographs.
Personal tragedies led Jermaine Fowler to put a pause on his stand-up career.
Jermaine — who considers comedy legend Eddie Murphy one of his heroes — is seemingly a private guy. However, he recently opened up to EGOT-winner Jennifer Hudson in January 2023, detailing that two separate personal tragedies halted his comedy career, which he started when he was just 17 years old. The actor and comedian is currently 34 years old.
"I took a break [from stand-up] for a few years. I was going through a lot. My mom passed away, like, a couple years ago. She was an inspiration, you know?" he explained, tears forming in his eyes. "Then my best friend died. His name's Kevin Barnett … and I just didn't feel happy. "
"The pandemic hit, and I realized, like, damn, everybody's sad. I ain't feel special no more! [sic]" he said with a chuckle. From there, he dusted himself off and got back on the stage.
"And so I was like, 'Let me go on stage and talk about this.' And so that's what I would do, go on stage and talk about what I've been going through. And it helped because everyone is kind of going through the exact same thing. And it meant a lot, because now I'm just sharing these moments with the people I miss so much."
Clearly, comedy isn't just a career for Jermaine, it's an outlet — a channel through which he can express his pain and therefore heal.
You can catch Jermaine Fowler in the "improvised" comedy The Drop, which is currently streaming on Hulu.