John Forbes Kerry is an American attorney, politician, and diplomat who is the first United States special presidential envoy for climate. John Kerry isn't the richest politician but he is wealthy.
Special Presidential Envoy John Kerry has been actively involved in politics since 1972. Despite having served in the Senate from 1985–2013 and as Secretary of State during the time Barack Obama served as president, many people attribute his wealth to his wife, Teresa Heinz, the heiress to the Heinz Company fortune. Here's a look at how Kerry made his money and what's his net worth today.
JOHN FORBES KERRY Profile Summary
John Kerry has shifted his political efforts to focus on the climate crisis, though he was once concerned with reducing joblessness and increasing access to healthcare.
Profession: Politician, Special Presidential Envoy for Climate
Net worth: $250 million
Birthday: December 11, 1943
Birthplace: Aurora, Colo.
Education: Graduated from Yale University in 1966
Graduated from Boston College Law School in 1976
Spouse: Julia Thorne (m. 1970, d. 1988), Teresa Heinz (1995-present)
Children: 2 children and 2 step-children
What is John Kerry's net worth?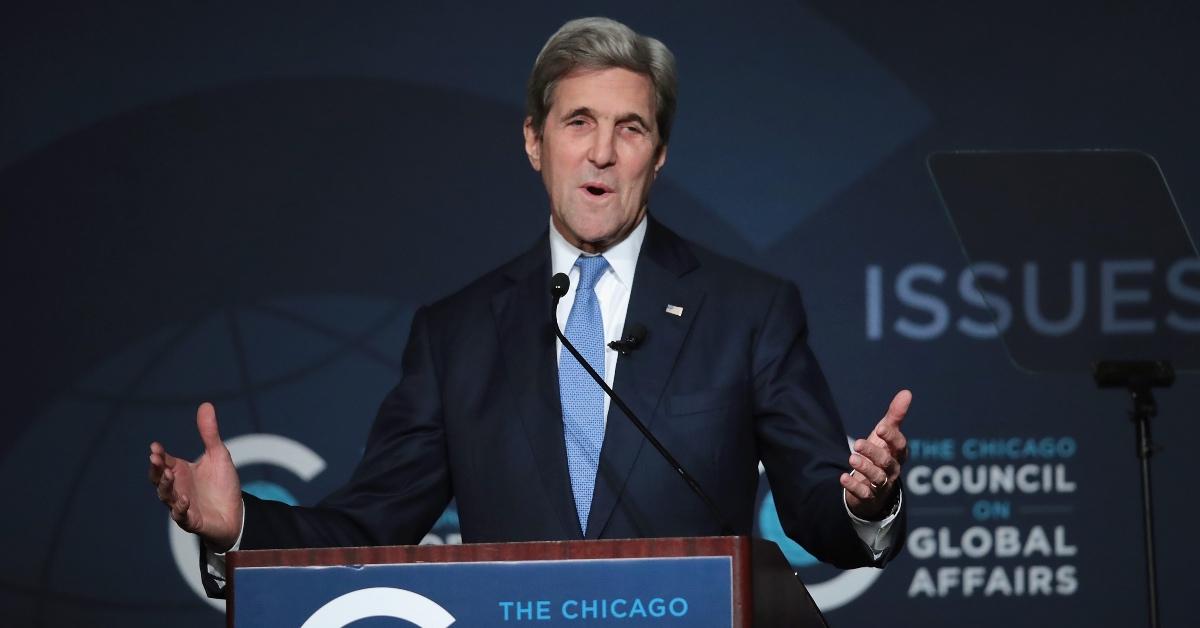 Although Kerry hasn't held a seat in the Senate for quite some time now, you wouldn't know by his net worth, which is said to be around $250 million in 2022, according to CelebrityNetWorth. In 2012, the year before Kerry left the Senate, his net worth was estimated to be around $236 million, according to Fox Business.
In 2013, his net worth reportedly dipped significantly to $103 million. During that time, it wasn't clear where Kerry had been investing his money, but according to Fox News, he had "over $36 million in business, finance, and real estate, and at least $5 million in energy and natural resources."
Although Kerry has held many prominent roles in U.S. politics, including succeeding Hillary Clinton as Secretary of State during the Obama administration, sources like Fox News claim much of Kerry's net worth comes from his wife, Teresa.
More about John Kerry's wife, Teresa Heinz Kerry
Kerry and Teresa Heinz tied the knot in 1995. Teresa, who is said to be worth $750 million today, inherited much of her fortune after her late husband, U.S. Senator Henry John Heinz passed away. Heinz was an heir to the H.J. Heinz Company and passed on his wealth to his wife, Teresa after a fatal plane crash occurred in 1991.
In 1993, Teresa then began dating Kerry, who she had officially met in 1990 during an Earth Day rally, according to CelebrityNetWorth. After two years, the couple decided to take their relationship to the next level by exchanging vows.
While much of Teresa's net worth comes from her holdings in H.J. Heinz Co., she also has financial assets in "Del Monte Foods, Pfizer Inc., Walgreen Co., Wal-Mart, Gannett, and General Electric."
Teresa is also recognized as the owner of a food establishment called Thyme Square Restaurant and a charter airline named the Flying Squirrel.
Today, John Kerry serves as an advocate for the climate crisis
Kerry has always looked for ways to serve the U.S. government. After enlisting in the U.S. Navy in 1966, he served in the Vietnam War and rose in rank, reaching lieutenant status before returning home in 1970. Not only had he been honored with a Silver Star, Bronze Star, and three Purple Hearts, but he went on to co-found the Vietnam Veterans of America.
In 1972, Kerry made his first attempt at entering the world of politics. After an unsuccessful run for a seat in the U.S. House of Representatives, Kerry began advocating for people through his work as a private lawyer.
Finally, in 1982, Kerry entered politics after he was elected lieutenant governor of Massachusetts and went on to join the U.S. Senate in 1984.
Although Kerry attempted to advance to a higher political position in 2004 when he ran for president, George W. Bush took the lead. After taking a break from politics, Kerry is back at it again, this time advocating for climate change.