Julia Haart who has an impressive career in fashion and reality Tv shows is worth in millions amid new book debut, losing CEO job and divorce.
Reports of Julia Haart's net worth vary wildly, and the upheaval in her personal and professional life in 2022 only added to the uncertainty.
Haart, who tells her family's story in the Netflix reality series My Unorthodox Life, filed for divorce from Italian businessman Silvio Scaglia on Feb. 9, the same day she was fired as CEO of Elite World Group (EWG), the talent media agency she and Scaglia co-owned, according to Page Six.
But Haart has hardly slowed down. She has been making the media rounds to promote her new book, "Brazen: My Unorthodox Journey from Long Sleeves to Lingerie." Read on for more details about the designer's career and recent activities.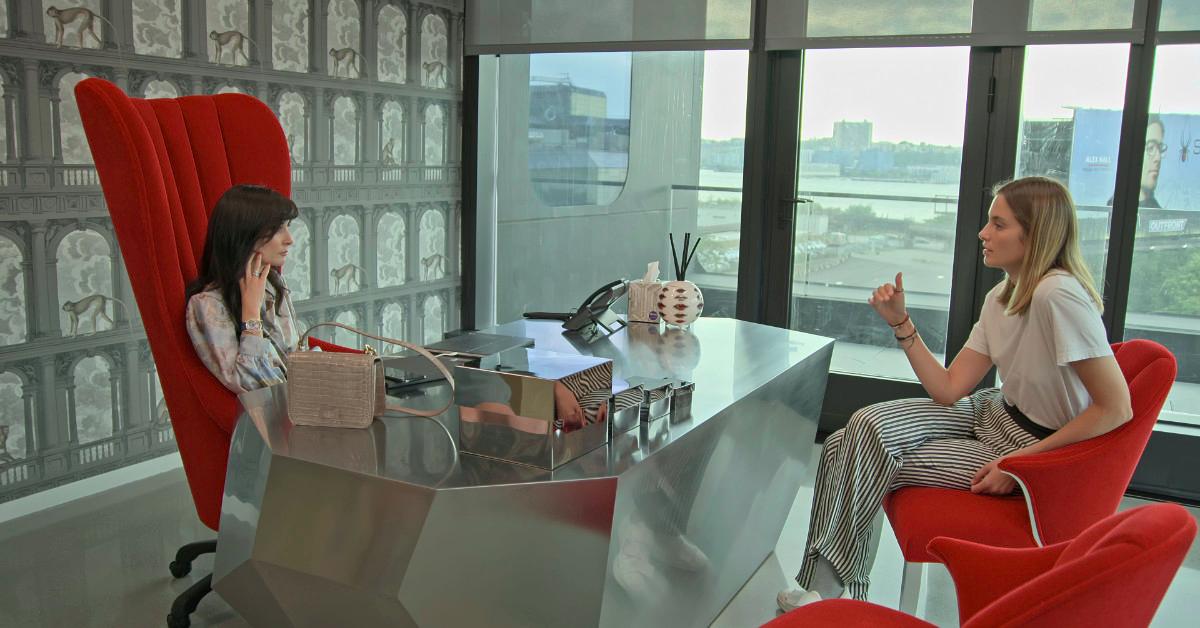 Haart was filming "My Unorthodox Life" Season 2 when she lost her CEO job.
In September 2021, Netflix renewed My Unorthodox Life for a second season, and cameras were reportedly filming Haart on that day in February when she was fired at Elite.
"Julia took the cameras into the offices for a meeting and was blindsided," an insider told Page Six.
Haart filed for divorce later that day, and she and Scaglia didn't have a prenup in place when they wed in July 2019, Page Six reports. "It's going to get messy," an Elite source told the publication. (Former Elite CEO Paolo Barbieri returned to the job to take Haart's place, according to WWD.)
Page Six also notes that Scaglia, a founder of the Italian telecommunications company Fastweb, is worth at least $1 billion. Haart's net worth, meanwhile, is harder to pin down. Women's Health reported in July 2021 that she had a fortune of $600 million, but other sites — namely, Finty and Exact Net Worth — claim she has a net worth of $8 million.
JULIA HAART Profile Summary
Julia Haart is the fashion designer who stars alongside family members on the Netflix reality series My Unorthodox Life. After leaving an ultra-Orthodox Jewish community and launching a self-named shoe company in 2013, Haart became creative director of La Perla in 2016. She then served as CEO of Elite World Group between 2019 and 2022.
| | |
| --- | --- |
| Celebrated Name: | Julia Haart |
| Net Worth: | $600 million (as of 2021) |
| Profession: | Fashion designer, reality TV star, former CEO of Elite World Group |
| Birthdate: | April 11, 1971 |
| Birthplace: | Moscow, Russia |
| Husband: | Yosef Hendler ​(divorced)​, Silvio Scaglia ​(m. 2019, sep. 2022) |
| Children: | Batsheva, Shlomo, Miriam, and Aron |
Scaglia and Haart filed lawsuits against each other within days.
On Feb. 11, 20222, E! News reported that Scaglia had sued Haart, alleging that she "illegally transferred" $850,000 from an account owned by Freedom Holding, of which EWG is a subsidiary, into another account after learning of her dismissal. ("These are genuinely ludicrous allegations," Haart later told ET. "I've never taken a penny that doesn't belong to me, and the beauty of knowing the truth is you know the truth, and to me, it's just another battle that I have to face to fight for my freedom.")
And on Feb. 14, E! reported that Haart had filed an action in a Delaware court claiming that Scaglia "improperly" dismissed her "without authority and for no reason other than a personal vendetta against his estranged wife." In response, a spokesperson for Scaglia said they were "not going to respond to the multiple falsehoods and baseless personal smears in Ms. Haart's Delaware lawsuit except to put faith in the court to determine the facts and the law."
Silvio Scaglia dropps lawsuit against Julia Haart
According to TMZ, the pair has since reached a settlement in which Scaglia dismissed his $850,000 lawsuit against Haart. In return Haart claimed she will no longer seek legal fee coverage concerning Scaglia legal action against her.
"I believe the fact that Silvio withdrew these cases with prejudice, meaning dismissed permanently, on the day discovery was due, speaks volumes," Haart told TMZ. "No money was paid by me and I intend to continue to pursue my fraud and defamation litigation against Silvio, and others named in those cases."
What is Silvio Scaglia's net worth?
Haart's estranged husband (he's now engaged to Michelle-Marie pictured above) isn't a stranger to millions, either. In 2010, Scaglia had a net worth of $1 billion, according to Forbes. It isn't clear how much Scaglia is worth in 2023.
That same year, Scaglia was arrested for suspected tax evasion in the case of the alleged money laundering of more than 2 billion euros. He spent a year in jail and on house arrest, according to Reuters. He was acquitted of tax fraud in 2013, as the news service reported.
Haart details much of her life story in her new memoir, "Brazen."
On April 12, 2022, Haart's debut book, Brazen: My Unorthodox Journey From Long Sleeves to Lingerie, hit bookshelves. Crown Publishing calls the book "a riveting, inspiring memoir of one woman's escape from an extremist religious sect and an extraordinary rise from housewife to shoe designer, to CEO and co-owner of the modeling agency Elite World Group."
"Propulsive and unforgettable, Haart's story is the journey from a world of no to a world of yes, and an inspiration for women everywhere to find their freedom, their purpose, and their voice," the publisher adds.