NBC's Lester Holt and his wife have been married for more than 40 years — What's their secret?
We know Lester Holt as the host of NBC Nightly News. We are used to seeing his welcoming face and getting critical information that impacts our lives from Lester, but little is known about the anchor's personal life.
It turns out that Lester has been married to the same woman for more than 40 years. The couple got together in an unconventional way and are still mad at one another. Let's get to know their sweet family!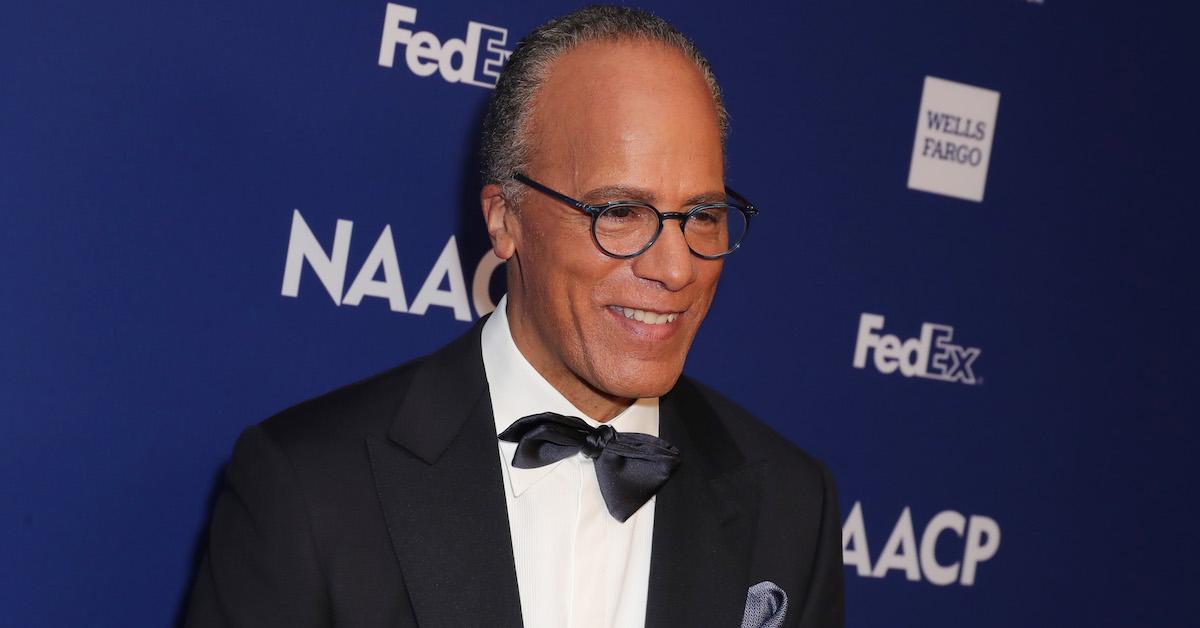 Who is Lester Holt married to?
Long before Lester's comforting presence was coming into our homes every night, he met a flight attendant named Carol Hagen, according to SacTown Magazine. The couple started dating, but it wasn't long before the local news station Lester was working for near Napa Valley, Calif., asked him to cover a forest fire. He invited Carol to come along.
"I thought, 'Wow, I've never been invited to go on a breaking news story before,'" she recounted. "'A forest fire — that could be considered a hot date!' So I said, 'I'm game.'" Carol added, "I guess I knew what I was getting myself into with Lester and his career."
Lester and Carol got married in 1981 and are still together.
What is Lester and Carol's secret to a long-lasting marriage?
Lester opened up to Extra in 2015, the same year he assumed the anchor chair at NBC, about his relationship with Carol after so many years together. "We laugh a lot, we really do," he confessed, going on to say something that may be hard to believe for many of his viewers: "I can be silly, she can be sillier."
But the newsman also noted that he has put Carol through some tough times given the gravity of his job. Remember their early date to a forest fire, and how Carol said she knew what she was getting into? Well, according to Lester, that perspective has come in handy.
"She understands that when the bell rings, I like to answer it, when the big story's going on, I want to be there…" he told Extra. "I love her to death, [she's been] so wonderful, she knows this job is going to bring a lot of late-night phone calls, but she's there for me and that means an awful lot."
Lester and Carol have two kids together.
The anchor and his wife are the proud parents of two sons, according to Good Housekeeping. Their first son, Stefan, was born in 1987 and has joined the family business so to speak, working as an anchor for NBC News in Chicago, per his Instagram.
Lester and Carol's second son, Cameron, is a few years younger than Stefan, and works as a financial analyst in New York, per Heavy.
It turns out that their dad always made sure the boys kept up with current affairs. As Lester told Yahoo! Life in 2021, "When they were little we'd often sit around the dinner table and talk about things in the news and they always wanted my opinion and I would keep trying to push them back to really develop their own opinions and to understand all the things that go [into that]."
Lester is also a "granddude."
Lester is also a beaming grandpa, who actually goes by the name "granddude" to his three grandsons. He came up with that unique name himself, explaining, "I like it because it acknowledges that I'm a senior — that I'm the 'grand' — but 'dude' is kind of about the fact that hopefully I've still got a little gas in the tank."