What is Martell Holt's net worth? The entrepreneur and Tv personality has an impressive net worth.
Season 3 of Love & Marriage: Huntsville kicked off on July 17, 2021. If Season 2 is anything to go by, fans can safely expect an entire batch of episodes that are bursting at the seams with drama.
The hit show features stars like Martell Holt, a self-described custom home builder and author who recently went through a majestically messy divorce from Melody, the mother of his four children. So, did the legal proceedings impact his net worth at all? How much do his personal assets come to?
Martell Holt is an entrepreneur and TV personality. How much is his net worth?
It's understood that Melody filed for divorce via her attorney, Caleb W. Ballew, in June 2020. The divorce was finalized less than a year later, on March 12, 2021.
According to MadameNoire, Melody and Martell now enjoy shared custody of their four children, Mariah, Martell, Maliah, and Malani. In what looks like an unusually peaceful move, Melody and Martell reportedly requested for the child support fees to be scrapped. In other words, Martell's bank account might not have suffered too much.
According to Bossip, they agreed to dissolve at least one company, Holt & Holt Custom Homes, LLC, in which they held joint interest. The official website of the company is still up, however. The couple could have ended up going down on an alternate route.
Either way, Martell likely has enough saved up to afford a divorce. Most outlets state that his net worth is in the ballpark range of $16 to $20 million, which enables him to pursue a luxurious lifestyle.
So, did Martell Holt end up having a baby with Arionne Curry?
As loyal viewers of Love & Marriage: Huntsville will likely remember, Martell and his mistress of more than five years, Arionne Curry, announced that they were expecting a baby roughly around the same time as the news about Martell's divorce got out.
On Instagram, Martell tends to share casual snaps capturing his latest adventures with his four kids. Curiously enough, adult women only appear sporadically — and there's no trace of Arionne in his newest posts.
Arionne was scheduled to give birth in December 2020, per Distractify. According to her previous Instagram stories, she did give birth to a baby boy following difficult labor. Arionne also suggested through her Instagram stories that Martell may have wanted a DNA test to prove that the boy was his.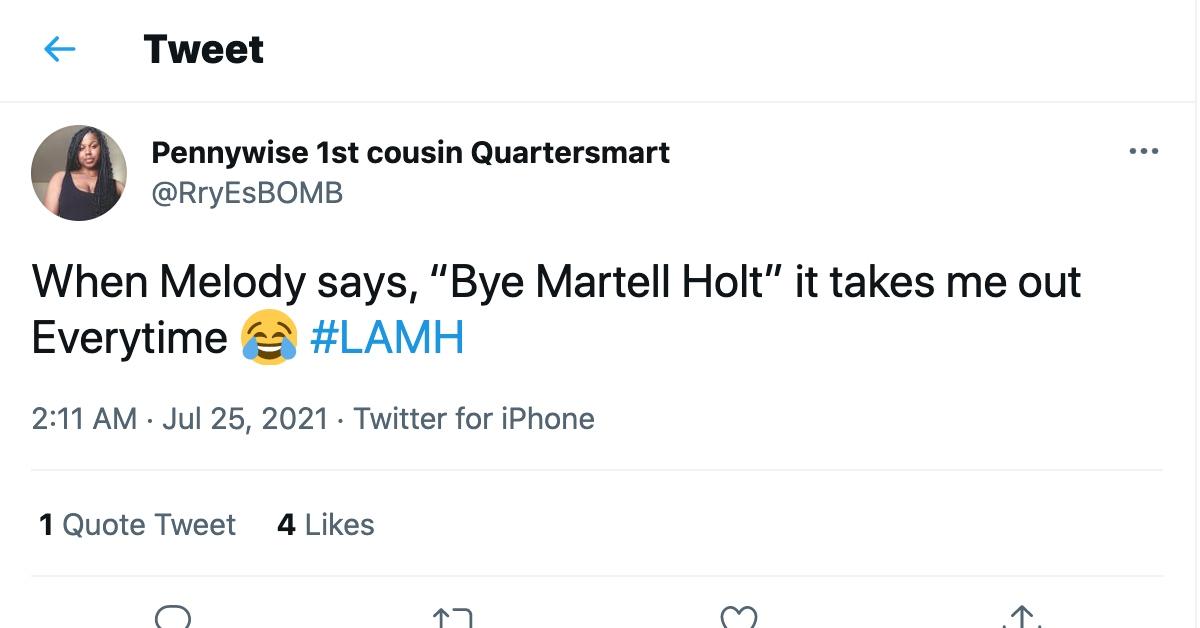 Season 3 of 'Love & Marriage: Huntsville' is bound to feature a handful of unforgettable scenes.
Destiny Payton-Williams shared a jaw-dropping revelation with Melody in the Season 3 premiere of Love & Marriage: Huntsville. As she shared, she and La'Berrick Williams got divorced as well. Things appear to be progressing with a breakneck speed in Huntsville, Ala.
Several fans took it to Twitter to express their appreciation for the show.
"Love & Marriage: Huntsville is so messy. I been missing the f–k out," tweeted @_youngloco.
"Why nobody ever told me Love & Marriage: Huntsville was so good?" asked @DearKB_.
Catch new episodes of Love and Marriage: Huntsville every Saturday at 9 p.m. EST on OWN.
Who is Martell Holt dating now?
'RHOA' star Shereé Whitfield is reportedly dating another reality star named Martell Holt, DPA of the duo has gone viral.
Shereé and Love and Marriage: Huntsville personality Martell Holt are officially dating after meeting "through a mutual friend."
Whitfield was in a relationship with Tyrone. Reports have surfaced that Shereé and her longtime boyfriend, Tyrone Gilliams, have ended their relationship. Many fans will recall that Tyrone, a former basketball player and businessman from Philadelphia, was MIA on the show due to legal issues. But Shereé officially kicked Tyrone to the curb after he stood her up on a Season 14 episode.