Miley Cyrus is rumored to be dating Lilly drummer Maxx Morando but who has she dated in the past? Inside her dating history.
Ever since she split from Liam Hemsworth in August 2019 after 10 years of on-and-off dating, Miley Cyrus's romantic life has been in the spotlight. A month after her breakup with Liam, Miley was spotted kissing The Hills' Kaitlynn Carter, then moved on to date Australian musician Cody Simpson until August 2020.
Miley broke the internet with a pandemic dating update she gave on The Howard Stern Show: "This time has been really interesting and challenging for any sort of dating or meeting people."
"I do a lot of FaceTime sex," she continued. "It's the safest sex. I'm not getting COVID. I am definitely not going to be doing anything that's irresponsible for myself or for other people … it's just ridiculous for anybody that won't take the right precautions to keep each other safe. It's f–ked up."
Now, the "Midnight Sky" singer is rumored to be off the market again. So, who is Miley dating these days? She seems to be linked to someone new.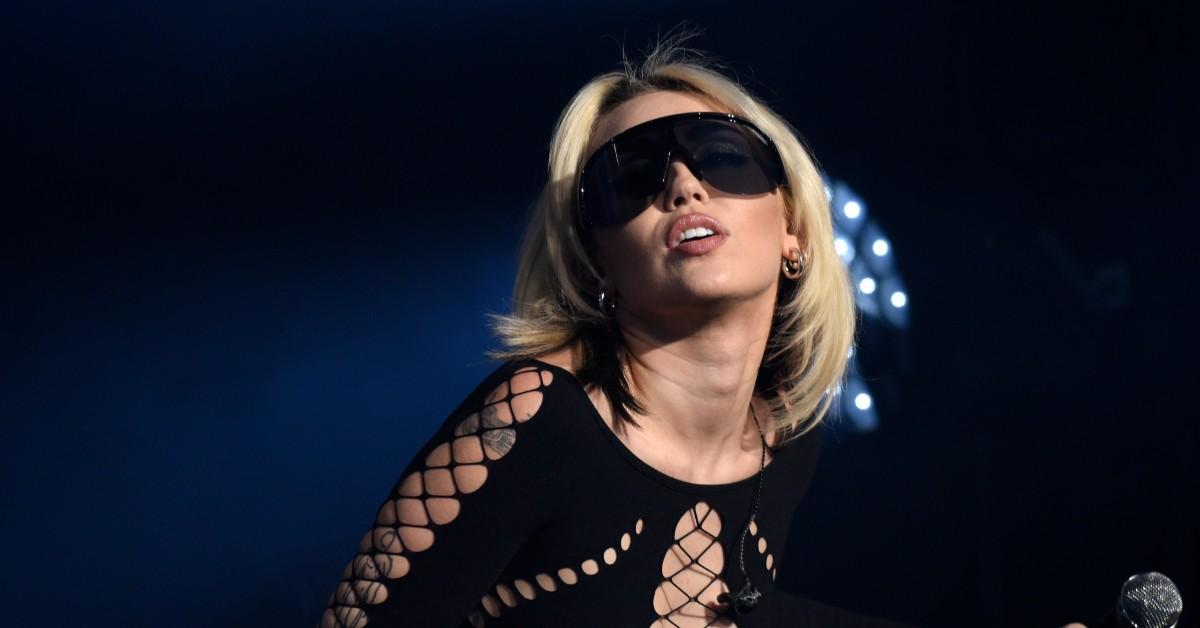 Who is Miley dating? She's being linked to Maxx Morando.
Maxx Morando is the drummer for the rock band Lilly. The two reportedly met because of one of Miley's 2021 appearances in Vogue, where she credited the artist for part of her fashion choice. She said: "This look is a one-of-a-kind collaboration between two of my favorite emerging artists, Maxx Morando and Shane Kastl. Their collaboration is the perfect example of sustainability becoming the next fashion phase, and it proves that anything can be reinvented, which resonates with me deeply."
A source told the US in early 2022 that the couple is "still getting to know each other," and that "They're having fun and have been spending a lot of time together. They're exploring things and seeing where it goes."
This past weekend, the pair shared a kiss in West Hollywood, perhaps to let everyone know there's something going on, even if neither celeb has confirmed anything.
Who has Miley Cyrus dated?
Miley Cyrus' dating history has been displayed on a public stage, featuring some memorably big names.
However, there are some relationships that did not make the front pages.
Tyler Posey
Miley was dating celebrities from the very beginning with her first boyfriend being Tyler Posey.
The two young stars dated before Miley's career took off after meeting on the set of Doc, where her dad starred with the Teen Wolf star.
The puppy love blossomed when Miley was only 7 years old and Tyler was 9.
Dylan Sprouse
The two Disney Channel stars had a very quick relationship when they were about 12 years old.
Dylan told US Weekly he remembered he and Miley had met on the set of Hannah Montana and dated for about a day.
He joked, "We met at her set, I believe, and we dated. And then Nick Jonas walked by and it was over."
Nick Jonas
The golden couple of Disney Channel met in 2006 when they were 13 years old.
They dated throughout Miley's Best of Both Worlds Tour which the Jonas Brothers opened for, but they broke up in 2007, only one year later.
Miley famously wrote her hit single, 7 Things I Hate About You, about Nick Jonas and has described him as her first love.
"I was angry when I wrote '7 Things.' I wanted to punish him, to get back at him for hurting me," Miley wrote in her 2009 Miles to Go memoir.
"It starts with a list of what I 'hate.' But I'm not a heart. My heart knew from the start that it was going to be a love story. Why does he get a love song? Because I don't hate him. I won't let myself hate anybody."
Fifteen years after their split, Miley performed at the Lollapalooza concert at Parque Bicentenario Cerrillos in Santiago, Chile on March 19, 2022.
During the concert, a fan held up a sign that Miley read aloud, saying, "F**k Nick Jonas."
Realizing what she'd read, she quickly said, "I didn't say it! I didn't say it! Just one of the other signs!"
Justin Gaston
After her first heartbreak, Miley dated Justin Gaston who was a contestant on her dad, Billy Ray Cyrus' reality show, Nashville Star.
He and Miley were five years apart in age and split after nine months when Miley went to film The Last Song.
Liam Hemsworth
Miley and Liam Hemsworth's relationship has been the most publicized of her relationships throughout their 10 years together.
The pair met while filming The Last Song in 2010 and got engaged in June 2012 when she was 19 years old.
They called off the engagement in September 2013 and then became engaged once more in January 2016.
Miley and Liam got married in December 2018 after the California fires burned down their Malibu home.
Their marriage didn't last long and the two called it quits for the last time in August 2019.
Kellan Lutz
In between breaks from Liam, Miley had various short-lived relationships.
In December 2013, Miley was reportedly dating her longtime friend and Twilight star, Kellan Lutz.
Jared Leto
Miley had a brief fling with Thirty Seconds to Mars lead singer, Jared Leto.
They began dating in February 2014 but their relationship reportedly was nothing serious.
At the time, a source told US Weekly, "They like to have a good time, they love to talk about art and music — and they're both comfortable with nudity!"
Mike WiLL Made-It
A few months after Miley and Jared Leto broke off their relationship, it was confirmed that Miley was dating her then-music producer, Mike WiLL Made-It, whose real name is Michael Len Williams II.
The two were dating while they worked on the Bangerz album in 2013 and supposedly had mama Tish's stamp of approval.
Patrick Schwarzenegger
Patrick manifested this relationship when he told reporters that he had his "eye set on Miley" in 2011.
The couple first got together briefly during one of Miley and Liam's breaks and picked their relationship back up for five months in 2014.
Patrick reportedly called things off after photos showed Miley taking body shots off a girl in a club.
Kaitlynn Carter
Miley's first relationship after her divorce from Liam was with reality TV star Kaitlynn Carter who was also rebounding from her divorce from Brody Jenner.
The girls escaped to Italy where the romance rumors flourished during their stay at Lake Como, Italy.
Pictures of the couple kissing surfaced but the relationship didn't last much longer once it touched American soil.
Cody Simpson
Miley started dating her longtime friend and fellow musician, Cody Simpson, in October 2019.
Cody and Miley moved in together during the Covid-19 pandemic lockdown.
They were active on social media, where Cody serenaded Miley on her Bright Minded talk show with the song he wrote for her, Golden Thing.
Miley broke up with Cody Simpson in the summer of August 2020, though romance rumors between the two had been going on since 2014.
They ultimately dated for almost a year until eventually going their separate ways in order to "individually just [work] on [them]selves to become the people that [they] wanna be," Miley told TMZ. 
Miley also told the outlet that she and Cody had been friends for 10 years before becoming romantic and that their breakup wouldn't get in the way of their friendship. "Right now, two halves can't make a whole," she said.
In the viral conversation she had with Howard Stern short months after her breakup from Cody, Miley explained that she's "not a free bird." "I love structure," she revealed. "Structure keeps me safe and keeps me my best and I love to be anchored and weighted by people. I don't want to be friends with feathers, I want you to be like, cement for me."