Is Natalia Bryant dating right now? Details about Kobe Bryant's daughter and Dwayne Kemp, her stalker who acts like her boyfriend.
Natalia Bryant is the 19-year-old daughter of Kobe Bryant. She is currently attending USC and has been helping to continue her father's legacy.
Natalia Bryant, recognized as the celebrity kid of the legendary late basketball player Kobe Bryant, took the internet by storm when her mother, Venessa, took to her Instagram to share an adorable picture of Natalia with her prom date.
Ever since the post, people have been busy speculating about her prom date as her boyfriend, so what really is the case?
Does Natalia Bryant Have A Boyfriend?
To be honest, the sneak peek of Natalia's prom on her mother's Instagram story was not enough to imply the prom date was Natalia's boyfriend.
While this prom marks her second one, Natalia did not miss turning heads with her flawless prom look. She shared her transformation from a casual look to a glammed-up look wearing a stunning Dolce and Gabbana floral dress through a short clip on her social handle.
Praising her glamorous look, singer Ciara showed her love by writing, 'Yessss Nani Boo! So pretty,' while several other notable personalities showed their appreciation through their comments on her social media post.
As this was her second senior prom night, she did not fail to grab attention as much as she did on her first prom, where she dazzled in a pink shoulder-down strapless dress.
The only difference was, her second prom gave her fans and followers something to ponder upon.
However, Natalia's mother simply captioned her recent prom picture, writing 'Prom Deux' and nothing more. But her fans would let the opportunity slide in vain, would they? Even one fan-made video on YouTube describes Natalia's prom date, Connor, as her boyfriend.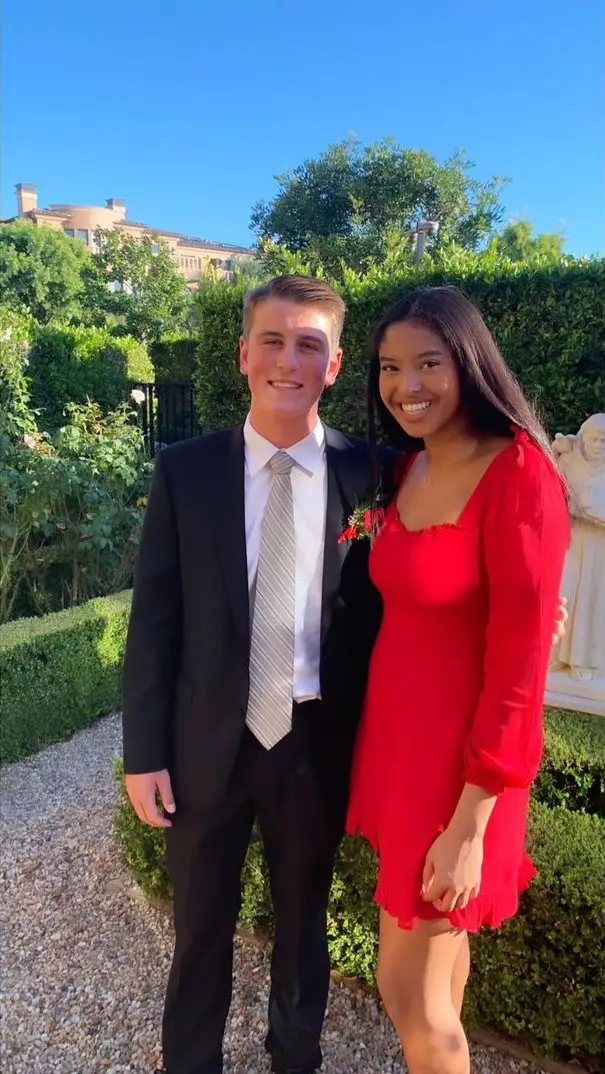 Natalia Bryant and her prom date (Source: Instagram)
Well, Connor is a frequent face appearing beside the gorgeous Natalia on social handles, which might have also added fuel to her relationship rumor. An Instagram post by Vanessa in 2019, where she shared a picture of Natalia and Connor, suggests their friendship dates to a few years back.
Although the Instagram story about Natalia's prom date sparked curiosity about her love life recently, she is not publicly known to have a boyfriend to this date. Besides, as she just finished high school and now attending USC, she probably has other priorities in life right now, apart from diving into a relationship.
Natalia Bryant is getting protection from her stalker, a Kobe Bryant obsessed named Dwayne Kemp.
Unfortunately, she has had to deal with some real nut jobs that are making her life extremely difficult.
Just yesterday, we reported on how Natalia and the police teamed up to file for a restraining order against Dwayne Kemp. Kemp had reportedly been sending Natalia some scary messages. For instance, he was acting as if they were in a relationship, although Bryant notes she doesn't even know him. Furthermore, he told her he wants to have a child that resembles Kobe with her.
Additionally, Kemp is already known to the police due to the fact that he has been arrested four times in the past. He has faced gun charges and has even been convicted of prior crimes. In fact, he is even in the midst of buying a gun, which spooked both Natalia Bryant and law enforcement.
To make matters especially worse, Kemp has appeared at USC where he tried to find Bryant in class. These are the actions of an unstable person, and he is causing Bryant extreme emotional distress. Thankfully, according to TMZ, the court has granted a temporary restraining order.
This new restraining order states that Kemp must remain at least 200 yards away from Natalia, her school, her sorority house, her car, her home, and even her job. Of course, this is a huge win for Bryant, who can now have some peace of mind.