Who is Rick Ross dating right now? Maybach Music Group owner Rick Ross has dated a list of famous women in the industry.
Rick Ross (born: Wiliam Leonard Roberts II) started rapping in the mid-2000s under the Def Jam Label. His debut album "Port of Album" dropped in 2006, and featured his hit single "Push It." He has since released 10 more albums, with his most recent, "Richer Than I Ever Been" in 2021.
Rick Ross is an American, Grammy-nominated rapper and record executive who founded the Maybach Music Group record label and owns several Wingstop locations.
In 2023, Rick Ross flaunted his wealth (and Wingstop connections) at the Super Bowl when he invited fellow Florida rapper Rod Wave to his suite, which costs an estimated $1.5 to $2 million.
"You got to challenge yourself," Rick Ross said during an interview on Real 92.3. "It's easy to become relaxed after you've accumulated so much success but how do you continue to grow? How do you continue to be better? You still got to find a way to challenge yourself to be better."
In his dating and love life, Rapper Rick Ross goes through girlfriends faster than most of us go through a box of tissues. It's not a bad thing, but it just means it's very hard to keep up with who he's dating at any given moment. Is Rick Ross dating anyone right now?
Who is Rick Ross dating right now?
It seems as though there's a new celebrity couple in Hollywood. Pretty Vee confirmed her relationship with Rick Ross in November 2022, per AllHipHop.
During her recent appearance on Revolt TV's Black Girl Stuff talk show, the actress addressed the recent rumours. One of the show's hosts, Akilah Friend, didn't hesitate to bring up the social media star's alleged tie-up with Rozay.
When asked about her attraction to the 46-year-old, she certainly didn't hold back. "I think it's the boss in him. I like guys who lead. So when you a leader, you can step to me," she proclaimed.
Furthermore, she went on to explain that their relationship goes much deeper than the surface. "Ross is the type of person who you look at and you just admire … you're inspired by," the social media star elaborated.
Over the past couple of years, rumours were circulating about the alleged couple's fling. The Rap Sh*t actress officially became a global ambassador for Luc Belaire in 2020.
The "Hustlin'" rapper has been a major promoter of the French sparkling wine brand for nearly a decade.
Additionally, the gossip was later re-energized in September 2021 when the couple had a viral moment together. This came after they shared promo for their collaborative Boss Talk conversation series.
Regardless, the pair was actively hesitant in confirming anything until now.
Who has Rick Ross dated?
Rick Ross has a tall list of women in his dating record out of which he has four children with Lastonia Leviston: Toie Roberts; with Briana Camille: William Roberts III, Berkely Hermes Roberts, Billion Leonard Roberts …
Rick Ross has been engaged to Lira Mercer for two months in 2015 before separating.
Rick Ross has been in relationships with Liz Hagelthorn (2017), Chandra Davis (2016), India Love (2016 – 2017), Briana Camille (2016 – 2019), Briteady (2016), Skrawberry (2015), Ming Lee (2014 – 2015), Paige Imani (2014), Keyshia Dior (2013 – 2014), Christelle Blanche (2011 – 2014), Elise Neal (2010 – 2011), Shateria Moragne-El (2009 – 2013), Foxy Brown (2008), Tia Kemp (2003 – 2015), Lastonia Leviston (2000 – 2002), PreMadonna and Alexis Skyy, per WhosDatedWho.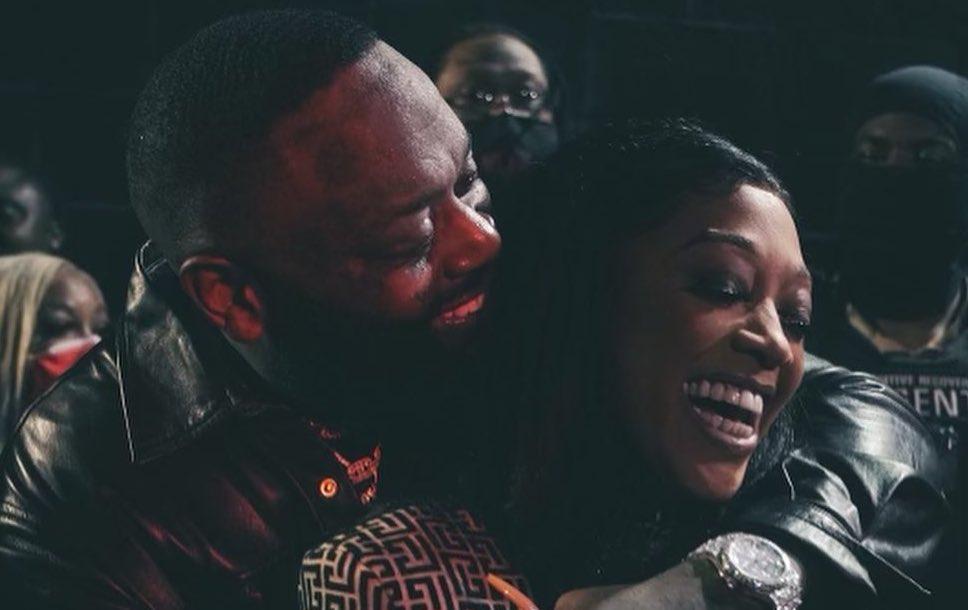 Rick Ross and Trina sparked dating rumors, however, it was later made clear they're old friends.
When the iconic rappers shared their snuggly snaps on Instagram, there was no way we would think they were not dating. In all three pictures and one video, Rick has his arms around Trina. And honestly, it looked like there was a lot of love there by the way he looks at her in those pics. 
Trina captioned two of the posts "Biggest," which is also a nod to one of Rick's many stage names, Biggest Boss Rick Ross. She captioned another post, "Family," though, which suggests to her fans that she and Rick are just friends.
It later got clear that Trina and Ross weren't dating but are close friends for at least 20 years, and they seemed to only grow closer. Rick Ross was last tied to Dej Gabrielle in April 2020 when the two were slated to do a reality show together. However, we haven't heard anything since about their show, and in May, Hip-Hop Vibe reported that Rick and Dej seemingly broke up.
Trina, on the other hand, does have a longtime boo. She's been going strong with Raymond Taylor, another rapper who she met a while back. When the two started dating five years ago, there was some controversy since Trina is 16 years older than Raymond. However, the two seem to be a solid couple, and although they stay fairly low-key, Raymond posted a video montage just a week ago praising Trina and her accomplishments.