What is Tim Cook's net worth and how much money does he make per day? Details about the Apple CEO's fortune and salary.
The widening disparity between the average worker and CEO salary in the U.S. has been a burning issue. Recently, Bernie Sanders tweeted how the differential between the average worker and CEO salary in the U.S. is way above that in Norway. Apple, which is led by its CEO Tim Cook, is the biggest company based on market cap, not only in the U.S. but globally.
Berkshire Hathaway chair and legendary value investor Warren Buffett has praised Cook multiple times. What's Cook's salary at Apple and how much does he make in a day?
Tim Cook became Apple's CEO in 2011.
Cook became Apple's CEO in 2011. He took over the baton from the company's founder Steve Jobs. Under Cook's stewardship, Apple became the first company to hit a market cap of $1 trillion. The iPhone maker hit the milestone in August 2018. While the stock saw a selling spree in the fourth quarter of 2018 amid former President Donald Trump's trade war, it bounced back in 2019 and 2020.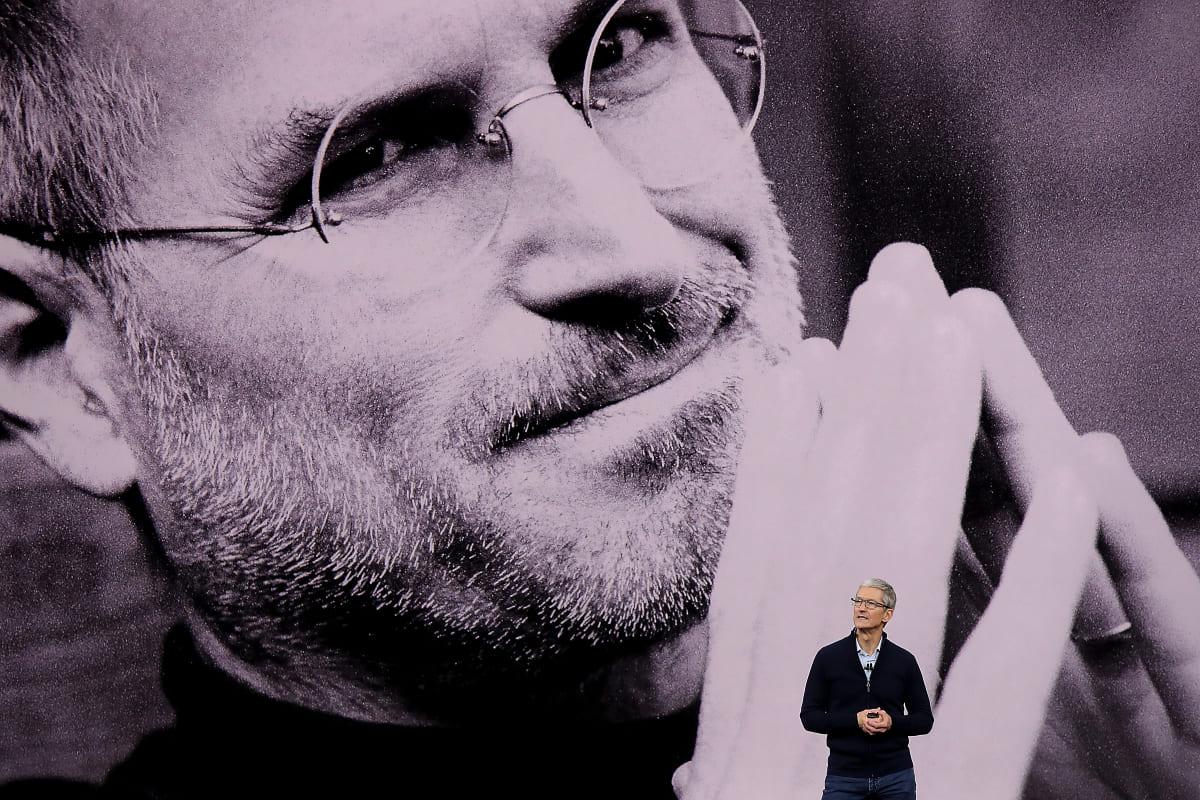 Apple was the best-performing FAANG stock in 2019 and 2020 and the company achieved yet another milestone by hitting a market cap of $2 trillion in April 2020. Apple's market cap hit $3 trillion on the first trading day of 2022. However, it hasn't reached that mark again amid the sell-off in tech stocks.
The spike in Apple stock had a positive impact on Cook's compensation, which like most U.S. CEOs is skewed towards stock options. Tesla CEO Elon Musk lies on the extreme end and doesn't take any fixed salary or fixed compensation. However, thanks to Tesla's soaring stock price and rising profitability, he unlocked billions of dollars worth of stock options in 2021, which made him the highest-paid CEO and the world's richest person
There's a big difference between Tim Cook's annual base salary and total compensation.
Cook received an annual salary of $3 million from Apple in 2021. However, the amount is only a fraction of his total compensation. Apart from the fixed base salary, Cook received a $12 million cash bonus and another $82.3 million in stock options. He also received "perks" like private jet travel, which took his total 2021 compensation to $98.7 million.
Cook's total compensation rose 571 percent in 2020. Needless to say, the rise was way higher than what the average Apple employee received in the year. Also, Cook's compensation was 1,400 times the average employee salary at Apple.
Tim Cook's compensation is higher than other tech peer CEOs.
Cook's 2021 compensation was higher than his tech peers. Data compiled by Yahoo Finance shows that Microsoft CEO Satya Nadella received total compensation of $49.9 million in 2021. Microsoft stock outperformed Apple in 2021 and the Windows maker briefly became the largest company, ahead of Apple.
How much does Tim Cook make per day?
Going by his annual compensation, Cook made around $270,410 per day in 2021. Since his compensation is mostly variable, it isn't certain that he will make the same amount in 2022. If we only look at his base salary of $3 million, he makes around $8,220 every day.
Tim Cook's net worth is estimated at $2 billion.
Forbes estimates Cook's net worth at $1.8 billion. Most of his wealth is tied to Apple stock and he owns around 3.3 million shares of the iPhone maker.