To no one's surprise, Kanye West went on 'Infowars' just to be more antisemitic.
Kanye West is a dangerous person. We're not referring to the state of his mental health, which has no bearing whatsoever on his racism as that is not a symptom of any mental illness. He somehow still has a large platform and continues to use it to push bigoted rhetoric that is mostly aimed towards Jewish people.
Kanye's latest string of antisemitic garbage occurred on a show where normally something like that might be welcomed. While a guest on Alex Jones' Infowars, Kanye wore a mask that covered his entire face and pushed his prejudiced views to an entirely new level.
It hardly seems possible that he could be more shocking, and yet even Parkland shooting denier Alex Jones looked uncomfortable. What exactly did Kanye West say on Infowars? Let's get into it.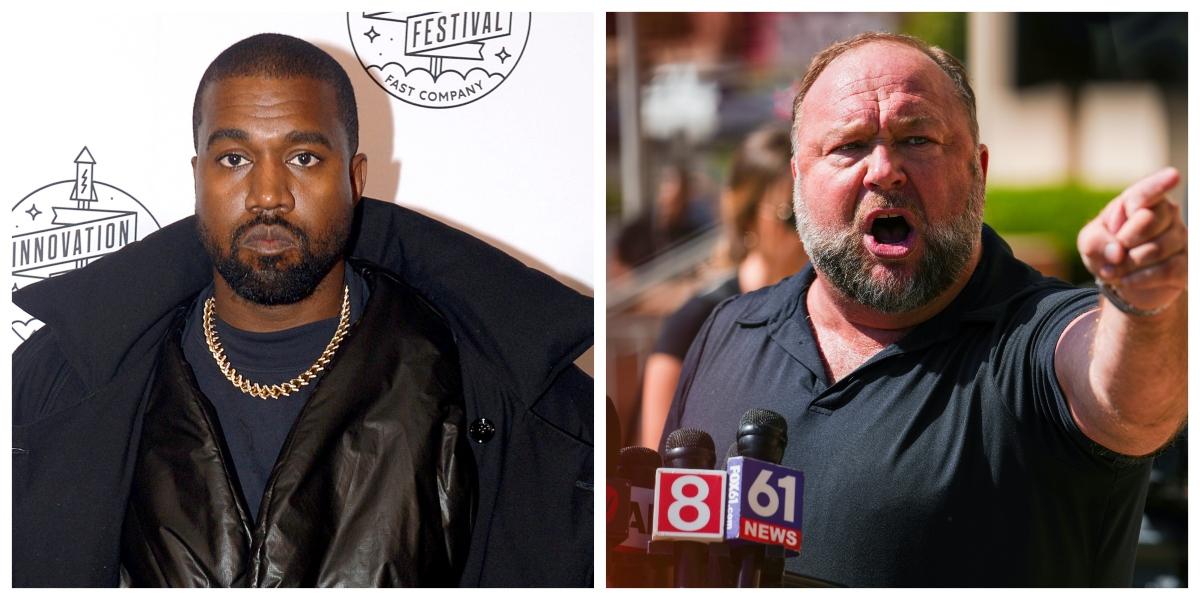 What did Kanye West say on 'Infowars'? He was very pro-Hitler.
Alongside former YouTube star and current white supremacist Nick Fuentes, who Kanye was recently spotted with at a restaurant in Frederick, Md., he went on Infowars and had only toxic things to say. With a Holy Bible in front of him, Kanye proceeded to verbally assault Jewish people while praising Hitler and denying the Holocaust.
While claiming to "love everyone," Kanye launched into a rambling diatribe that began with, "I see good things about Hitler." It then turned personal when West seemingly alluded to business dealings and, inexplicably, porn. He barely made sense as he tried to explain his version of hypocrisy.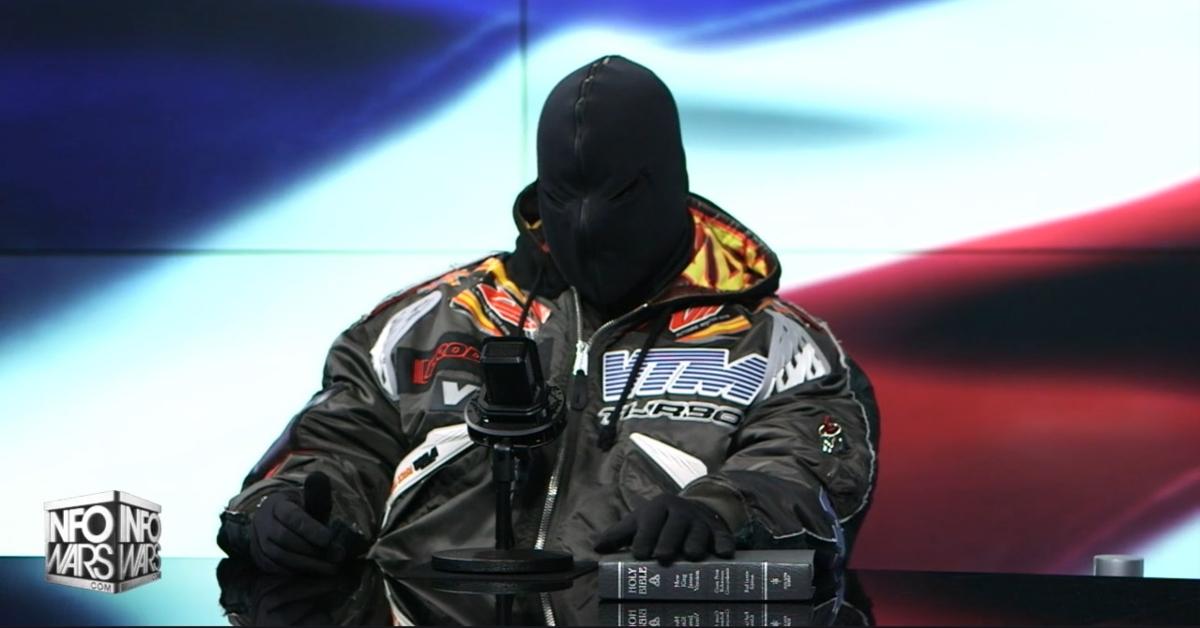 "I love everyone, " Kanye claimed. "Jewish people are not going to tell me you can love us, and you can love what we're doing to you with the contracts, and you can love what we're pushing with the pornography. But this guy that invented highways, invented the very microphone that I use as a musician, you can't say out loud that this person ever did anything good, and I'm done with that."
(Before we move on, let's make one thing clear: Hitler did not invent highways or microphones.)
Kanye then suggested that every human being is valuable and has something to offer to the world — and on that we can agree. But when Kanye added, "especially Hitler," that's where he lost us again.
At one point, before Jones cut away, Kanye said, "I like Hitler," which felt unnecessary. We already got that message loud and clear. Kanye's encore came in the form of Holocaust denial when he succinctly stated, "He [Hitler] didn't kill 6 million Jews. That's just factually incorrect."
Please de-platform, Kanye West.
Kanye West is also being sued for music licensing issues.
According to Business Insider, "When Kanye West released his 11th album, Donda 2, earlier this year, he shed his usual business infrastructure." Normally that might be a good thing, but when Kayne parted ways with Def Jam Recordings, that's not all he parted ways with. Allegedly he opted to part ways with licensing music he sampled on the album.
Two separate record labels sued Kanye over unlicensed samples and, as of the time of this writing, the case will go to trial at some point since all parties involved couldn't reach a settlement. There are also several lawsuits pending against West from employees who claim he "failed to pay for work done on his behalf."
With all this and more going on, we should be more than a little concerned about the fact that Kanye is prioritizing antisemitism over everything else.