Amazon founder Jeff Bezos' net worth, which fascinates many people, is closely linked to his company's stock, and his fortune tends to fluctuate in step with it.
However, despite Amazon's dominance, you may still be surprised at how much money Bezos makes a day or per second.
Bezos' fortune currently stands at roughly $130 billion. He continues to rank among the world's top billionaires even after stepping down as Amazon CEO in 2021.
The other billionaires in Bezos' ranking are Tesla CEO and Dogecoin fan Elon Musk, Bernard Arnault, Bill Gates, and Meta's Mark Zuckerberg.
Something you might not know about Bezos, though, is where he lives. If you're the second richest man in the world, you can live anywhere you want. So, what does Bezos do? Keep scrolling to find out.
Where does jeff Bezos live now?
It should come as a little surprise that the founder of Amazon, Jeff Bezos chooses to live close to the company's headquarters. According to Business Insider, Bezos calls a palatial Medina, Washington estate his home. The 29,000-square-foot property was purchased in the late '90s for a mere $10 million. That sounds like a lot to most people, but to put it into perspective, Bezos makes an estimated $8.5 million an hour, per the Independent.
The property was renovated for $28 million in 2010. Bezos also increased the size of the property by buying a neighboring house for around $50 million. Thanks to the tight security surrounding them, there's not much information on what the houses are like on the inside. The city of Medina, located outside of Seattle, is known as a safe haven for the 1%. Bezos lives within a few miles of Bill Gates and several high-up Microsoft executives, per Business Insider.
Amazon CEO Jeff Bezos recently dropped $165M on a mansion in Beverly Hills.
Amazon CEO Jeff Bezos, the world's richest person, bought a mansion in Beverly Hills for $165 million in 2021. The sale price is believed to be the highest in the Los Angeles area, surpassing the previous record of $150 million.
The mansion, known as the Warner Estate (named after Jack Warner, the Warner Bros Studio chief who built the mansion in 1937), was sold to Jeff by media mogul David Geffen. The house also sits on 9.4 acres and comes with a guest house, terraces, and an entire golf course. (Why would you ever need to leave your house?) With such a huge purchase under his belt, many are wondering how much in taxes the Amazon CEO has to shell out for the new estate.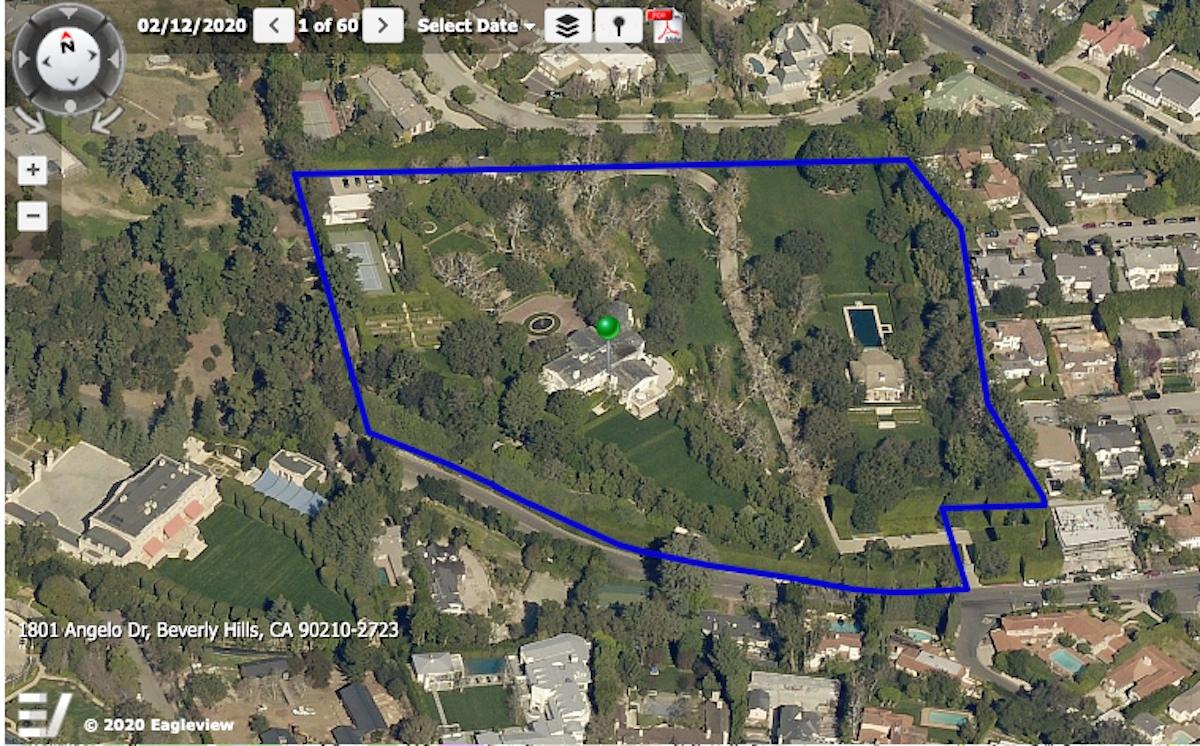 According to Forbes, Bezos' net worth is roughly estimated at $140 billion this year, which would make his home purchase not even 1% of his entire worth. It must be nice to be Jeff! Bezos owns 16% of Amazon, a stake worth more than $100 billion alone.
His worth skyrocketed in January 2020 after Amazon's stock soared more than 11% in extended trading for the fourth quarter. The sharp rise in stock pushed Amazon to be the fourth trillion-dollar company by market cap in the United States, sharing that space with Apple, Alphabet, and Microsoft.
Like most Americans, Bezos' net worth took a dive in 2022 and dropped by $65 billion according to Insider. This means, that over the past six months, Bezos has lost $10 billion a month, approximately $391 million dollars a day, and $16 million an hour.
However, Bezos is still doing pretty well for himself. To put his wealth in perspective, Bezos recently purchased a $165 million mansion in Beverly Hills. In comparison to Bezos' net worth, it would be the equivalent of someone making $60,000 a year buying a $75 house.
How many houses does Jeff Bezos own?
Bezos has amassed a number of properties across the US over the years.
It is unclear, however, whether the property empire was divided with his former wife MacKenzie Scott when the pair divorced in 2019.
Either way, since their split he has only added to his portfolio.
Some of his properties include:
Spanish-style mansion – $24million
30,000-acre ranch in Texas
Mansions in Medina – $63million
Manhattan condos bought in 1999 – $7.6million
Washington house across the street from his home to "protect privacy" bought in 2020 – $5 million
Four-bedroom property next door to his Beverley Hills mansion bought in 2017 – $13million.
Breaking down Jeff Bezos' income — how much does he make a day, minute, and second?
Bezos is entitled to a salary at Amazon. In addition to that core income, he's entitled to a range of other perks. For example, Amazon pays for its former CEO's security services and business travel expenses. He also receives capital gains on Amazon stock sales.
Since 1998, Amazon has paid Bezos an annual base salary of just over $80,000.
Other compensation, including the founder's security and business travel expenses, add up to $1.6 million. Therefore, between the base salary and other compensations, Bezos takes home around $1.7 million annually.
Based on his annual income of about $1.7 million, Bezos makes more than $140,000 a month, and $4,700 a day. If you break it down further, the billionaire makes about $390 an hour, $6.56 a minute, and $0.10 a second.
However, we all know that isn't how much Bezos is truly making. Business Insider did the math and Bezos makes approximately $2,537 per second in total.