Where is 'Barney' creator Sheryl Leach now? 'I Love You, You Hate Me' documentary explores her story.
Every streaming platform is trying its hand at the docuseries trend nowadays, but the latest show from Peacock in this genre is actually quite sad.
I Love You, You Hate Me tells the dark side of fame that came with the character Barney's rise to prominence. No, seriously, there's a dark side to Barney the Dinosaur apparently. (This is why we can't have nice things.)
We wanted to know where Barney & Friends creator Sheryl Leach is now. Has she created any other iconic children's characters since Barney? How did she deal with the Barney backlash?
Here's what we know.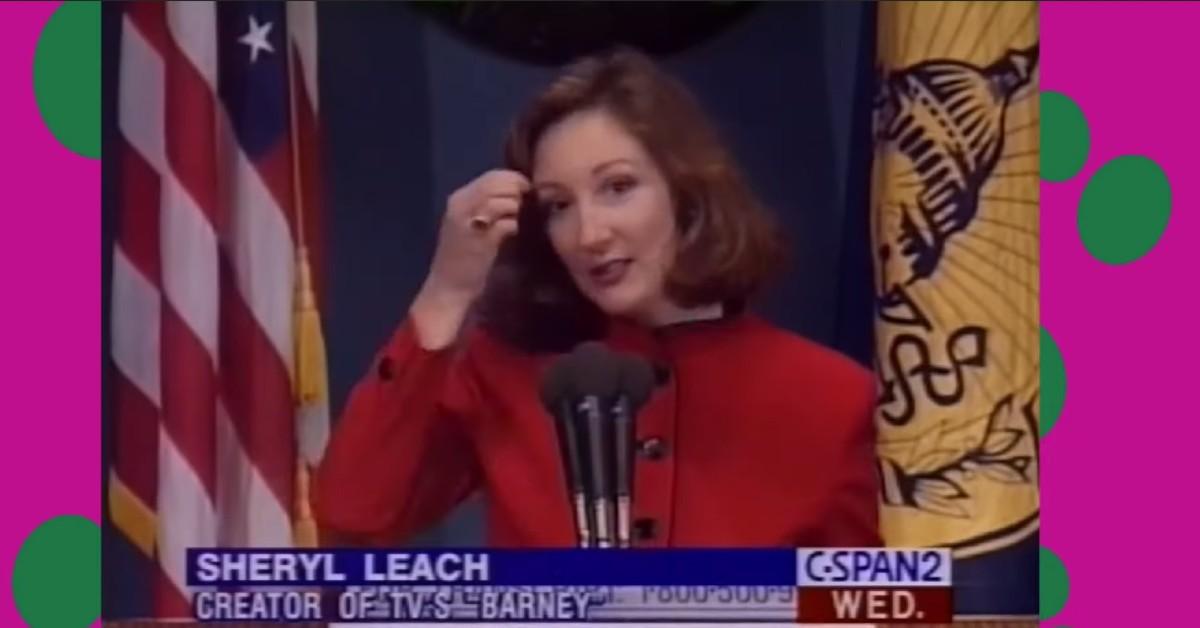 Where is 'Barney' creator Sheryl Leach now?
According to a Deadline report, Sheryl created Barney as a means to keep her son Patrick (a preschooler at the time) entertained. She was a schoolteacher in Dallas around the time she officially created the kid-friendly dinosaur in 1988.
The I Love You, You Hate Me docuseries explores the shocking Barney backlash and how it affected Sheryl and her family.
However, in spite of the negative backlash against a harmless purple dinosaur, the now-69-year-old Barney creator has actually become a dedicated philanthropist since Barney's initial surge of popularity in the 90s.
According to her bio for the Academy for Social Purpose in Responsible Entertainment (for which she serves on the advisory board), Sheryl co-created the Shei'rah Foundation, a private organization with the mission to support media projects that highlight the human spirit.
As a result of her work with the Shei'rah Foundation, Sheryl was honored with the National Freedoms Foundation award. She was the first woman to receive the honor since Eleanor Roosevelt.
The bio notes that Sheryl has also been involved in several land conservation projects in Warren, Conn. Sheryl also owns a farm in South Africa that supports the Global White Lion Protection Trust.
Sheryl Leach's son was embroiled in a different kind of controversy.
Remember how Sheryl's son Patrick inspired Barney in the first place? Fast-forward to 2013. Patrick was arrested for shooting his neighbor in the chest.
Patrick alleged that the neighbor in question was trespassing on his property, per a report from People. He was sentenced to 15 years in prison in 2015 after pleading no contest in court.
A recent October 2022 report from Grunge notes the California Department of Corrections Inmate Locator didn't show that Patrick's name was still in the system. Thankfully, the neighbor who was shot survived their wounds.
Does Sheryl Leach have social media?
Sheryl does not appear to have any public social media channels (however, Steve White, one of the Barney & Friends writers, has his own YouTube channel).
According to Sheryl's Wikipedia page, she's also been involved in and supported multiple justice reform projects. She also designed and built The Smithy, a retail center that sells goods locally sourced in the village of New Preston, Conn., with her life partner, Howard Rosenfeld.
You can stream I Love You, You Hate Me on Peacock on Oct. 12, 2022.