Meet Tes Lee — 'Swamp People' cast member and Instagram influencer. Here's everything we know about her.
Season 3 of the History Channel's slimiest show is here, and one of its newest characters is relatively unexpected. Swamp People: Serpent Invasion is back, and Tes Lee is here to put every python in its place.
A seasoned serpent hunter, the 33-year-old is prepared to get down and dirty this season. However, she acknowledges that her stint in the Everglades is a significant departure from how she typically presents herself — online, at least.
But why? Keep reading for all the details as we take a closer look at Swamp People: Serpent Invasion's newest cast member — Tes Lee.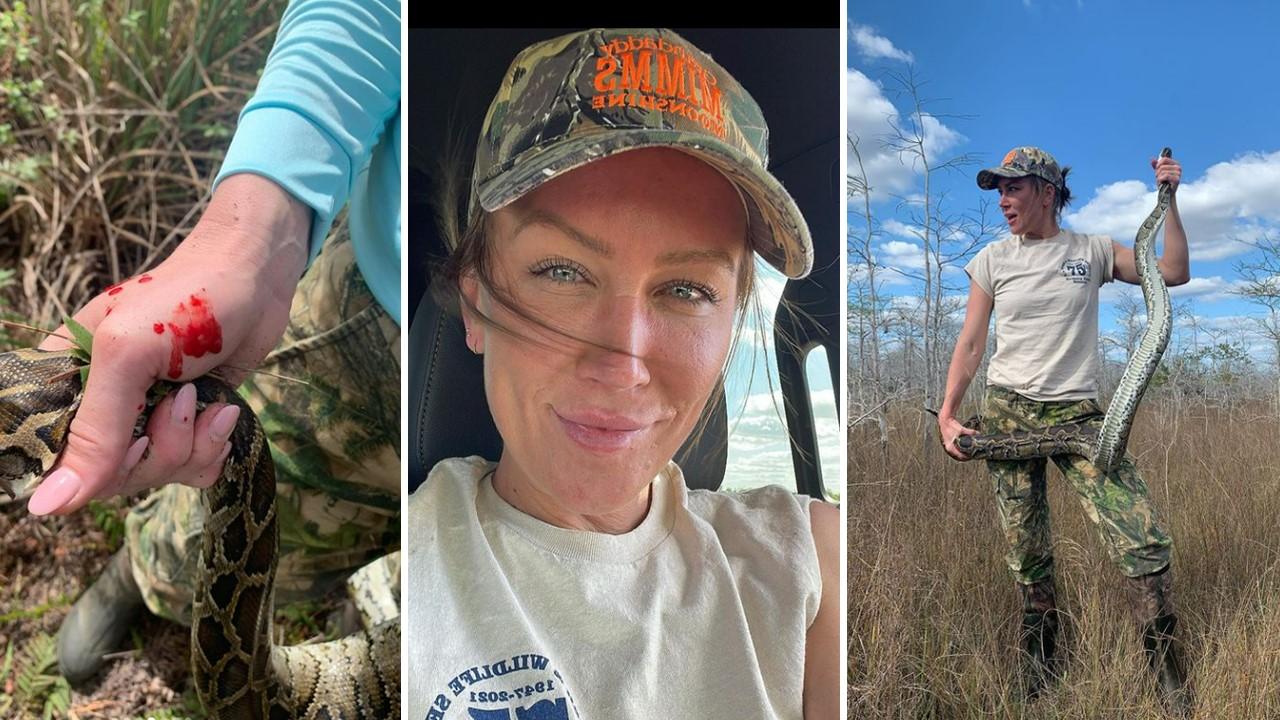 Tes has lived in Florida her entire life.
Born on Aug. 12, 1989, and raised in Tarpon Springs, Tes is a Floridian through and through. Located along the Gulf of Mexico, the city is best known for its rich Greek heritage. Referred to as the "Sponge Capital of the World," a group of Greek sponge divers settled in the coastal town in the early 1900s.
The oldest of three girls and one boy, Tes's childhood was full of adventure. When her parents sold their childhood home in 2020, Tes said, "We lived a life unlike most, tucked back in the woods of Tarpon Springs. It was our own little world where we were free to be who we wanted. A place full of memories I will cherish forever."
Tes has been married for nearly five years.
Tes and her husband, Milo Talokonnikoff, got married in 2018 at her family's home in Tarpon Springs and will celebrate their fifth wedding anniversary on March 10, 2023. In addition to getting glammed up and attending galas together, the married couple loves to explore everything the South Florida wilderness has to offer.
Milo, the Chief Operations Manager of Iron EagleX, Inc., an IT solutions company, used to serve in the U.S. Army and was a 2021 40 Under 40 Honoree in the Tampa Bay Business Journal.
Tes describes herself as a 'bad influence(r)' on Instagram.
According to Instagram, the Swamp People star has an affinity for content creation. One of the accounts linked in her bio is AT Creative, which appears to be a creative collaboration between Amy Fitch, a Tampa-based photographer behind The Hello Photo, and Tes herself.
"Born to support and grow the hospitality industry and beyond," AT Creative's Instagram bio reads. "Creating a vision with models in your unique space."
Tes and Amy's joint account features countless photos of Tes posing in eclectic outfits and settings. Whether she's flaunting a cheeky bikini surrounded by car parts, nursing an elegant cocktail in a sleek satin dress, or holding a duck in all-black on the beach, AT Creative's social content is undeniably all-encompassing.
Another social media marketing account linked in her bio is Sunny Collabs. Specializing in everything from content creation and social media management to influencer marketing and events, Tes frequently appears in promotional photos and videos on its Instagram page.
You can catch Tes in action during Swamp People: Serpent Invasion, airing on Thursdays at 9:30 p.m. EST on the History Channel.