Tennis star Chris Evert has previously been married to multiple pro athletes – but is she currently in a relationship?
Chris Evert is one of the most notable tennis players of the last few decades. Over the course of her tennis career, she's taken home 18 single titles and six US Open titles.
Recently, Chris has been incredibly open and honest about her battle against cancer — she has fought cancer and beat it twice! She has lived a truly inspiring life. Now, people are curious now about her love life. Is she married? Here's what everyone should know.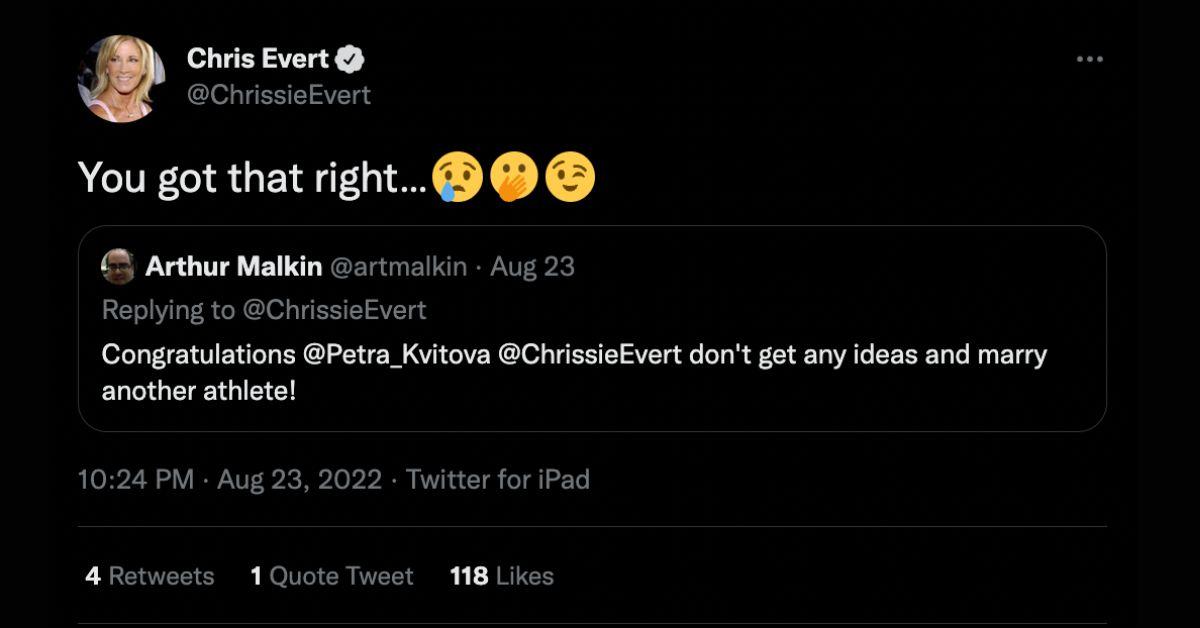 Is Chris Evert married?
As of 2022, Chris is not married. In fact, she is totally single. On Aug. 23, a fan tweeted Petra Kvitova to say congratulations on her engagement. They jokingly pulled Chris into the mix. The fan wrote, "Congratulations @Petra_Kvitova. @ChrissieEvert, don't get any ideas and marry another athlete!"
To that, Chris responded by saying, "You got that right." She added a few playful emojis including a crying face, a hand covering the mouth, and a winky face. In other words, Chris seemingly agrees that marrying another athlete probably wouldn't be the best idea for her.
She's certainly been married to a handful of athletes before, though.
Who was Chris Evert married to in the past?
In 1979, Chris married a British tennis player named John Lloyd. However, they decided to part ways in 1987. By 1988, Chris was ready to move on. She married Andy Mill, an alpine ski racer who won the grand slam championship 18 times. Chris and Andy's marriage lasted for 19 years and they ended up with three sons together: Alexander, Nicholas, and Colton.
Although Chris and Andy's marriage was her longest relationship to date, they still weren't able to make it work. After that, she married a man named Greg Norman in 2008. He's a former professional golfer who is now in charge of the controversial Liv Golf Tour. He won 89 pro tournaments throughout his career. After 18 short months together, they separated and filed for divorce.
Although Chris isn't married right now, she still has plenty to keep her busy.
Although Chris is totally single in 2022, she still has an incredibly busy schedule. On Instagram, she revealed that she's involved in the jewelry industry at this point in time. She collaborated with a jewelry designer named Monica Rich Kosann to create an authentic tennis bracelet.
She posted about her collaboration saying, "You might know about the story of how I lost my diamond bracelet at the US Open in 1978. [The] play was halted until I found it, and since then, it became a pivotal moment where the name 'tennis bracelet' grew to be a part of our fine jewelry lexicon. For decades, I have not had a voice in this fine jewelry category, until today. It was so much fun working with Monica and her team throughout the branding and design process."
Chris also posted about her interview on HBO Real Sports where she shared the details of her ovarian cancer battle with the world. In her caption, she expressed just how difficult it was to overcome her cancer, both physically and mentally.