D'Angelo Russell claps back at Nick Young's boxing challenge. Nick Young doesn't want to let go of his beef with D-Lo.
Nick Young and D'Angelo Russell have a highly-publicized history. Of course, Russell once took a video of Young admitting to cheating on Iggy Azalea. This happened while the two were teammates on the Los Angeles Lakers, and it led to quite a bit of strife between the two.
The video was leaked to the public, and Russell has always maintained his position that he had nothing to do with the leak. Despite this, Young is upset with Russell for taking the video in the first place, especially since it ultimately derailed his relationship, which was quite high-profile at the time.
Even all these years later, Young still harbors a grudge against Russell. During a recent podcast with Chris Mannix, Young claimed that he would love to box Russell and beat him up. Young is set to take on Blueface in a boxing match, and now, Young has the itch to fight more opponents in the future.
As one can imagine, Russell has absolutely no interest in this, as he took to Twitter, writing "My name keep dude relevant, and I'm going to grave with 'I ain't do that shit.'"
So there you have it. Russell and Young will not be getting into the boxing ring, anytime soon. The very concept of this happening was silly, to begin with, but in the age of celebrity boxing, stranger things have happened.
D'Angelo Russell's Profile Summary
| | |
| --- | --- |
| Name | D'Angelo Danté Russell |
| Net Worth | $26 million |
| Age | 26 years (born 23 February 1996) |
| Residence | Minneapolis, Minnesota |
| Marital Status | Unmarried |
| Salary | $31,377,750 |
| Endorsements | 2K Sports, H&M – Hennes & Mauritz, Li Ning |
| Endorsement Earnings | Approx $6 million |
What is D'Angelo Russell's net worth?
D'Angelo Russell's current net worth is estimated to be around $26 million, according to a report by Sportskeeda.
D'Angelo Russell is a 26-year old point guard who presently plays for the Minnesota Timberwolves. He was named to the NBA All-Rookie Second Team and the NBA All-Star Game in 2019.
He started off by playing for the LA Lakers and was traded to the Nets in 2017. He then played for half a season in Golden State before moving to the Minnesota Timberwolves.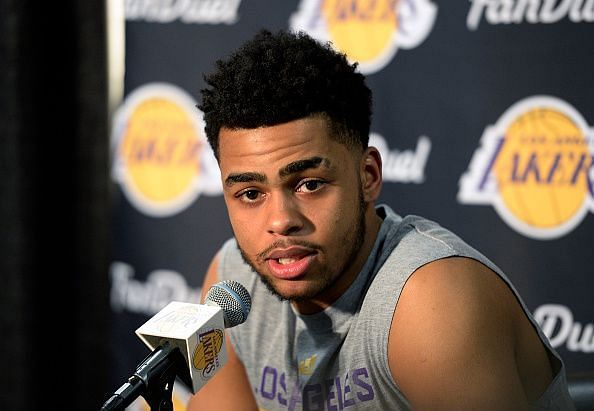 D'Angelo Russell's Salary
Russell will earn $31,377,750 as salary in the 2022-23 NBA season and is up for free agency next summer. He is the 33rd highest-paid player in the league.
D'Angelo Russell's Endorsements
Russell signed an endorsement deal with Nike in 2015, adding him to the elite list of NBA players who endorse that brand including Kevin Durant, Kobe Bryant, and LeBron James. He has endorsement deals with Li Ninga and 2K Sports and has also appeared in commercials for Foot Locker and Gatorade.
How much money has D'Angelo Russell made in his career?
He has earned a total of $108,965,728 in NBA salaries in seven years in the league.