Does Nikki Bella have children? The WWE star isn't sure how she feels about having more kids.
Reality star Nikki Bella and her husband Artem Chigvintsev are parents to a little boy named Matteo. So, do the couple, who star in the E! special Nikki Bella Says I Do, want to add to their adorable brood?
Well, it turns out that she and her Dancing With the Stars pro spouse may feel a little conflicted on the issue of having more kids. Here's what the WWE wrestler has said about being a new mom again.
Nikki Bella always knew she wanted kids.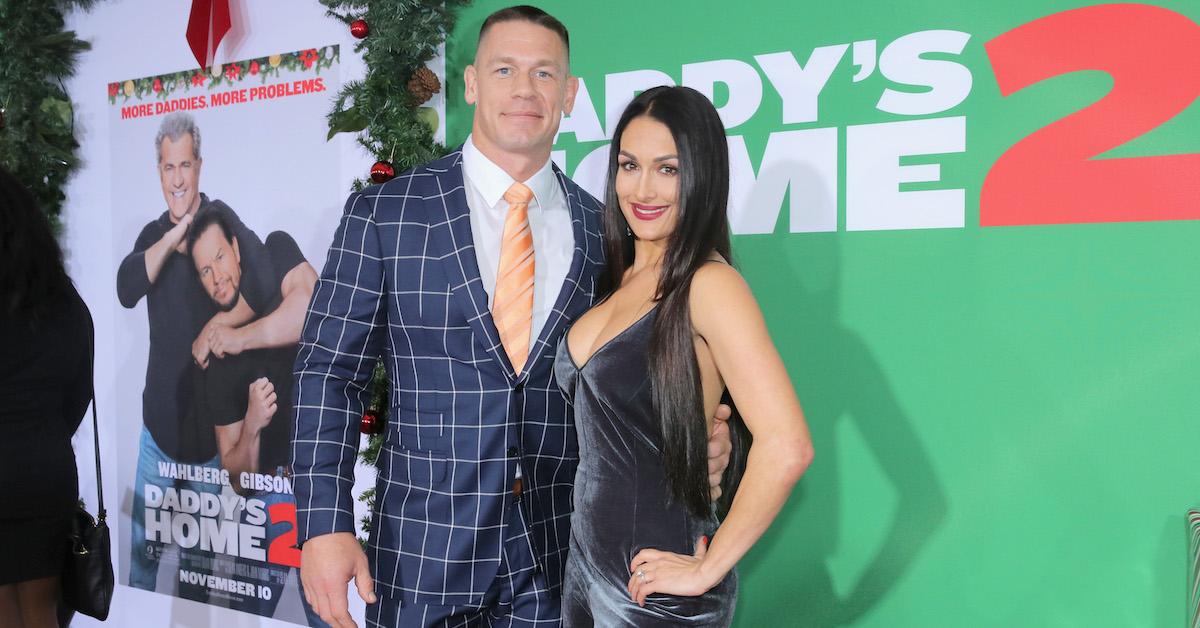 For fans who may not be caught up with Nikki's latest milestone, the Total Bellas star said "I do" to Artem in August of 2022. The reality show chronicling their nuptials airs Thursday, January 26, 2023. It's been a bit of a whirlwind romance for the couple, who met while filming DWTS in 2017, per Us Weekly.
The pair took their relationship public after Nikki broke things off with her longtime boyfriend John Cena. Having kids was a big pain point between the former celebrities, and ultimately the reason Nikki called off her engagement to the movie star, per Today. The now-mom explained, "Even in the end when he was willing to give me kids, I could just tell it's not what we wanted. And that's really, like, you know, what pushed me in the end, was like, if I'm going to force someone to be a father."
Luckily, Nikki found Artem, and they got engaged in 2019, and he was happy to have children with her. In fact, he may even want more, although she is not so sure.
For Nikki, having two kids seems like a big leap.
Nikki and Artem found out they were expecting long before saying "I do." In fact, the podcaster expressed shock at the news back in 2020, telling People she thought she'd have a tough time getting pregnant and had planned to freeze her eggs. "Artem was immediately so happy — it was really cute," the star confided in the outlet about finding out a baby was on the way. She added, "Scared, but I can't believe this because it's not like we were trying or, 'Hey, we're married, let's have a baby.' That wasn't it at all."
The other shock was that Nikki's twin sister Brie Bella was pregnant at the same time, with the stars being due just a week and a half apart! Flash forward to July 2020, and Nikki and Artem welcomed a son named Matteo. By April 2021, fans were speculating that the new mom was expecting again, a rumor she shot down, per Good Morning America. She told her social media followers she was just "super bloated… from travel and hormones (milk is coming to an end.)"
As far as having a second child, Nikki confessed to E! Online that she and her husband are torn. "Artem would love to have two kids and I would too, but the thought of being pregnant and doing all of that again and the baby stage — two changes your life." She cited Brie and her husband Daniel Bryan as being her example for the potential chaos, as the star is a mom to Birdie, age 5, and Buddy, age 2. "She's like, 'Oh yeah girl, it's different when you have two,'" Nikki shared.
Ultimately, Nikki is taking a second kid under consideration, but said, "I'm kind of like one and done. I'm happy with that, but we'll see." And we'll be staying tuned!