Billionaire's daughter – Tennis player Jessica Pegula's husband, Taylor Gahagen, supports her through thick and thin.
Jessica Pegula, one of America's top-ranked female tennis players, recently opened up about a tragedy that struck her family. In a candid personal essay for The Players' Tribune, the 28-year-old athlete revealed that her mother, Kim Pegula, the president/owner of the Buffalo Sabres and Buffalo Bills and president/CEO of Pegula Sports and Entertainment, went into cardiac arrest in June 2022. And months later, she and her entire family continue to feel the effects.
While her mother's condition is improving, Jessica said that she is "dealing with significant expressive aphasia and significant memory issues." She shared, "It is hard to deal with and it takes a lot of patience to communicate with her. But I thank God every day that we can still communicate with her at all."
Jessica revealed that she confided in her husband about the situation with her mother and asked for advice about sharing her family's story. From the essay's opening alone, her husband's opinion means the world to her. Let's learn more about him now.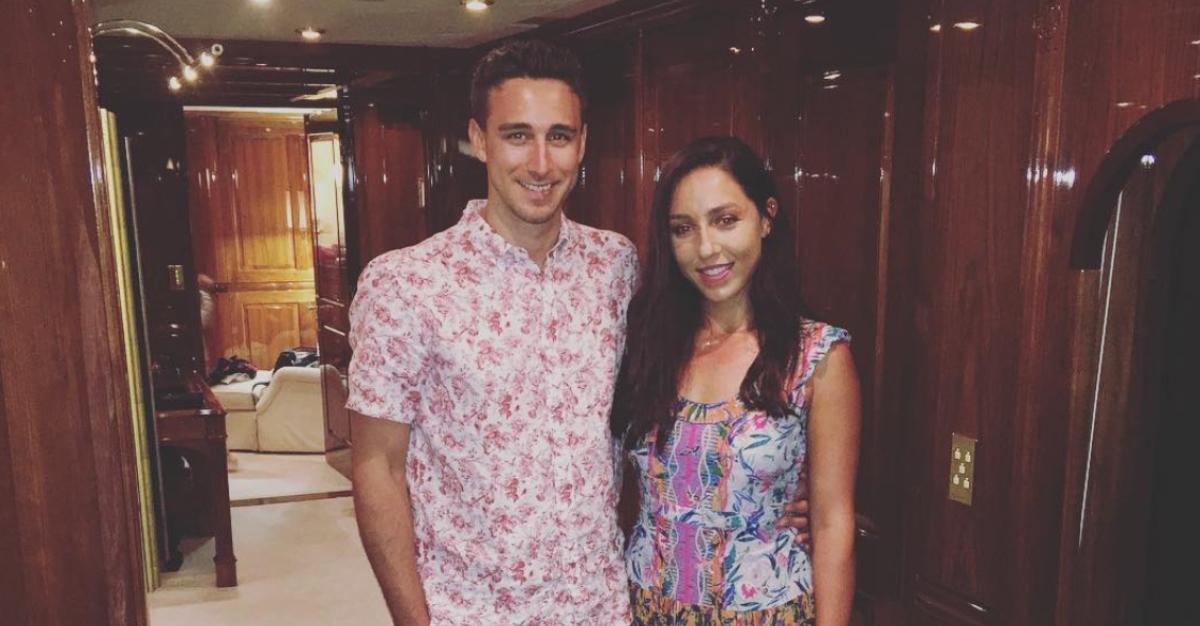 Who is Jessica Pegula's husband?
Jessica Pegula is married to Taylor Gahagen, a senior investment analyst. Taylor possesses an impressive resume, from education to employment to volunteer work.
Per his LinkedIn, the 28-year-old obtained his Bachelor of Science in Business Administration at the State University of New York at Fredonia, where he played men's baseball and participated in numerous extracurriculars such as the Accounting Club and Business Club. He proceeded to earn his MBA at Canisius College in Buffalo, New York.
Taylor also received his license in behavior finance from Duke University and business and financial modeling certification from The Wharton School.
Taylor's career is just as stellar as his education. In 2013, he worked in media buying and marketing strategy for the Buffalo Sabres ice hockey team. The businessman then spent seven years as the Director of Brand Strategy and Corporate Development at Pegula Sports and Entertainment, Jessica's parents' Buffalo-based company. In addition, he's held the titles of President at A Lending Paw and Senior Vice President at ADPRO Sports.
Jessica's husband also has a passion for philanthropy. In the past, he's volunteered at Carly's Club Pediatric Cancer Research Committee, Women and Children's Hospital Committee, and A Lending Paw, a non-profit he co-founded that rescues, trains, and connects service dogs with people in need.
When did Jessica Pegula meet her husband?
While Jessica has yet to reveal how and when she and her husband, Taylor, met, it seems 2015 is when things got serious. The earliest photo documentation of the couple together is from December 2015 on Jessica's Instagram. "My whole heart," the tennis star wrote alongside a red carpet photo of the two.
When did Jessica Pegula marry her husband?
Six years after Jessica went Instagram official with Taylor, the couple finally said, "I do!" In October 2021, Jessica and Taylor held a small, private wedding in North Carolina. At the Biltmore Estate, the happy couple tied the knot alongside friends, family, and their three dogs.
Currently, the Gahagen and Pegula do not have any kids and haven't made any public reveal about plans to have kids.
How much is Taylor Gahagen's net worth?
Taylor Gahagen's net worth is thought to be around $1 million to $5 million. SportsGrail estimates that Taylor earns $250,000 as a Senior Financial Analyst and makes a base salary of $4,009. An earlier-life Senior Financial Analyst with 1-4 years of work experience earns an average salary of $79,173.
Jessica Pegula is an American professional tennis player and heiress who has a net worth of $10 million. Her father, worth around $6.7 billion, per Forbes estimates, made his fortune in oil and gas through the company, East Resources. After selling company assets, her parents bought the Sabres for $189 million in 2010 and the Bills for $1.4 billion in 2014.