Vladislav Goldin isn't very familiar with the Final Four but he's going and that's what counts.
Standing at 7'1″, it's impossible to miss Vladislav Goldin, the talented center at Florida Atlantic University. On March 27, 2023, he helped lead his team to a victory over Tennessee in the NCAA men's basketball tournament's Sweet 16 during March Madness. The game was at Madison Square Garden and was probably one of the largest crowds he had played in front of — at least until this Saturday's Final Four.
Houston's NRG Stadium seats a little over 70,000 and that's just the folks who are physically at the game. Millions more will be watching from home as the FAU Owls try to do the impossible. Overcoming a challenge is hardly new territory for Vlad who came to the U.S. from Russia in order to play basketball. What must it have been like to leave his parents to pursue his dreams? Let's get into it.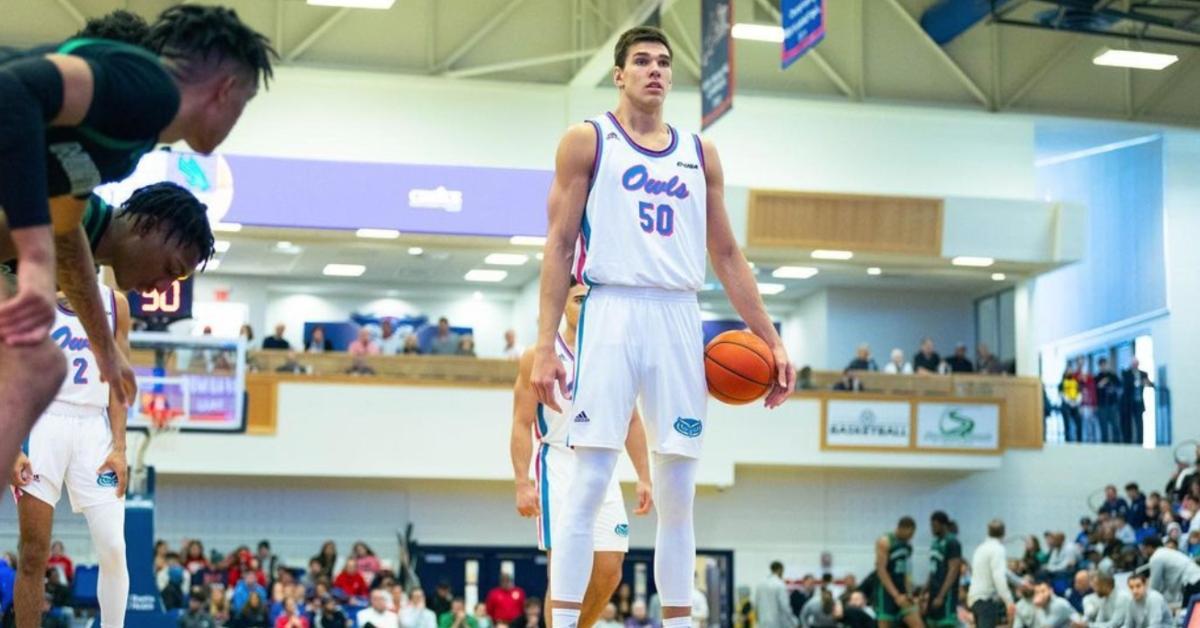 Where exactly is Vladislav Goldin from? He left his home and parents to come to the U.S.
According to his old Texas Tech bio, Vlad hails from Nalchick, Russia. Presumably his parents, Lubov and Alexander Goldin, still live there along with his sisters Marina and Alexandra. Apparently basketball wasn't Vlad's first love. Forbes reported that he was a "wrestler for six years as a child, competing in a sport that his father had excelled at and loved." When he hit his teen years, Vlad was called to the court.
He quickly moved up the ladder in Russia. Vlad "played for three seasons for the CSKA Moscow junior team," and by 2019 "he was a member of Russia's U18 European Championship team, averaging 5 points and 10.1 minutes per game, and its U19 FIBA Basketball World Cup team, averaging 1 point and 5 minutes per game," per Forbes. It was obvious that if he wanted to keep going, the U.S. was where Vlad needed to be.
Although it's unusual for Russian players to actually leave Russia in order to play basketball in the U.S., Vlad was determined to make his dreams come true. "It's hard (coming to the U.S.)." Vlad told Forbes. "It's so far from our home, you have to get into school. It's a hard process, and it's high-risk. You don't know what you'll get. Not many people want to risk it."
How did Vlad Golden make his way to FAU?
When he first got to the U.S. a mere 3 and a half years ago, Vlad didn't speak any English. He communicated using basketball while enrolled in Putnam Academy, a prep school in Connecticut. Putnam's coach, Tom Espinoza, "found out about Goldin through Brian Burg, who at the time was a Texas Tech assistant," and guess where Texas Tech just snagged three players? That's right, Putnam Academy. Coach Espinoza had nothing but great things to say about Vlad's commitment and athletic prowess, calling him a "beast" of a player.
In July 2020, Goldin signed with Texas Tech partially because of the Putnam Academy connection but also another Russian-born player, Andrei Savrasov, was already on the team. "I asked him, 'Tell me about Texas Tech,'" said Vlad. "He told me how it works and I was like, 'I like how it looks,' so I made the decision based on that." He didn't do well at Texas Tech and entered the transfer portal after his first year. Pretty soon FAU was interested and the feeling was mutual.
"I liked those people," Vlad shared. "I liked how they represented themselves. I liked what they told me. Basically, I just liked how they acted with each other." Evidently this was the fit Vlad was waiting for. "It's awesome to see, man," Coach Espinosa said to Forbes. "I'm happy for him."