Where is Jeffrey Dahmer's childhood home? The serial killer murdered 17 victims and his first victim was killed in his parents' house.
Forget the furry, prickly, spiny monsters under your bed. The real monsters you should be worrying about are the ones that hide in closets, in parking garages, and who look for unlocked doors at 3 a.m. The ones who, well, eat people and drill holes in their brains. We'll never look at aviator eyeglasses the same way again.
In case it wasn't clear, we're referencing one of the most notorious, disgusting serial killers in modern history: Jeffrey Dahmer. Not only was he a serial killer, but he was also a serial rapist. Deemed the Milwaukee Cannibal or the Milwaukee Monster, good ol' Jeff was arrested in 1991 for killing 17 men and boys between 1978 and 1991, per Biography. With charm, smarts, and good looks, Jeffrey Dahmer easily lured men — whom he found at gay bars, malls, and bus stops — to his Milwaukee apartment, which is where most of the nightmares unfolded.
Although most of his victims found a painful hell in his apartment, Jeffrey Dahmer actually committed his first murder as a high school grad in June of 1978, at his very own parents' house. So, where is his childhood home located?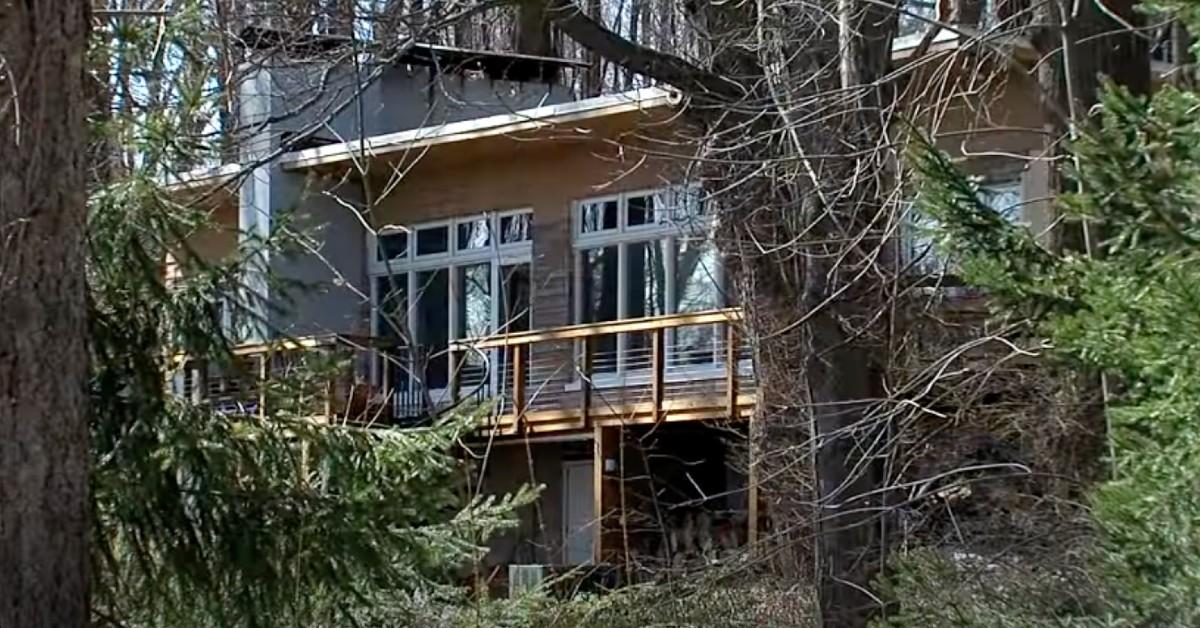 Where is Jeffrey Dahmer's childhood home located?
"I always knew that it was wrong. The first killing was not planned," Jeffrey Dahmer explained to Inside Edition back in 1993. "I was coming back from the shopping mall back in '78. I'd had fantasies about picking up a hitchhiker, taking him back to the house, and having complete dominance and control over him."
And that he did. He lured a hitchhiker named Steven Hicks to his parents' Ohio home, where he got him drunk, struck him in the head, and strangled him to death. The house that offered a backdrop to said slaying is located at 4480 West Bath Road in Akron, Ohio.
Though he was born in Milwaukee, Wis., Jeffrey's family moved to Akron in 1968, when Jeffrey was about 8 years old. The 2,000-sq.-ft. home is said to have a midcentury modern feel.
Over the decade that Jeffrey Dahmer lived in this quaint house in Akron, Ohio, he developed the sadistic obsessions that fueled his 13-year reign of terror. The house in Akron spans 2,170 square feet and sits on 1.55 acres. Serial killer, Jeffrey Dahmer's house is still standing today.
'My Friend Dahmer' was filmed in Jeffery Dahmer's actual childhood home in Bath, Ohio. His high school, Revere High, was going to be used as well, but the school rejected the offer.
Unbelievably, parts of Marc Meyers' film My Friend Dahmer — which explores the killer's teenage years — were shot in the three-bedroom home.
"The scenery, everything, it's super beautiful," said star Ross Lynch of the historic home. "But … every time we got on set it was definitely super eerie for the crew."
While Ross has relayed that he strangely felt "at home" in the house Jeffrey grew up in, he was more than ready to leave the place by the last day of filming.
Where is Jeffrey Dahmer buried?
After the jury (obviously) rejected Jeffrey Dahmer's insanity defense, he was sentenced to a total of 15 life terms, per History. But he didn't have a chance to serve his time, as Jeffrey Dahmer was beaten to death by a fellow inmate on Nov. 28, 1994, at the Columbia Correctional Institute in Portage, Wis.
According to NBC Chicago, Jeffrey Dahmer was not buried after his passing. In fact, there was a lot of conflict over what to do with his brain, which was initially kept in formaldehyde in the state pathologist's office. While Jeffrey's mother, Joyce Flint, wanted her son's deeply disturbed brain to be studied for obvious reasons, his father, Lionel Dahmer, wished for it, along with his body, to be cremated. Apparently, this is also what Jeffrey himself wished for his own remains.
When a judge came to decide that his brain should be cremated, both the ashes of Jeffrey Dahmer's brain and body were divided between his parents.