Beauty influencer and former singer Jeffree Star (real name Jeffrey Lynn Steininger Jr.) is no stranger to the public eye. He rose to fame in the mid-2000s with his hit songs like "Lollipop Luxury," "Get Away With Murder," and "Beauty Killer." However, he later pivoted into the beauty industry and garnered a cult-like following for his makeup reviews on YouTube. He also launched his own makeup collection, Jeffree Star Cosmetics.
But as you may already know, Jeffree, who is unapologetically himself, is known for having a controversial personal life.
In 2022, he was under fire from fans for selling yak meat at his ranch, despite constantly touting that his cosmetic collection was vegan and cruelty-free.
And now in 2023, he announced he would be returning to posting makeup review videos. However, as he announced this, he couldn't help but drag another influencer down. Keep reading to learn about his latest drama with Mikayla Nogueira, aka Mascara-Gate. Plus, details on his latest project are in the works.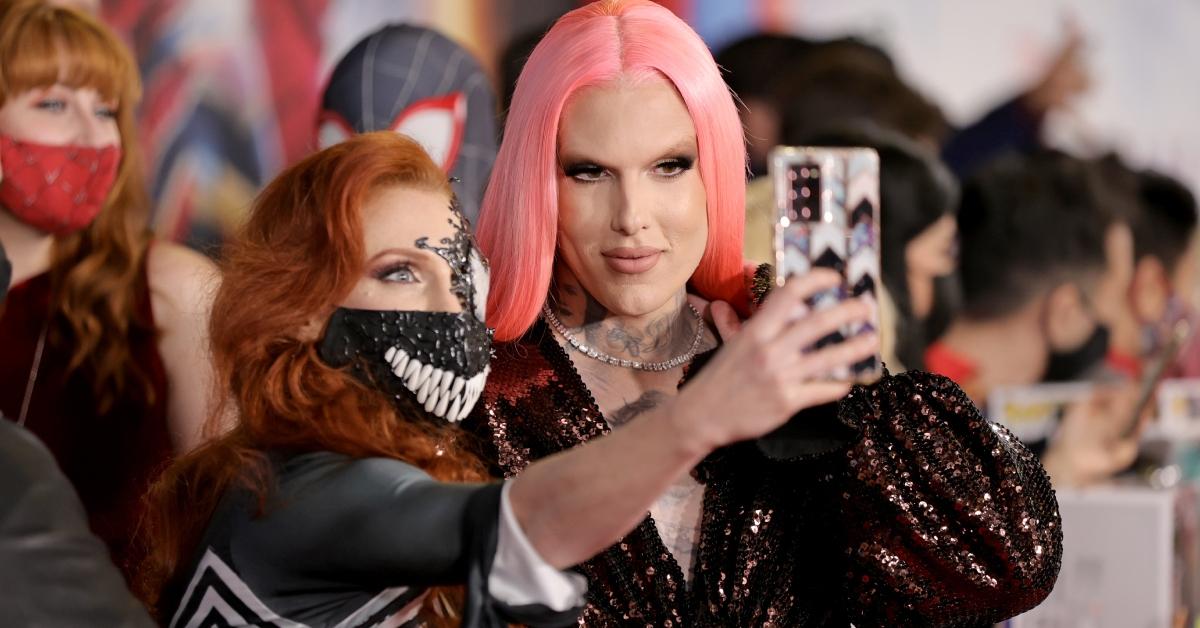 Jeffree Star just threw major shade at beauty influencer Mikayla Nogueira.
On Jan. 25, 2023, Mikayla shared the following TikTok promoting the L'Oreal Paris Telescopic Lift mascara. In the video, she applied the mascara and gushed over the final look, but fans didn't seem to be impressed.
Click here if TikTok fails to load.
Comments quickly piled in accusing Mikayla of applying the mascara to fake eyelashes. "Are you lashlighting us rn?" one user wrote. Another asked, "Do the falsies come with the mascara?"
Then came comments pertaining to Jeffree. "Only reason I miss Jeffree is 'cause his reviews were always so genuine," wrote one user. Another opined: "You know what beauty influencer has led me on the honest path … Jeffree Star."
Word apparently traveled fast as Jeffree took to Twitter hours later to announce some exciting news: He was going to return to creating his own makeup reviews after recently slowing down with posting.
But he purposefully made sure his announcement threw some shade at Mikayla. "I'll be BACK to reviewing makeup products next week. These f–king b–ches can't stop lying to their audiences and it makes me SICK," he tweeted.
To further drag Mikayla, he shared a photo of the exact mascara she had reviewed and asked fans their thoughts on it.
Mikayla has yet to respond.
Jeffree Star's first retail store opens in spring 2023.
Part of the reason Jeffree hasn't been as focused on his makeup reviews is likely that he's been working on bigger and better things. In late 2022, he revealed that he was opening his first retail store in the spring of 2023. He announced the good news on Instagram, noting that the 7,000-square-foot store would be located in downtown Casper, Wyo.
What is Jeffree Star's net worth?
Look at any photo of Jeffree and you'll see that he does not cheap out when putting together outfits. It's pretty clear that he has money in the bank, but how much exactly?
Per Celebrity Net Worth, Jeffree Star has a net worth of $200 million. This fortune likely comes from Jeffree Star Cosmetics as well as his YouTube channel.