50 Cent and his nasty feud with his eldest son Marquise Jackson explained. Read on to find out how it all started.
The years-long feud between 50 Cent and his son, Marquise Jackson, is still going strong. In 2020, the "In Da Club" rapper compared his 26-year-old lookalike son to Tekashi 6ix9ine, who had just been released from jail after cooperating with authorities. 
"He better than Marquise though. I'll take him before I take my actual [son]," he told his followers on Instagram Live. "F–k that n—a." In response, Marquise shot back at his famous dad, saying, "Did he just say he would claim a rat? Aww nah, I want no part to that cheese. I don't know what y'all got going on over there. That's some other s–t. Stupid!"
In 2022, the entrepreneur and rapper's feud with his son fired up when he complained about his monthly child support money from his dad. Many have wondered about the genesis of this nasty family beef. So, why are 50 Cent and his son Marquise not on good terms?
So, why does 50 Cent hate his son?
There wasn't always bad blood between 50 (real name: Curtis Jackson) and his oldest child. In fact, when Marquise was born, 50 revealed in an interview that his life changed for the better. 
"When my son came into my life, my priorities changed, because I wanted to have the relationship with him that I didn't have with my father," he said (via VH1) of his son with ex-girlfriend Shaniqua Tompkins. 50 Cent even has a tattoo of Marquise on his right bicep.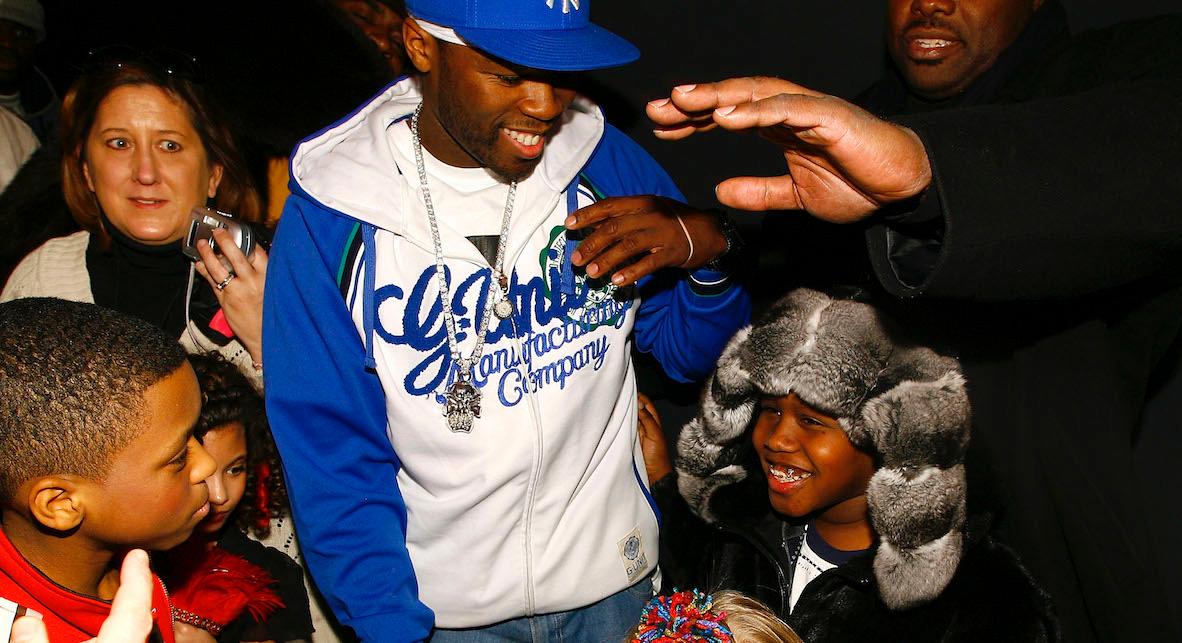 50 Cent blames his baby mama for the drama between himself and Marquise.
Things started to go downhill in the relationship in 2008 when 50 and Shaniqua started publicly fighting over his $4 million home in Long Island. According to Shaniqua, 50 promised her the house, and when it burned down, she claimed 50 was involved in the arson. 
50 Cent went on to sue his ex for defamation. 
In a 2014 interview with Philly's Morning Show with Shamara and Laiya, 50 Cent claimed his son "embraced his mom's perspective on me," which ruined their relationship.
Shaniqua denied the allegations, blaming 50 for mentally abusing their child. "You don't have a relationship with my child because you choose not to, you want to bully him, threaten him, and talk about his mother in a disparaging manner," she wrote on social media at the time.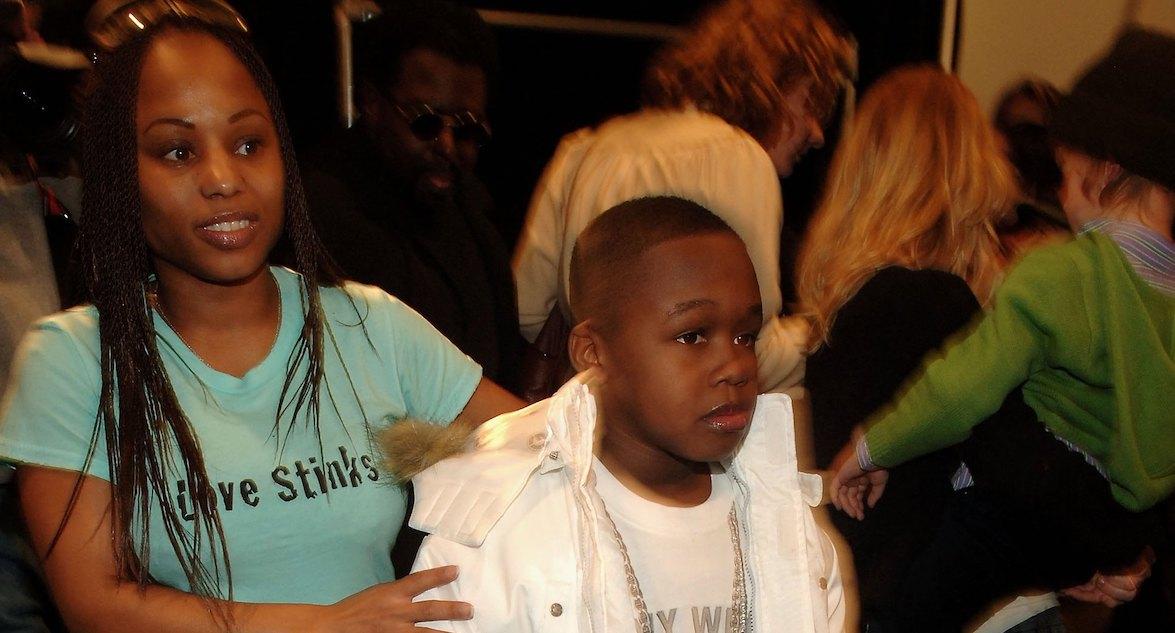 "I don't try to mentally abuse my son like you do! I don't talk about you your actions speak for themselves. Who threatens to shoot their son on Instagram?"
50 Cent and Marquise have been publicly feuding for years.
In 2015, Marquise called out his famous father, writing, "I ain't never switched up on nobody, either you pushed me away, left me hanging, or proved to me how Un-loyal you are!!? That's word to mommy."
As expected, 50 Cent did not waste time responding, sending a clear message to his son. "Word to Mommy Hun!!!??? don't play with me boy. Kanan," he wrote, referring to his killer character on Power.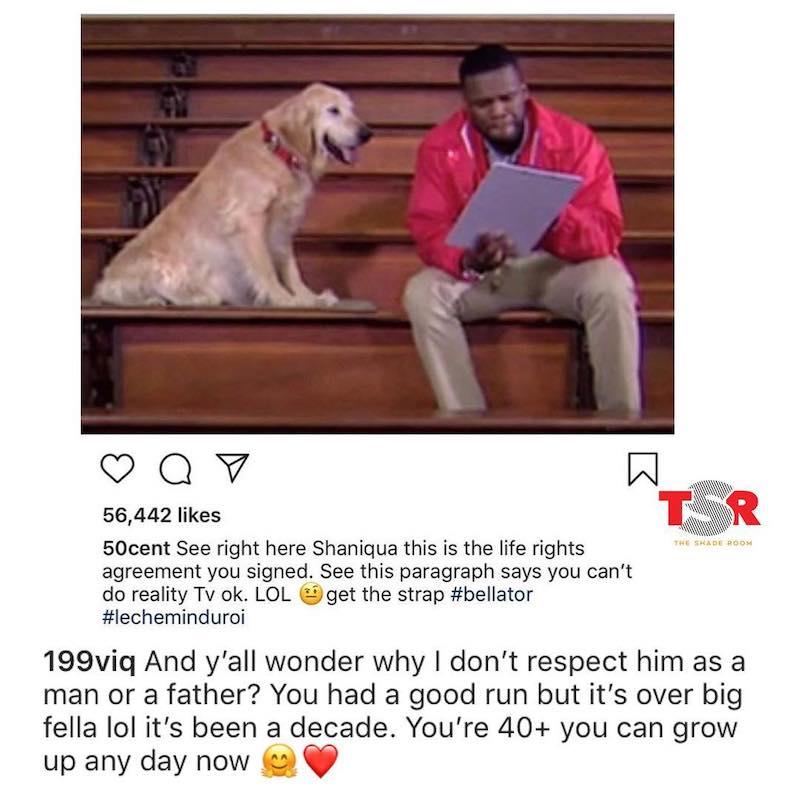 Before that exchange, Radar Online released a string of abusive texts between 50 Cent and Marquise, who was 16 at the time. "If I died today would it matter to you? I'm changing my will. It's a simple question," 50 asked in one conversation. In another, he simply wrote, "I don't have a son anymore."
He went on to diss Marquise's mother in the crudest texts in the bunch, writing, "need a blood test cause that d–k sucking b—h you call mom was f–king the hole time [sic]."
However, 50 claimed he was talking to Shaniqua (and not his son) in the texts, tweeting, "That was his mother texting me as him… She hate me for winning. It's hard to replace me."
In 2020, 50 Cent and Marquise's beef is only getting worse.
In 2017, Marquise released a diss track about his dad titled "Different" and in 2019, 50 Cent once again publicly disowned his son on Instagram, writing to a fan, "I got a blood test that's not my kid da f–k outta here." Ouch.
In comparison, the Tekashi 6ix9ine comments don't sound too bad. It must be hard for Marquise to see 50 Cent's loving relationship with his 8-year-old son, Sire, with ex-girlfriend Daphne Joy. 
50 Cent's son Marquise continues to apply pressure over child support in 2022.
Marquise says he will pay his father $6,700 for 24 hours of his time.
In the early weeks of October 2022, 50 Cent's oldest son, Marquise Jackson, slammed him over his child support payments. During an interview with Choke No Joke, Marquise explained that the funds provided weren't nearly enough for his lifestyle.
Fif paid $6,700 per month to his baby's mother, but Marquise believed that did not suffice. He said that "$81,000 is not a substantial amount of money. You can't just live anywhere. You talking about you got beef with everybody in the industry, you can't just live anywhere."
Following his comments, social media users ridiculed him and labeled him as ungrateful. However, this did not stop Jackson from getting his point across. Earlier today (October 10), he shared an image on Instagram, further targeting his father.
In the picture, he sat on the floor with 100 dollar bills behind him, spelling out the word "entitled." His caption read, "Since y'all think $6,700 is sooo much money someone tell my pops I will pay him $6,700 for just 24hr of his time so we can do everything I ever wanted to do with him as a kid [stop light emoji] Red Yellow Green whatever color he like."
As of now, 50, whose real name is Curtis James Jackson III, has not responded to his son on social media. This comes as a surprise to many people, as the Power producer is known for calling people out on his platforms.
Hopefully, these two will put their differences aside and bury the hatchet.