There is even more proof Alix Earle is probably dating his Football player Braxton Barrios. A look at the TikToker's relationship status and history.
Boasting over five million followers on TikTok, University of Miami graduate and New Jersey native Alix Earle is one of the most popular creators on TikTok.
She's known for GRWM (aka Get Ready With Me) videos where she's seen doing her makeup and picking out an outfit for a special event. Alix also shares other lifestyle-adjacent videos where she shows fans some of her skin and hair rituals, as well as a peek inside her life at school.
Given the influencer's popularity, many folks have been wondering: Is she single? Apparently, there is some talk that she may be dating Miami Dolphins wide receiver, Braxton Barrios.
There is speculation that Alix Earle is dating Braxton Barrios — and her fans are sharing evidence on Tiktok.
New rumors claim that Alix and Braxton are a thing.
This pairing is particularly juicy given that Braxton just got out of a relationship with Sophia Culpo (aka the younger sister of model Olivia Culpo). And given the close timing of Braxton and Sophia's breakup and the rumors surrounding Braxton and Alix, some fans are speculating that Braxton ended things with Sophia in order to pursue a relationship with Alix.
A tip sent to the celebrity gossip account, Deuxmoi, claims that there may have been some overlap between these two events.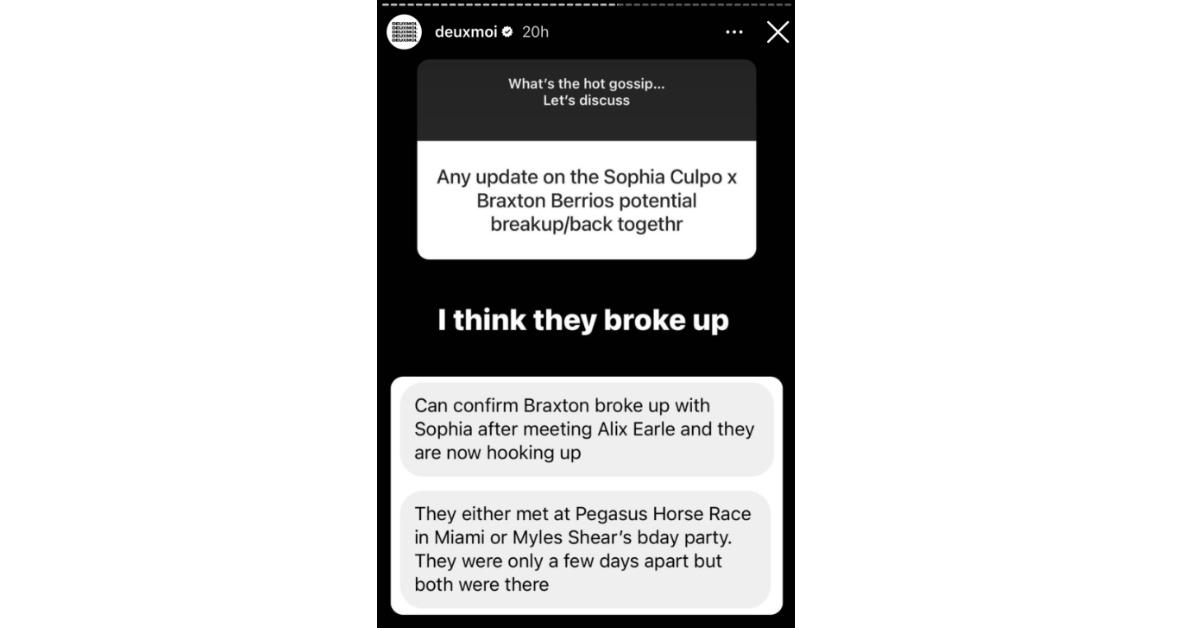 "Can confirm Braxton broke up with Sophia after meeting Alix Earle and they are now hooking up," read one tip. The insider further shared that they allegedly crossed paths at a horse race or at a mutual's birthday party.
However, another tip rejects that narrative, claiming that Alix just happened to come into the picture post-Braxton and Sophia's breakup, with the anonymous source writing, "Can confirm Sophia and Braxton broke up months ago and it was before Alix Earle.
However, following her college graduation, a TikTok video surfaced with even proof that Alix and Braxton are an item and showed the NFL star was at Alix's graduation party with her friends and family, and Alix's friends even shared photos with her at the celebration.
Previously, Alix Earle dated baseball player Tyler Wade — then dragged him on TikTok for never posting a photo with her.
Alix has also previously been linked to former MLB player Tyler in September 2022. As for how long their relationship lasted, it appears to have been short-lived.
In December 2022, she shared in a TikTok Live that they had broken up some time ago. The exact date is unknown.
"We haven't been together for a hot minute," she revealed during the live video, per Life&Style. "I've just been hiding it from you guys because I didn't feel like dealing with it right now. Even stuff I posted of me and my boyfriend — we were not even dating like a week or two ago."
As for the reason for their breakup? Alix claimed they had been "fighting for a bit." She also noted that she wasn't too keen on the fact that he never made their relationship Instagram official.
"He wouldn't post me. We went to a wedding and got all these good photos together and two selfies of him, and he was like, 'Oh how many pictures should I post?' and I was thinking, 'Aw he's going to post me,'" Alix said. But according to Alix, he never did.
Here's hoping Alix and Braxton go Instagram official soon!